As Senior Deputy Vice-Chancellor of The University of Waikato, Professor Alister Jones is proud to have led the development of the new campus space in Durham Street, Tauranga.
What does it take to be an exceptional business leader?
Leading with vision, as well as integrity, compassion and empathy. We also need to move beyond seeing people as resource – staff are a source of ideas and you need to galvanise their continued buy-in and commitment. This is particularly important in the complexity of the current working environment, where the workforce wants increased flexibility and real purpose.
The staff are the power-house of a successful business. It's important to empower your people, to connect and stay connected, and to develop a culture where everyone knows and is contributing to the broader business strategy. This means developing a shared understanding of success, having an aspirational but realistic implementation plan that focuses on the how, and clear measures of achievement. A compassionate leader also works with staff as 'whole' people – staff feel valued, and believe that their well-being is important. These are all easy things to say – it's far more difficult to embed this culture through an organisation.
What tips do you have for other BOP business leaders?
It's important to stay the course, and to be resilient and flexible, responding and adapting to changes as they emerge. Be open to taking risks, but fail fast and learn continually. Take action when it's needed rather than delaying, while also making time to reflect and consolidate. Take a data-driven approach to decision making – what seemed to work yesterday may not still be the best solution.
What are the big opportunities you see for new business growth?
Businesses are not islands – partnerships are important. However, these partnerships require purpose, collaboration, and integrity. Through high quality, flexible qualification pathways, the University of Waikato is contributing to the Bay's pool of talent, including growing business leaders.
We're in the business of growing people, and there are fantastic opportunities for businesses to partner with the University across a range of areas, including research and development, internships, and accommodation and student services. The University's increasing presence and connections across the Bay, nationally and globally, will support a growing knowledge economy across the region.
Read more: The Leadership Issue
---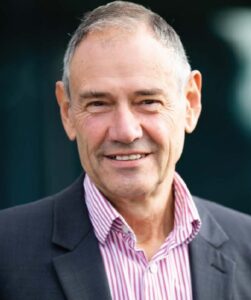 PROFESSOR ALISTER JONES
Senior Deputy Vice-Chancellor, University of Waikato
Alister is currently the Senior Deputy Vice Chancellor of the University of Waikato. A former Dean of Education and Research Professor, Alister has had a long involvement in international education as well as building educational research capability in a number of countries.