Superyachts are becoming more frequent visitors to our shores as the industry in
New Zealand continues to experience growth despite the challenges imposed by the pandemic. A key new player in the market is Tidal Yachting, based at the Marine Hub in Tauranga.
Chief executive Alisha King and her all-female team have a complete overview of what is required by visiting yachts. Tidal Yachting is based in the Superyacht Coatings building, otherwise known as "The Big Black Shed" at the centre of the Tauranga precinct.
Due to the pandemic, yacht sales and new builds are on the rise in New Zealand, said King. The borders being closed had forced people to think creatively for their holidays. Some have invested their money in private yachts, or another option has been to sail the New Zealand coastline on a professionally crewed charter vessel.
Additionally, the closures have made it increasingly difficult for world travelling superyachts to visit our shores and this has a flow on effect to the maritime businesses that service these luxury vessels. This raises the question that is relevant to so many companies and industries; how does New Zealand combat the lack of travellers to our shores and the income that they bring?
Key employment opportunities
After all, the yachts bring with them employment opportunities for crew, service providers and contractors – a key element when the Marine Hub was first conceived. Like any successful maritime business, they require hardworking and professional crew, along with 24/7 shore-based support.
The question is how and where do yachts access these people? The answer is, in the same place they will find great scenery, outstanding provisions, excellent activities, robust maintenance and refit facilities… here in New Zealand, said King, who notes that it is the local service providers working behind the scenes that make the system work.
Tidal Yachting attributes the company's success to date to "diversity, resourcefulness and trust' said King.
Need for open-minded thinking
"With a lack of vessels meeting the entry requirements to New Zealand and restrictions on our ability to travel to our clients, we have had to think open-mindedly about how all our clients and customers can still get the best services.
"Our company started from humble beginnings. The vision was to provide a supportive platform for yacht crew to connect and find support and cement Tidal Yachting into the developing maritime industry in New Zealand."
The company has grown to now offer a myriad of super yacht services. These include recruitment, yacht agency work, on-water vessel management, and project management for refit and refurbishment. Many new opportunities have arisen with the purchase of offshore vessels and their delivery for local clients to the export of vessels to owners overseas; each having their own set of challenges.
Satisfied owners
Kiwi Chris Nottingham bought a 45 foot yacht in Fiji for his own use last year during the lockdown. He happened to know Alisha King and was talking about it to her and she suggested ways Tidal Yachting could assist.
"I mentioned I hadn't figured out how to get the boat back here and she offered to help," he said. "At that point she took over. They organised a crew to get the vessel back from Fiji and organised the customs and paperwork and the whole shooting match. It was a very easy experience, especially considering what I thought it was going to be."
Olivier Ravel, who owns a large superyacht, described Tidal Yachting as a very good young company and very enthusiastic.
"I have been to New Zealand a few times and we use them every time," he said. "They are very serious and super smooth," he said. "Our captain is very happy. And if you have a happy captain, you have a happy owner. So long as you have a happy captain everything is good."
Ravel noted that he had run into a potential legal problem with a neighbouring yacht complaining of alleged paint contamination from his yacht. "We got the case to Tidal Yachting and they looked after it very well. In a matter of five minutes the case went away."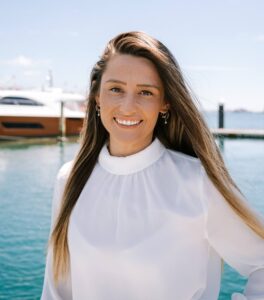 King told Bay of Plenty Business News: "Our team's support and guidance to yacht owners and captains is instrumental in their success in a changing world."
King grew up in the Bay of Plenty and the Coromandel peninsula, with water activities being a large part of her life. It was no surprise that Alisha initially enlisted in the Royal New Zealand Navy as soon as she could and travelling the globe by sea became her way of life.
King said that helping upgrade schools and partaking in explosive ordinance disposal trips in the Pacific, were key highlights. As was navigating Guadalcanal – site of fierce fighting during World War 2 – via horizontal sextant angle and using Astro navigation to sail the Pacific. Her training ranged from conducting sea trials on ships in Antarctica to Navigation training around New Zealand Shores.
Time for a new direction
But it all ended when King opted for a new direction. Her adventures continued into the Mediterranean with her entering the yachting industry, where she gained her qualifications to become a yacht captain. After some time on the yachts travelling the Americas, Caribbean and Mediterranean, she decided to follow a different passion, for wine and food, staging at a Michelin star restaurant in the UK and training under other great chefs. King returned to yachting as a private chef.
She has amassed more than 14 years' experience in the maritime industry, most of it at sea. Acting as the first point of call for owners, navigating the ins and outs of shipping vessels, vessels in refit, and broker lunches, became her way of life for several years. After completing her time on yachts, King continued to follow her passion of yachts and developed Tidal Yachting.
On her return to New Zealand in 2018, she became the only female travel lift operator qualified to handle the 350 tonne travel lift at the Marine Hub, lifting and blocking vessels of up to 50 metres in length and all shapes and construction.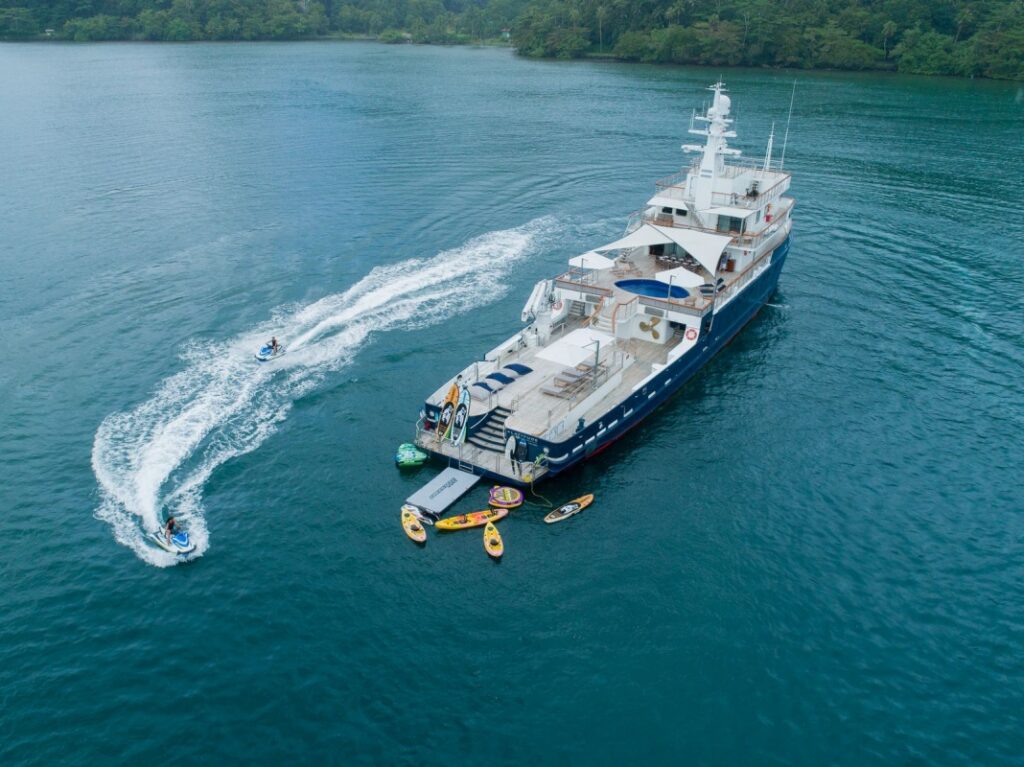 "At Tidal Yachting we specialise in superyachts," she said.
"We provide solution-based thinking, navigate regulatory requirements, and endeavour to assist in local and international regulations. As former crew and a captain, we understand the importance of yachts needs and are well-versed in their urgency. We have a diverse talent pool of specialists and resources in New Zealand, and worldwide partnerships and alliances to provide yachts with a one stop shop for all their yacht needs."
Organising everything required
King said that the company can organise everything the yacht and owner may require; getting the vessel from A to B, crewing, paperwork, logistics, party planning, bespoke dinners, golf days, and flights to name a few.
"Many new owners and captains spend a lot of time trying to access this information and keep coming up against brick walls. Our agents take the guesswork out of the equation.'
"We aim to provide our clients with comprehensive yacht services including access to some of New Zealand and the worlds' leading marine contractors, exceptional produce and wines, and an activity filled backyard," said King. By being positioned where it all happens, this allows the company to provide a supportive reality, she said, and Tidal Yachting fully supports the growth of the marine industry both locally and nationally.
"We promote and utilise our local industry players as much as possible and where we can."
According to King, 2022 is looking hopeful for the maritime industry and the feeling is optimistic. There are people and businesses working hard behind the scenes to have the maritime borders open along with the slow easing in air borders. This in turn will see the return of vessels and super yachts to New Zealand and ensure the ongoing prosperity of the maritime industry, said King.
Related: Super Yacht Coatings' success