Craigs Investment Partners has been providing investment advice to Kiwis for more than 35 years. Since Craigs was founded by Neil Craig in Whakatane in 1984, it has grown into one of New Zealand's largest Investment Advisory and Investment Banking* firms with 19 branches nationwide and over 180 Investment Advisers**.
"Although Craigs has grown rapidly over the years, the focus on putting our clients first remains at the centre of what we do. Our service is all about quality investment advice and long-term partnerships. We are proud to have many multi-generational client relationships which we truly value" explains Founder, Neil Craig.
Simon Tong, who joined Craigs as the new CEO in September 2021, is looking ahead with enthusiasm as Craigs embarks on the next phase for clients and the business.
"Craigs' genuine commitment to our clients, strong foundation in research, prudent investment advice, and access to some of New Zealand's largest corporate transactions, means we are well positioned for the future, despite challenging market conditions" says Simon Tong.
"Craigs is 100% owned by approximately 270 of our 650 employees including founder Neil Craig, which means our staff have genuine 'skin in the game'. Our four business divisions; Private Wealth, Investment Banking, Institutional Equities and Funds Management, all work with the same vision in mind and that is to provide investment services of the highest quality designed around the unique needs of our clients" adds Simon.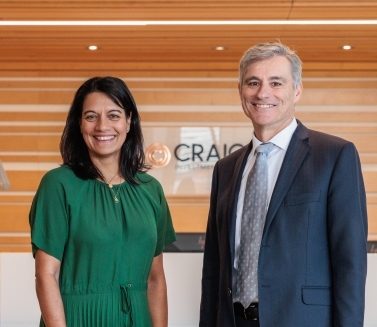 Simon's strong background and vast expertise in technology, strategy and brand is instrumental in leading Craigs forward into its next phase.
In November last year, Simon was also joined by Rebecca Callaghan as the new Chief Financial Officer, whose track record after many years at Zespri, aligns well with Craigs' ambitions.
Head Office firmly based in the Bay
With Head Office firmly based in the Bay from the beginning, Craigs has plans of becoming a cornerstone tenant in a major new development in the Tauranga CBD at 2 Devonport Road. Craigs will take four levels and the building will be named Craigs Investment Partners House.
The development will be a lengthy process but over the long term it will be an important aspect in revitalising the City centre. The new office will serve as our National Head Office for over 260 staff, based in Tauranga, including 24 Private Wealth Investment Advisers.
We're here to help
Financial security doesn't just happen — it requires preparation. If you need someone to help you plan for your financial future, meeting with an experienced Investment Adviser is a good place to start.
Whatever your circumstances, whether you are new to the share market or you need to re-assess your options, our Tauranga and Rotorua based Investment Advisers can help.
"All Craigs clients have access to an Investment Adviser, who works alongside clients to help achieve their financial goals. We will listen first, and we then develop a portfolio that is tailored to the unique needs and goals of our clients" says Tauranga based Area Manager, Hayley Nelson.
Contact the Rotorua and Tauranga branches for a complimentary no-obligation discussion.
tauranga 07 577 6049
tauranga@craigsip.com
rotorua 07 348 1860
rotorua@craigsip.com
www.craigsip.com
Disclaimer: Craigs Investment Partners Limited is a NZX Participant firm. Adviser Disclosure Statements are available on request and free of charge. View the Craigs Investment Partners Limited Financial Advice Provider Disclosure Statement at craigsip.com/tcs.
*Craigs Investment Partners is not a registered bank within the meaning of the Reserve Bank of New Zealand Act 1989.
**Employee numbers are as at 16 May 2022.
---

Community close to our hearts
Our local community is very close to our hearts. It is important to us as a business to support the communities we work and live in. It's very much the fabric of Craigs" explains Hayley.
On a national level Craigs, alongside the Tindall Foundation, is a devoted supporter of Community Foundations of New Zealand.
In Tauranga the support extends across many community, sports and arts organisations and initiatives such as the Bay Oval, the Steamers, Volcanix, BOP Cricket, Garden and Arts Festival, Tauranga Riding for Disabled, Priority One, Tauranga Business Chamber and many more. Craigs has also supported the Acorn Foundation in Tauranga from its inception 20 years ago.
Craigs Community Fund and Workplace Giving Programme
The establishment of the Craigs Community Fund in 2019 to support communities in a more structured manner, was a natural progression from the partnership with Acorn Foundation and the Fund was established based on a similar ethos.
The vision is to build a Fund that is large enough to donate back to our communities well into the future. We are now into year 3 and the Fund has donated over $450,000 back into local communities throughout New Zealand.
Craigs employees elect to participate in the Workplace Giving programme, with employee payroll contributions matched by Craigs up to $500 per year, per employee. The programme now has over 260 employees contributing.
"Workplace giving is a hugely rewarding initiative and it's fantastic to see so many colleagues support a philanthropic cause. The concept isn't so much about the amount donated, but more about engagement and support for our communities. I would encourage any company with a community focus, to contact Acorn Foundation to discuss how to implement workplace giving in your organisation," says Simon Tong.
Find out more
To learn more about how your business can work with Acorn Foundation or your local Community Foundation, visit acornfoundation.org.nz or communityfoundations.org.nz