Looking for a great living and social experience in your first year of study away from home? Wintec Accommodation Services has just the answer.
Our purpose-built Student Village is located in Hamilton's CBD and right across the road from the Wintec City Campus. It's just 5 minutes' walk to Hamilton Lake, shopping and nightlife.
All meals are provided, so you can spend more time studying and socialising safely without the hassle of supermarket shopping and cooking while you get used to tertiary life.
We offer a welcoming, supportive environment where you'll make new friends with fellow students. You'll have your own independence but also have plenty of pastoral care support if needed – as is often the case during anyone's first year away from home.
And, if Covid is a concern (as it is for everyone!) rest assured we have systems and community practices in place to ensure living in our Student Village is safe. Surveys of our students about our handling of Covid found that our residents who chose to lockdown in residence felt very safe, even more so than residents who chose to return home.
You get all of this for a similar price to what it would cost you to go flatting, without the need to buy furniture or pay extra for power for those flatmates who leave heaters on or take long showers! Compare our fixed-weekly cost with StudyLink's survey of flatting costs in Hamilton!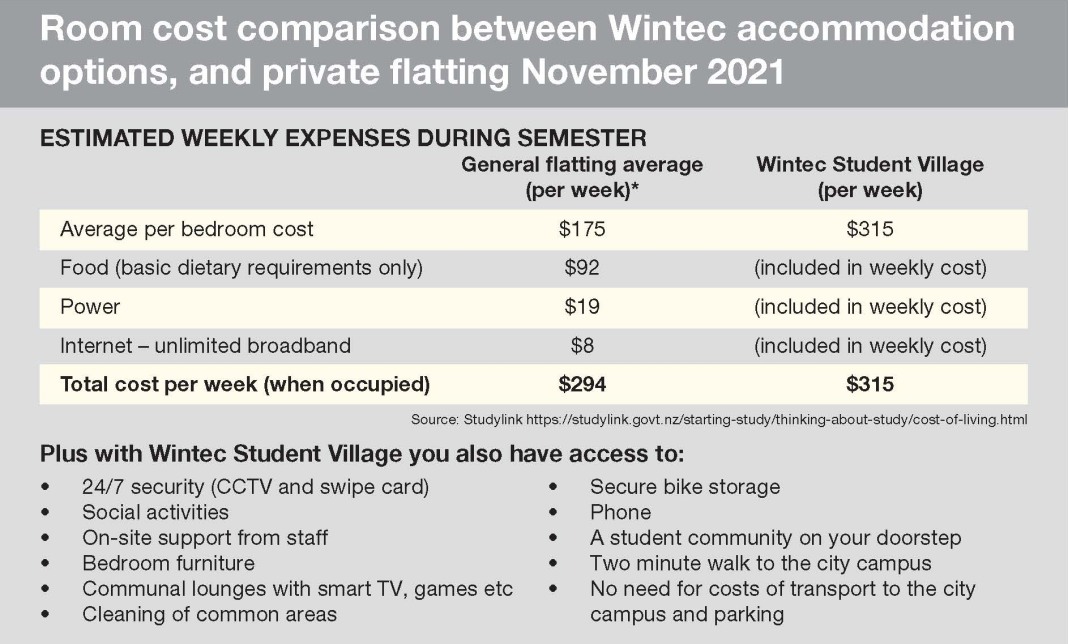 To find out more about your home away from home next year simply Google 'Wintec Student Village' or phone 07 834 9224.