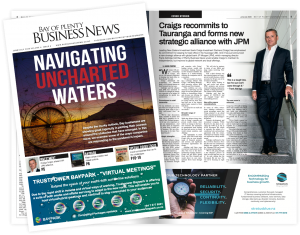 This Special Focus underlines the enormous creativity that the Bay of Plenty has displayed in its responses to the
As we note on the cover, we are all entering uncharted territory now. As the lockdown has slowly reduced in severity levels, businesses have been quick to adjust their ways of doing business to the greatly altered circumstances.
But we need to continue to take care of ourselves and of each other unless we exceptional circumstances we have all found ourselves in slip back, as has been the case in many countries around the world.
By uncharted we mean that the "new normal" is, of course, not what we are preparing for. None of us knows what that normal will be. We may be entering an era where change is a much more visible part of everyday life and business than it has ever been. And that it will be a continuously evolving process.
The companies in this feature – each in their different categories – display the leadership, adaptability and strength that is needed in these troubled times.
And importantly, they offer examples that can inspire and guide us all as we navigate and manage the challenging economic times ahead.
Above all, their stories reflect the enormous kindness and community spirit that has been a hallmark of the business response to the pandemic.
And they reflect the generally collaborative approach that has always been a strong element of the Bay of Plenty business community.
Be safe. – David Porter, Editor