When lockdown hit, it plunged Tauranga's Trustpower Baypark into a strange new world. The Bay's biggest events centre could no longer carry out anything resembling business as usual under the strict terms of the government's new rules.
"Before lockdown we were hosting in excess of 350+ events a year with 1.7 million people enjoying our activities annually," said Business Development Manager Gillian Houser.
But Trustpower Baypark wants the Bay – and New Zealand – to know that it is back and looking forward to welcoming people into all its venues and has refocused to introduce a number of new virtually focused business lines.

"We are confident that in 'short time' we can again claim the status of Hub of Entertainment for Tauranga and Bay of Plenty."
All the venue's teams are excited about getting back into action, she said, as, before Covid-19, 2020 had been shaping up to be an outstanding year of activities.
The pandemic effect has been dramatic with all events cancelled or postponed from the time of lockdown until the end of June.
Some meetings have now been confirmed for June and from July activities will increase with a positive outlook for the later months of the year.
Many favourite Trustpower Baypark events will be back and the venue emphasised that it is mostly local businesses providing activities for the community of Tauranga.
But the past weeks haven't been idle. During lockdown there has been considerable activity taking place with teams researching new initiatives, adapting and finding opportunities amongst the challenges.
Basically – as with many businesses – the focus has been on thinking differently about how services are delivered to enrich the lives of the community and creating a new normal.
New virtual creative concepts
An innovative creative concept has been developed with Trustpower Baypark's new campaign for Virtual Meetings to "Bring your events online". The range of onsite and offsite services now includes: Remote Presentation, Video Conferencing, Web Streaming and Streamed Hybrid Conferences. The Virtual Meeting services also include purpose-built studios to 'broadcast standard' offering competitive packages to enable clients to continue to stay connected to their audiences.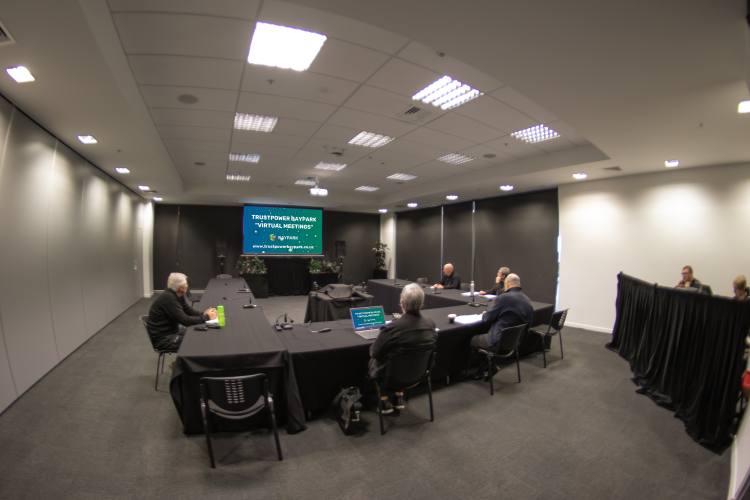 With Video Conferencing, a team can be located onsite and interact with other teams or presenters offsite. Video conferencing service provides a two-way form of communication – providing clients with connectivity from the onsite meeting or event to single or multiple world-wide destinations.
An event or presentation can also be streamed onsite directly to a client audience. A one way broadcast that allows the audience or team to connect from wherever they may be, reaching team members, delegates or business clients safely and effectively, said Houser.
Streamed Hybrid Conferences will allow a worldwide audience to view a client team onsite to interact with other presenters at any location. This is a combination of web streaming and video conferencing – effectively an online conference, says Trustpower Baypark.
And planning is also underway to introduce the concept of drive-in concerts and movies to Trustpower Baypark and will be announced as government restrictions on mass gatherings are lifted.
Challenges over timing
The main difficulty since the re-opening has been to provide dates/space for the number of events that have been postponed, given that 2020 was already at a premium for bookings. Venue organisers are working closely with clients to maximise all the venue space possible.
It may take some time to return to how things were, but for now the focus at Trustpower Baypark is to keep customers and staff safe in Level 2 and in order do to this COVID-19 protocols are in place for all events.
The premises have been thoroughly cleaned and an anti-microbial fog has been applied throughout to provide long-lasting protection. This sterilising product remains active on all surfaces for up to three months.
The company has also introduced a high level regime focused on increased hygiene procedures, physical distancing and contact tracing.
For more information connect directly with the Business Development team on 07 577 8591, email events@bayvenues.co.nz. or link to the Virtual Meetings page on www.trustpowerbaypark.co.nz.