Page Macrae Engineering has seen a year where innovation has been a major focus. Our ability to diversify and innovate has enabled us to sustain our business over many years.
Page Macrae began in the marine industry focussing on ships maintenance and repairs along with the industry equipment used to shift cargo. With the advent of shorter ship visits, we pivoted to offering engineering services to support industries like oil and gas, power generation, petrochemcial, process related installations and major infrastructure.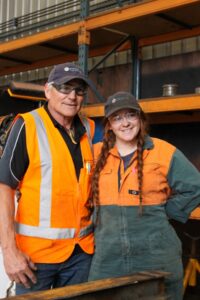 Diversifying our services gave us a stable workload and helped to enable growth. It also gave our team members the opportunity to increase their own capability, which directly impacts who we are today.
The diverse work scope allows us to provide an excellent apprentice programme giving a range of experience from five specialised workshops to our apprentices.
Late in 2021 we proudly congratulated Grace Lowe on completing her apprenticeship through our apprentice programme. Being our first female tradesperson, we are extremely proud of Grace and what she has shown is possible for young women.
Page Macrae's passion for maritime work never waned. Within the last year our design and port equipment teams focused largely on solving problems, innovating new designs and improving work safety practices with product design. This also included improved efficiency for our port and stevedoring clients.
We delivered an industry-first for our client C3, a log vessel grapple (LVG) with automation and 'smarts' that will dramatically increase levels of safety and provide greater efficiency. The design and build of this industry-leading equipment is a project we are hugely proud of.
Page Macrae has developed sustainable business practices to some degree, from diversification of services to training the next generation. Recently we have started to explore the possibilities of better sustainable practices. Although we are not there yet, and we acknowledge that this will be a long and difficult journey that will push our innovations to a new level, we are committed to exploring and continuously improving in this space.
Our new Enviro Diesel Grab (EDG) is an evolution of our previous diesel grab, with changes made based on client feedback for more environmentally compliant practices.
Higher efficiency was a large part of the design stage, moving from six cylinders to four cylinders while improving digging performance.
Another environmental consideration was helping ports to meet their dust and air quality requirements. The company also included the ability to change buckets, a feature inspired by Page Macrae's chain grabs.
In the words of our inspirational leader, Ian Macrae, 'the only constant is change'. A challenge to us all, and a challenge accepted.