Page Macrae Engineering's longevity is a product of its ability to evolve with our clients and solve their challenges. From changes in the shipping industry through to pandemic's, one thing has driven that evolution-our passion for providing engineering solutions to our clients.
From providing talented tradespeople across all disciplines to producing high quality production manufacturing through to the development of OEM port handling equipment, based around environmental and sustainability challenges, for domestic and export markets, Page Macrae has a diversity that is based on collective experience and expertise.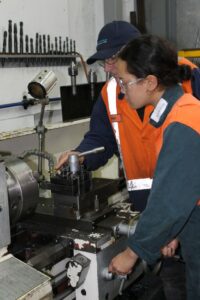 Like any legacy business, we have seen many changes. It was with great sadness that we saw the loss of our matriarch, Elvira Macrae, at 95 earlier this year.
That being said, throughout these moments we are secure in the knowledge that this legacy is secure and we all bear a sense of responsibility to continue to grow a business that has provided security and an outlet for engineering passion to many staff and families since 1955.
It's with that foresight that we saw the appointment of an independent board in recent years and the appointment our new CEO, Dave Body.
Page Macrae's passion to grow the next generation of engineering talent has seen our apprenticeship scheme shine through as a leading light in industry training.
It is extremely satisfying to now see strong ethnic and gender diversity amongst our apprentices and the solid values and ethics the next generation of our legacy displays.
It is also heartening to now see our apprentice alumni in positions of responsibility around the world.
It was with great satisfaction and pride that we welcomed Luka Craig back to our family completing the journey from apprentice, tradesman, project manager for Exxon Mobil to Page Macrae Port Equipment project manager, truly an example of paying it forward.
In the words of our inspirational leader, Ian Macrae – 'the only constant is change'. A challenge laid down to us all and a challenge accepted.
07 575 5079
www.page-macrae.co.nz