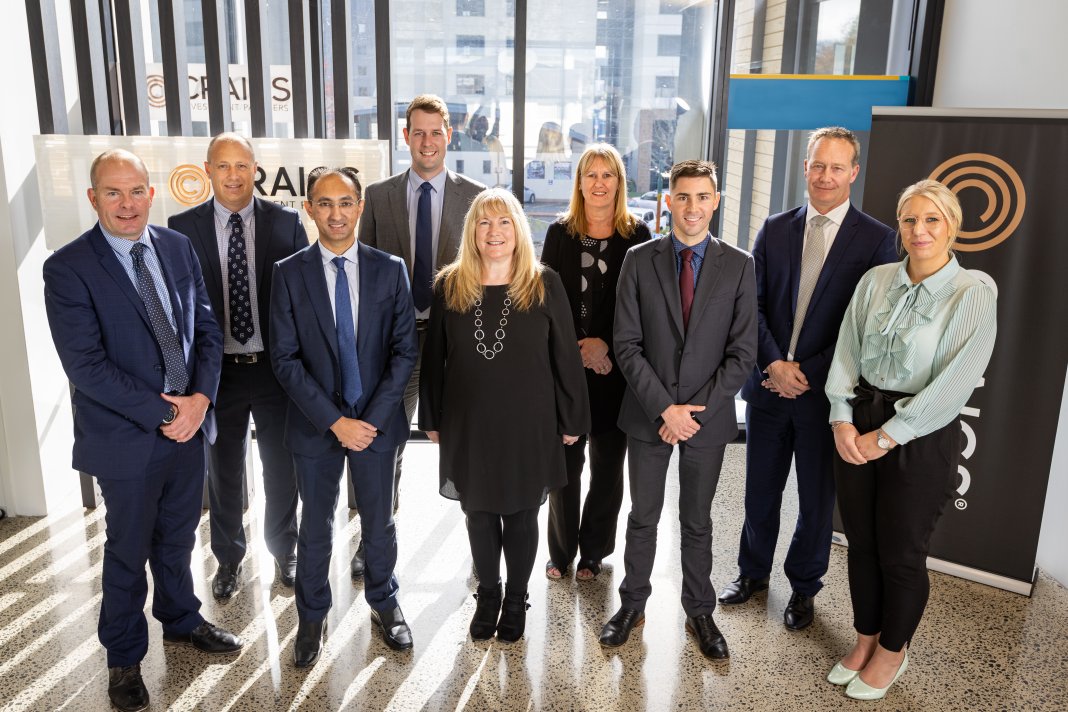 Financial security doesn't just happen — it requires preparation. If you need someone to help you reach your financial goals, grow your wealth and provide you with tailor-made investment advice, meeting with an experienced investment adviser is a good place to start.
Craigs Investment Partners has been providing investment advice to Kiwis for more than 35 years. Since Craigs was founded by Neil Craig in Whakatane in 1984, it has grown into one of New Zealand's largest Investment Advisory and Investment Banking* firms with 19 branches nationwide and over 165 investment advisers.
Craigs provides investment services to individuals, trusts and companies and has provided advice on some of New Zealand's largest corporate transactions.
"Our four business divisions; Private Wealth, Investment Banking*, Institutional Equities and Funds Management, work with the same vision – to provide high quality investment services tuned to the unique needs of our clients," explains Founder, Neil Craig.
"Although we have grown rapidly, our focus on putting our clients first is still at the centre of what we do. Our service is all about long-term partnerships and we have many multi-generational client relationships which we truly value," he adds.
Craigs is 100 percent owned by approximately 250 employees, which means our staff have "skin in the game" encouraging a genuine commitment to client service, quality advice and a loyal culture.
Quality investment advice and services to Bay of Plenty locals
With their head office firmly based in the Bay, Craigs has approximately 240 employees in Tauranga – 45 in the Tauranga branch, including 21 investment advisers. The Rotorua branch, employs a further 15 staff including eight advisers.**
Craigs speciality is providing fact-based investment advice and building bespoke investment portfolios. Advice is underpinned by a team of Research Analysts who monitor the markets and provide timely insights.
"All Craigs clients have access to an investment adviser, who will work alongside clients to help achieve their financial goals. By choosing to be a client of Craigs, you can expect a high standard of expertise.
We will listen first and we can then develop a portfolio that is tailor-made based on the unique needs and goals of our clients" says Tim Kiefte, Head of Advisory at Craigs.
Although we have grown rapidly, our focus on putting our clients first is still at the centre of what we do. – Neil Craig
The Craigs team are firm believers that investing is for all New Zealanders. That's why they have developed a wide range of services from managed portfolios to KiwiSaver, the flexible investment plan mySTART, which enables investors to build a portfolio from $100 per month, as well as Private Equity options.
Whatever your circumstances, whether you are just starting out, or you are looking to grow your wealth, Craigs can help. Contact the Tauranga or Rotorua branch for a complimentary no-obligation discussion.
Tauranga 07 577 6049
tauranga@craigsip.com
Rotorua 07 348 1860
rotorua@craigsip.com
This information is of a general nature only and does not constitute regulated financial advice. It does not take into account your particular financial situation, objectives, goals, or risk tolerance. Investments are subject to risk and are not guaranteed. Past returns are no guarantee of future performance and returns can go down as well as up. Before making any investment decision Craigs Investment Partners recommends you contact an investment adviser. Craigs Investment Partners Limited is a NZX Participant Firm. For more information on Craigs financial advice services please see https://craigsip.com/tcs. The Craigs KiwiSaver Scheme is issued and managed by Craigs Investment Partners Superannuation Management Limited. The Craigs KiwiSaver Scheme Product Disclosure Statement is available at craigsip.com/documents.
---
Community at heart of Craigs
Alongside its relationships with clients, Craigs also fosters partnerships within the community. "It's important to us as a business to support the communities we operate and live in. It's very much the fabric of the culture at Craigs" explains Tim Kiefte.
On a national level Craigs is a devoted supporter of Hospice New Zealand and Community Foundations of New Zealand.
Here in the Bay, the Craigs Tauranga and Rotorua branches support many community, sports and arts initiatives such as the Steamers, BOP Cricket, BOP Bowls, Garden and Arts Festival, Rotorua Hospice Golf Tournament, Geyser Cricket, to name just a few.
Craigs has also supported the Acorn Foundation in Tauranga from its foundation. The establishment of the Craigs Community Fund in 2019 to help support communities in a more structured manner, was a natural progression from this partnership.
Craigs Community Fund and Workplace Giving Programme
Craigs Community Fund was established based on ethics closely aligned with the Acorn Foundation. The idea is to build a fund that is large enough to donate back to our communities well into the future. After just 2 years, the fund has donated over $300,000 back into local communities.
Craigs employees can choose to participate in payroll workplace giving, with employee contributions matched by Craigs up to $500 per year, per employee. The programme already has over 150 employees contributing.
"Workplace giving has been one of the most rewarding aspects – to see so many colleagues support a philanthropic cause. The concept is less about the amount that is donated, but more about engagement. I would encourage any company with a community focus, to contact Acorn or Geyser Foundation to discuss how to adopt workplace giving. It's administratively straight-forward to set up and manage" says Oliver Pomfrett, Head of People and Performance.
Find out more
If you would like to learn more about how your business can work with Acorn Foundation or your local Community Foundation visit acornfoundation.org.nz or communityfoundations.org.nz