Tauranga is emerging as New Zealand's most cost-effective logistics hub for many importers and distributors, according to a new study by Middlebank Consulting Group.
The supply-chain agency's analysis found that Tauranga offered around five percent cost savings over Auckland as a hub for distribution to most parts of New Zealand. The report's context is the rapid growth at Port of Tauranga and an increasing focus on improving key transport connections between the city and other regions.
Middlebank's analysis was conducted to meet a request from a major European brand for information about a potential New Zealand hub for importing and distributing manufactured goods, and has been dstribiuted by Priority One.
"Organisations looking to establish a distribution network in New Zealand should seriously consider Tauranga as a base," the report stated.
"The depth of the analysis and the strength of the modelling in this report will provide a convincing case for major overseas brands to choose Tauranga as their preferred hub in New Zealand. " – Mark Irving
"While the difference is unlikely to warrant an existing Auckland-based company to relocate, Tauranga should be more comprehensively evaluated by any potential new entrant to New Zealand."
Priority One Business Promotion Manager Mark Irving said the independent report confirmed the economic agency's knowledge that Tauranga was truly the "hub of the future" for importers as well as exporters.
"We believe that the depth of the analysis and the strength of the modelling in this report will provide a convincing case for major overseas brands to choose Tauranga as their preferred hub in New Zealand," said Irving.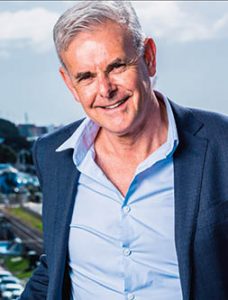 "As our region's road links with neighbouring regions continues to improve, the case for Tauranga looks set to grow even stronger in future."
Middlebank's comprehensive 43-page analysis concluded that Tauranga was arguably the best option for importers and distributors of furniture, electronics and apparel, based n the assumption there was either one hub for the entire country, or one in the North Island and one in the South Island.
For vehicle imports, there was "benefit" to using Auckland as a hub for regions north of the Bombay Hills and Tauranga for the rest of the North Island, the report said.
"This report confirms what locals have known for a long time – that the Bay is booming." – Todd Muller
Among many examples of price savings compared with Auckland, the furniture analysis found that Tauranga was around 12.5 percent cheaper for warehousing and six percent cheaper for road freight. The city's central location was seen as an advantage for distribution in several import categories.
Import and distribution
The report modeled costs for roll-on / roll-off vehicle imports from Japan. It also modeled costs for importing and distributing furniture, electronics and apparel from Australia, Bangladesh, China, India, Malaysia, Singapore, Thailand and Vietnam.
The modelling included costs for sea freight, port, warehousing, cross-docking, and road freight originating from the two main North Island ports of Auckland and Tauranga.
Brother International (NZ) executive chairman Graham Walshe said that moving from Wellington to Tauranga had allowed the company to save $889,000 a year and helped reduce CO2 emissions by 47 percent over five years.
Tauranga offered "super-efficient" port container handling and same-day delivery to areas including Hamilton, allowing Brother to increase productivity by being closer to customers, he said.
"Changes to key infrastructure like roading will improve this further, making the move to Tauranga by importers and distributors a strategic imperative."
Mainfreight national sales manager Rob Croft said Tauranga's central location and relatively congestion-free roads, compared with Auckland, meant that it was possible to offer lower rates for transporting goods to many regions.
"This applies particularly to regions south of Auckland, where the savings associated with transporting goods from Tauranga can be significant."
Colliers International industrial and retail broker Rachel Emerson said Tauranga made enormous sense for import distribution because of its competitive real estate costs, motivated labour pool and highly efficient port operation.
The city also offered an attractive lifestyle, the importance of which could not be overlooked, as it supported work-life balance and good employee morale, she said.
"We have witnessed significant growth in our local import distributors, with most taking significantly enlarged real estate footprints in the last couple of years. Tauranga services the North Island (including same day to Auckland) and combined with a 3PL or 4PL operation in the South Island ensures efficient distribution channels NZ-wide."
Bay of Plenty MP Todd Muller said Tauranga's strong transport links and its prime Golden Triangle' location created an enviable position for distribution.
The report highlighted the region's competitive advantages and showed that Tauranga was "the place" for creating business connections between New Zealand and the rest of the world.
"This report confirms what locals have known for a long time – that the Bay is booming and Tauranga is open for business," he said.
"As more and more people choose to call the Bay home, and our community continues to grow, one thing is abundantly clear – our city's best days are ahead of us."
Key report conclusions
Furniture – Tauranga is "a more economical solution than Auckland" by 4.7-to-4.8 percent for distributing furniture directly to stores when goods are sourced from Southeast Asia.
Electronics – Tauranga is "the most economical hub" because of its relatively low cross-docking and warehouse costs as well as lower road-freight stemming from its "key geographical location". Compared with Auckland, cost savings range from 4.7 percent (shipped from Xingang) to 5.1 percent (from Singapore).
Apparel – Advantages are similar to the Electronics category, with cost savings ranging from 4.5 percent (shipped from Chittagong) to 5.8 percent (from Ho Chi Minh).
Vehicles – When only one hub is being used, Auckland offers a 1.18 percent advantage for vehicles imported from North Asia. However, if more than one hub is being used for the North Island, combining Auckland with Tauranga results in "a more cost-optimised distribution network."