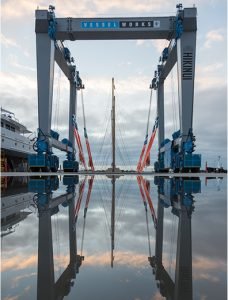 Phil Wardale, who project managed the Marine Precinct development, and whose consultancy will now manage Tauranga City Council-owned Vessel Works, acknowledges there have been some hiccups in the years of developing the hub.
"It's fair to say we took some time out during the project to be really sure at every step as decisions were made that we were doing it the right way," he said. "What we stayed focused on was a lot of future proofing."
It was originally hoped the hardstand would be installed by late last year. The precinct is now operational and the hoist has so far successfully lifted almost a dozen vessels.
But there are still negotiations going on with civil works contractors HEB Construction over some completion issues and costs, and it could be up to a year before some stakeholding companies will be in a position to finally move into their own completed premises.
Wardale says the weather and evolving specs played a large role in the delays.
"During last Winter, HEB Construction had a lot of difficulties with the rain. They had months where they had washed-out base course under the slab, and by the end of the year were struggling to get the right weather conditions."
Wardale said there were also amendments to the specs along the way, which has taken extra time. The last major works still being completed involve the water processing plant.
"That has moved from being a plant that was quite simple for stage one, to being one of the most advanced in the country for a boatyard, which is now able without any modifications to take stage two and three," he said.
"It also now includes fully computerised recycling of the water. There's a whole lot of detail like that because we have continually massaged the project to get the best outcome."
The TCC's Jaine Lovell-Gadd confirmed that final quality issues were being worked through with HEB Construction.
"These are just things that happen at the end of a contract," she said. "Originally we were looking at a smaller project and hoist, then you put it to market, then get a chance to make it bigger. I think we are making good progress."
Wardale said that five people were trained in using the hoist, including himself and Wardale Ltd staff, and more would be trained up. Now that Wardale had won the contract to run the facility for the council, operating manuals, price lists and processes were being drawn up.
"We've now got a lot of work to do in marketing the precinct," he said. "The local region knows about it and my task is to spread the word in the wider region. We want to provide an efficient and seamless operation."
Bay of Plenty Business News has spoken to all of the major stakeholders on the project, and there was a general feeling there was a need for better communication between the council and business as the precinct moves into its next phase.
Hutcheson Boatbuilders' Don Mattson said that, despite some issues coming up during the development, overall it was time to be positive about what had been achieved.
"A lot of areas don't have councils doing something like this and getting behind the industry like this," said Mattson. "It's a new venture for everyone. And we've got work coming in already. We need to work more closely with the council so they understand where we are coming from."
SMF Engineering's Jim McManaway said he thought what the council had achieved since Wardale's involvement had been great.
"Now, given we've transitioned from the conceptual to the operational stage, it's my belief we should be looking at more of a pragmatic and collaborative approach between stakeholders."