Port of Tauranga is keeping cargo moving while investing in the next stage of growth
Keeping New Zealand's largest port operating as a valuable link for export earnings and trade has been no easy feat during the pandemic, but the Bay of Plenty community, port staff and management have much to be proud of as covid's impact starts to fade.
Shipping schedules are still struggling to meet their pre-covid reliability levels, but by digging deep Port of Tauranga's team have managed to maintain those sometimes tenuous shipping links so vital to a small trading nation.
Those efforts meant Port of Tauranga lifted its year ended profit for the year by an impressive 8% to $111 million for the year, with revenue up 10% off a near steady total trade volume.
Port CEO Leonard Sampson says the team bore the brunt of the supply chain upheaval during covid, and he was extremely proud of the way they responded.
"Our service partners also deserve special thanks for their ongoing efforts and our customers deserve praise for their continued support and patience," he says.
The port also proved itself invaluable in dealing with the additional stresses bought on by shipping diversions and delays at Ports of Auckland. The port's flexibility saw it taking the weight of higher than usual imported container volumes and managing the traffic pressures Auckland's delays caused to keep goods flowing.
The Bay of Plenty community has also proven a big winner from the Port's efforts over covid. Port of Tauranga returned a dividend to shareholders of 14.7 cents per share. More than half of the company's shares are owned by local ratepayers, through the Bay of Plenty Regional Council's investment arm Quayside Holdings.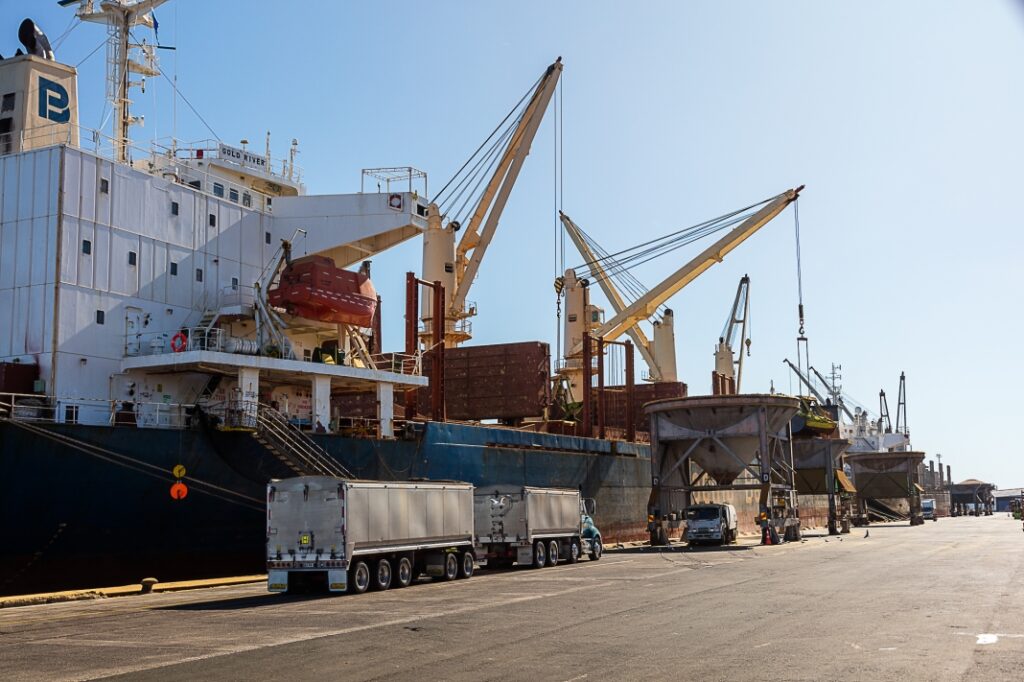 The Council gets around 25% of its annual revenues from Quayside, subsidising rates bills by $347 per household last year.
Leonard Sampson says the focus is now on continued and planned expansion within the Bay and beyond, helping retain Port of Tauranga's position as the country's international hub port.
"We are looking to grow capacity at our Tauranga container terminal, and soon at the Ruakura Inland Port we are developing in Hamilton in partnership with Tainui Group Holdings."
The opening date in early 2023 is rapidly drawing near, and with it excitement at the prospects of a solid infrastructural link between Waikato import-export companies and the regular big ship services that call only at Tauranga.
Port of Tauranga is currently seeking resource consent to extend its container berths by up to 385 metres, using existing port land.
Now subject to an Environment Court hearing early next year, hopes are high for the project that will take two and a half years to complete, enabling an additional one million containers to be handled every year and future proofing the port for another 10 years of growth.
Meanwhile other expansion and development plans at the port have continued, including a new container truck exchange area, the purchase of additional low emissions hybrid straddle carriers and new refrigerated container connections.
Despite the stress and pressure of operating over the most disrupted trading period in history, Port of Tauranga has also managed to take good care of its staff.
Safety is always a top priority. All port users are expected to proactively raise safety concerns, and all port workers are mandated to halt operations if they are unsafe.
That care has also extended to the Bay of Plenty's enviable environment, with Port of Tauranga pursuing continuous improvement in air and water quality, as well as reducing carbon emissions.
In 2023, Leonard Sampson is looking forward to a return to greater reliability in container vessel scheduling but cautions this is also dependent upon Ports of Auckland resolving its operational issues.
"Overall, we believe we are well positioned for the challenges ahead, given the diversity of our cargoes, operational resilience and our long-term freight agreements with key customers."