The recent commissioning of Waiū Dairy's milk plant in Kawerau marks the return of independent milk processing to the Bay of Plenty for the first time in more than 20 years.
The single drier factory, powered through the neighbouring Ngati Tuwharetoa geothermal power plant, has been welcomed for the valuable economic injection it provides to iwi interests and the Kawerau township.
The Waiū Dairy project is the result of a partnership between multiple local iwi groups and Japanese-owned food processing company Cedenco, a well-established player in the New Zealand canned goods and shellfish industries.
Richard Jones, chairman of Waiū Dairy and investor iwi group Poutama Trust, said the plant's creation came from a desire for iwi to build on its natural assets, generating income within the region and providing opportunities for whanau along the way.
"We had a conversation in a bar a few years ago about what we could do, and we looked at Miraka (iwi-owned milk company in Taupo), and asked why could we not do something like that?" he said.
It soon became apparent iwi had access to the key assets needed to build a local milk processing plant, including cows on iwi farms, land to build the plant upon, and whanau keen to have jobs in their home town.
While bank finance was an option, Jones said the collaboration of iwi trusts putting up 66 percent of the $32 million required, had preferred to cast about for a partner to invest with them.
"We asked for expressions of interest and in a short time four came back, all overseas owned," said Jones.
"It was apparent Cedenco were a good choice. They had a head office in Auckland, and were already well-established here in New Zealand."
The company's values of long term intergenerational investment and commitment to local processing also resonated with iwi values, he said.
The company's 900kg an hour milk powder drier is relatively small on an industry level, but it fits with Waiū's aim to take a "softly softly" approach to production, with capacity on the site footprint for another drier in the future.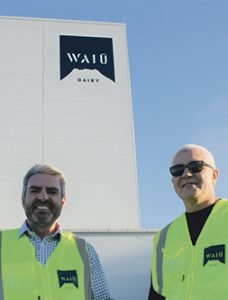 General manager Dominic Young said initial aims were to supply the US market with high value protein powders suitable as ingredients for health products. He said the US market is experiencing "double digit" growth in products that are organic and grass fed.
The plant has been configured to accept both organic and conventional milk supply, with much of the organic milk sourced through the Organic Milk Hub co-op.
So far there are six dairy farm suppliers to the company, and Young said he was fielding a phone call every week from farmers keen to get on board with the company.
Locals have been heavily involved in construction of the plant, and 15 have been employed in its initial stages, with the potential for 40 full-time jobs in total.
Young said the partnership with Cedenco had meant trainee staff were sent to other food processing plants owned by the company to be trained, while Waiū had also engaged with Primary ITO for ongoing training of young people to staff the plant.
Jones said about 80 percent of staff had direct links to the plant through whanau, boosting locals' goodwill towards it.
Kawerau's town infrastructure, originally designed for a population of 15,000 has proven a good platform for the plant's water and wastewaters services.
"The population is only around 7000, so the ability to utilise the town's water and wastewater facilities are a huge benefit for us," said Jones.
Energy supply to the plant also had a strong iwi link, with steam supplied from the nearby Ngati Tuwharetoa geothermal power site.
The company's smaller scale meant it could be well suited to working alongside larger dairy companies keen to trial products on a small scale before commercial launch.
"We enjoy a good relationship with the likes of Miraka and Open Country," said Jones.
"We have no intention or capacity to process large volumes of whole milk powder."