Tauranga Metal Artist, Ninette Kruger collaborated with New Zealand artists Anna Mollekin & Totaea Rendell to create Art For a Cause, raising funds for charitable organization by auctioning exclusive metal art.
Upcoming Charity Art Auction: On Wednesday, 21 July, we will have a live Charity Art
Auction at the Art Lounge in Tauranga to raise funds for our chosen charities.
Charities supported by this event:
Breast Cancer Foundation of NZ
The Mental Health Foundation NZ
Moehau Environment Group Kiwi Sanctuary
Art for a Cause Collaborations born out of Lockdown
In July 2020, Tauranga-based metal embossing artist, Ninette Kruger started collaborating with Auckland Contemporary artist, Anna Mollekin and Papamoa based artist Totaea Rendell
Ninette discovered Anna and Totaea's beautiful native New Zealand-inspired drawings on the Chooice Facebook group and knew their artworks would translate beautifully into 3-dimensional pewter artworks, the metal medium Ninette specializes in.
A Shared Passion for Conservation: Helping to save the Coromandel Brown Kiwi
Anna and Ninette are passionate about conservation and using their art to positively impact the world and making a difference where they can.
Ninette embossed Anna's "Kiwi's Lace" drawing as a 3-dimensional pewter Kiwi bird artwork, and this piece will be part of the upcoming Charity Art Auction to raise funds for the Moehau Environment Group, a Kiwi sanctuary based close to Port Charles, which is Anna's favorite place to draw.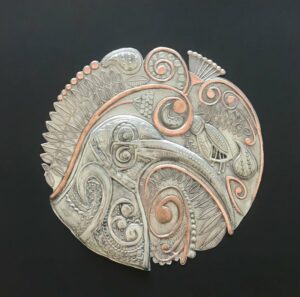 More information: Kiwi Charity Art
Why we're supporting Moehau Environment Group Kiwi Sanctuary
According to DOC, there are only about 68,000 Kiwi birds left in New Zealand.
We're losing 2% of our unmanaged kiwi every year – that's around 20 per week…
The northern Coromandel is home to the largest predator controlled Kiwi habitat on the New Zealand mainland. It consists of almost 30,000 hectares of stoat trapping from Port Jackson to Kennedy Bay.
The Kiwi Sanctuary protects kiwi on land immediately to the south of the Department of Conservation-managed Moehau Kiwi Sanctuary, substantially extending the area protected against stoats.
The Kiwi Sanctuary has 920 traps spread over 10,400 hectares. Since establishment in 2005, they have caught over 1984 stoats, 872 weasels, 14,568 rats, 329 hedgehogs and 36 feral cats, making a huge difference to the breeding success of resident Kiwi.
We'd love to support them in setting up more traps and continuing the wonderful work they do to protect our precious Kiwi Bird.
Ninette & Totaea Rendell raise funds for the Breast Cancer Foundation of New Zealand
Papamoa based artist Totaea Rendell chose to support the Breast Cancer Foundation as his sister suffered from breast cancer and the charity is very close to his heart.
Ninette has lost a family member to breast cancer and have various friends who have been diagnosed with breast cancer, but who have thankfully recovered.
Ninette & Totaea collaborated to create a one-of-a-kind embossed pewter artwork from Totaea's gorgeous New Zealand Kea bird drawing.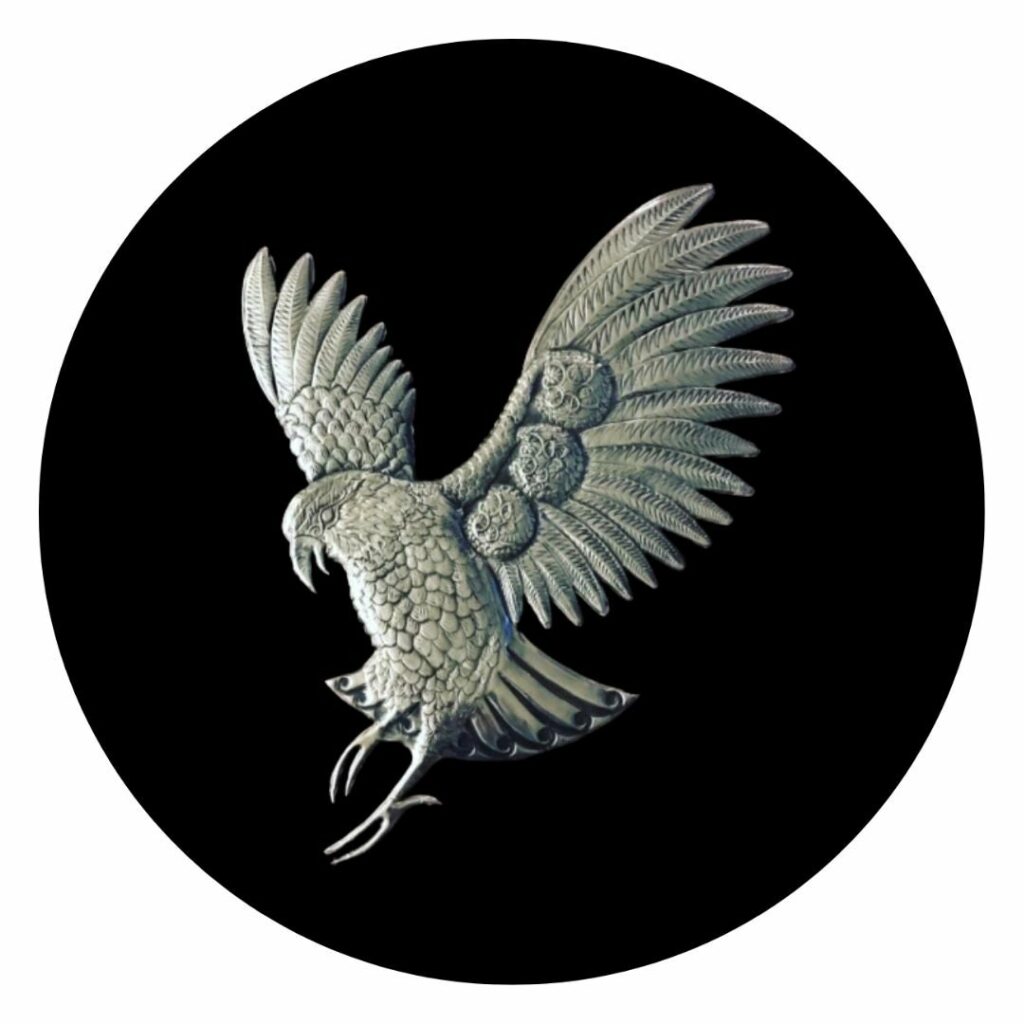 More information: Pewter Kea Artwork
This exclusive pewter piece will be auctioned to raise funds for the Breast Cancer Foundation to help support Kiwi's on their journey to recovery
Raising funds for the Mental Health Foundation of New Zealand
Statistics show that New Zealand has the highest youth suicide rate in the world.
The latest statistics from the Mental Health Foundation was recorded from July 2018 – June 2019. This data showed the highest number of reported suicides New Zealand has ever recorded. 685 people are suspected to have died by suicide during this period.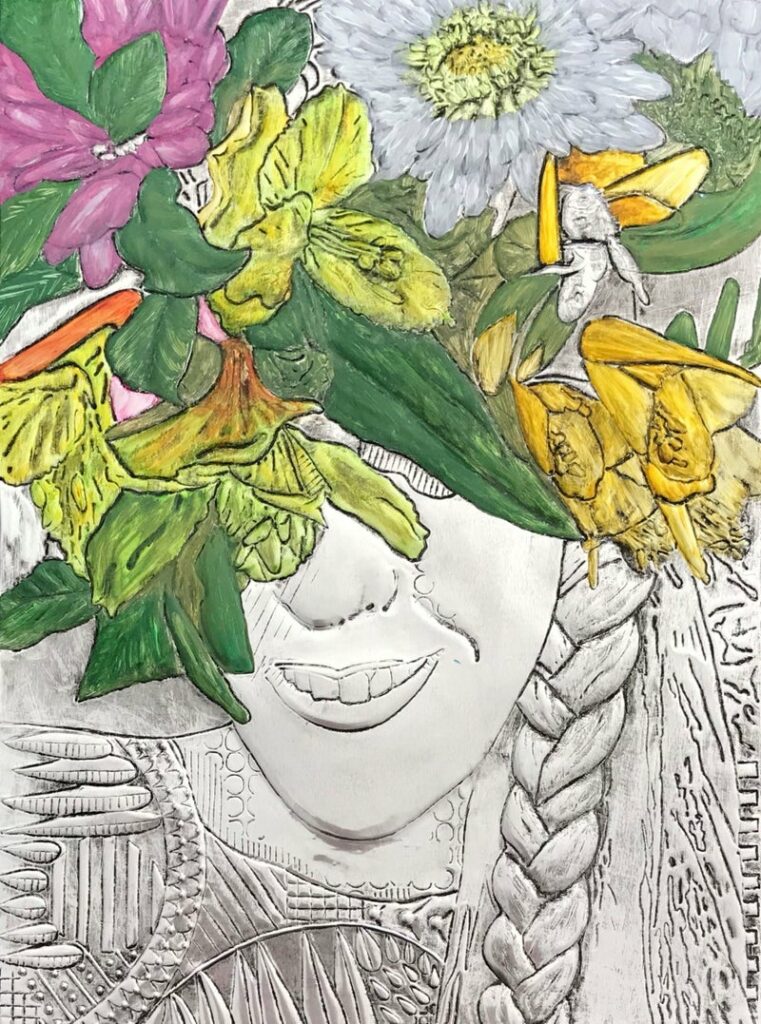 More information: Metal Art Portrait for Mental Health
These statistics are sobering, and it is for this reason that Ninette and Anna Mollekin have decided to create a unique metal art portrait to raise funds for the Mental Health Foundation of New Zealand.
Anna drew her floral self-portrait digitally in her signature lines and patterns style. Ninette then skillfully hand-embossed it into metal before beautifully painting it.
Anna shares her inspiration behind this floral self-portrait:
"For so long I have struggled with anxiety… I didn't even realize how bad and crippling it had gotten until I finally sought help for it and started to get better."
" I now know I don't have to struggle and try to hide it and fight it alone in silence. Additionally, I have seen so many loved ones struggle with their Mental Health too and sadly too many have succumbed to it. This all makes the Mental Health Foundation in New Zealand close to my heart."
The meaning of the symbolism in this metal artwork
The plait is symbolic for strength, connectivity and weaving together of the tapestry of life.
Anna says, "I have a smile on my face as I always work hard on keeping positive and trying to hide my inner struggles with anxiety."
I'm swallowed and engulfed by beautiful flowers as it's a mask of happiness and positivity I like to reflect to the world.
The bee symbolizes my fear of being stung or bad things happening. This is juxtaposed with the Bee's crucial role in nature to pollinate to make things grow and bloom. This metaphorically states that without conquering fear, you cannot grow and bloom.
Charity Art Auction at The Art Lounge, Tauranga
A prestigious Charity Art Auction will be held at The Art Lounge Gallery in Tauranga, on Wednesday 21 July from 5:30 – 7pm.
We will be raising funds for The Mental Health Foundation of New Zealand, Breast Cancer Foundation of NZ and the Moehau Environment Group's Kiwi Sanctuary at this event.