As a relatively new brand in the New Zealand automotive scene, Lexus has been a trailblazer in automotive development since 1989, where luxury, brave design, imaginative technology and detailed craftsmanship have driven the evolution of Lexus.
The quest to create a luxury vehicle superior to even the best European model on the road drove Lexus' first chief engineer, to push the boundaries beyond what was expected. The constant desire to be better and take a future-led approach has allowed Lexus to craft revolutionary designs that continue to propel the brand into the future.
Proof of this future focused innovation from Lexus was in the launch of the first ever luxury hybrid electric vehicle, the RX400h in 2005, a good four years before any real luxury competitor arrived on the market.
The RX range is still one of Lexus New Zealand's best selling hybrid electric SUVs and now with 23 hybrid electric models available in the New Zealand range, Kiwi customers are spoilt for choice. This choice is reflected in Lexus sales with 2021 alone seeing 69% of New Zealand Lexus customers choosing a hybrid-electric model, confirming that luxury customers are embracing both lower emissions and luxurious driving enjoyment.
Lexus already has one of the lowest overall CO₂ emission averages locally due to the high proportion of hybrid-electric vehicles (HEVs) that are sold here. The evolution of Lexus hybrid electric and electrified technology has come a long way in a short 16 years, and the passion for quality, future focused yet human-centric design has remained.
The immediate future of automotive is electrified vehicles and we're thrilled to launch our first fully electric SUV to the Bay this summer with the new Lexus UX300e model.
The human-centric approach to everything Lexus is also known as 'Omotenashi' in Japanese. Omotenashi is about anticipating the needs of others without expectation of reward. In other words, the experience we are giving to customers is given whole-heartedly.
It's this amazing experience, I believe will ensure buyers not only keep coming back to us at Lexus of Tauranga, but back to bricks and mortar retail in general.
As we all shop online 24/7, and the introduction of next day delivery stokes our desire for immediate gratification, it has become more important than ever to ensure we at Lexus deliver an amazing experience for every person who walks through our doors.
When we invite people into our showroom we want them to feel that every aspect of their car purchasing journey is personalised to their needs.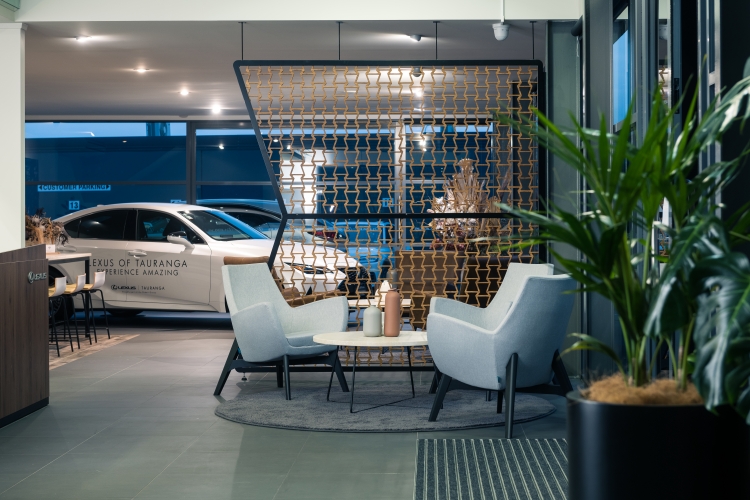 When we open our doors, we are inviting people into a comfortable, welcoming space where they are our guests – we are sharing our hospitality or 'Omotenashi' with them.
Our new Lexus of Tauranga showroom is more like a hotel foyer than a traditional dealership, and we think it's the perfect setting for talking about guest's dream vehicles. The initial dialogue is not necessarily about the product but more about your lifestyle, what you like, don't like and what you want to achieve from a vehicle buying experience. As we build our customers trust, this allows an honest and transparent relationship to develop.
It's about ensuring that when guests leave here, they've had a memorable experience that fits with what they would expect of a premium luxury brand like Lexus. Our guests then become our greatest advocates.
As for the future of mobility, we're living in a period of technological innovation and development like no other generation has ever seen before. The immediate future of automotive is electrified vehicles and we're thrilled to launch our first fully electric SUV to the Bay this summer with the new Lexus UX300e model.
Our cities are being re-developed and updated to pave the way for an electrified lifestyle and we're lucky to see this development come to Tauranga, charging stations are appearing in new developments like The Crossing and Elizabeth street re-development as well as the new Hotel, retail and office development in Hamilton Street to be completed by 2023.
I have no doubt there will be a race from all car manufacturers to bring out more diverse electrified model ranges with faster charging times and more kilometres per charge as we all adapt to electric vehicles and demand more from them.
The concept of car ownership continues to evolve too and we're seeing long term committed car owners looking for more agile mobility solutions for getting from A to B. Ebbett Group (part owners of Lexus of Tauranga) have recently launched a subscription service to cater for people who might need a car for extended periods of time but don't need to buy. I believe we'll see more car sharing companies around New Zealand as some of our smaller cities like Tauranga continue to grow.
By 2025, Lexus globally plans to introduce more than 10 electrified battery electric (BEV), plug-in-hybrid (PHEV) or hybrid-electric vehicles (HEV) models making it an exciting time for Kiwis and their journey to experience an amazing electrified future.
My team and I at Lexus of Tauranga pride ourselves on ensuring every customer interaction is one that ensures our guests leave feeling as though this is just the beginning of a new journey, of both excitement and stimulation that will culminate in being welcomed to the Lexus of Tauranga family.