Tauranga's Marine Precinct has seen more than its share of ups and downs since it was first conceived and then formally launched in mid-2018.
Even obtaining full clearances for successful tenderers to proceed with erecting their planned sheds has proven problematic since the inception of the ambitious project.
The Precinct has retained the Vessel Works title to run its hard stand, utilising its 350 tonne travel hoist Hikinui, which been active in bringing sundry of vessels of varying sizes up from the harbour for refit work by the half a dozen companies that have set up operations in the Marine Precinct.
Phil Wardale, who played a large part in conceiving the Marine Precinct, has since moved to Whakatane where he is playing a similar role in opening a marine precinct in the Eastern Bay.
New manager in charge
His role as director-marine precinct has been taken by Dave Withington who reports to Paul Davidson, GM corporate services.
Davidson told Bay of Plenty Business News that, now the precinct was running reasonably smoothly, it was time for a reset of the operations.
"We've focused on the vessel works component at the start of that," Davidson said. "Operations have been going for a while now and we want to reset."
The Marine Precinct was the site of a major meeting of most of the stakeholders in late March, and according to Davison, things were proceeding well, though some at the meeting held different views.
"We talk to the stakeholders and we understand what they want," he said.
"But we need to get a more aligned strategy going forward."
We talk to the stakeholders and we understand what they want. But we need to get a more aligned strategy going forward. – Paul Davidson
Davidson said they hoped to finish the other part of the reset for the Marine Precinct by the end of this calendar year.
"We're looking at what is exactly the most appropriate model," he said. "Is it what we've got now? Or is it something different?"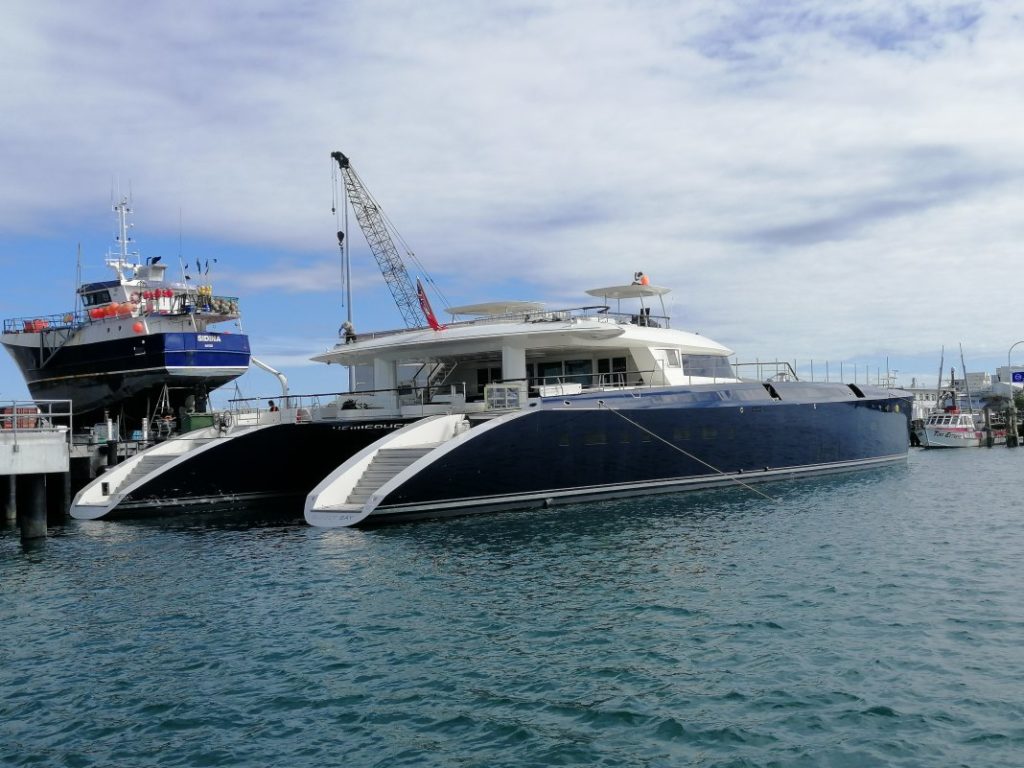 Role for the commissioners
The newly appointed commissioners have visited the Marine Precinct, but had not yet engaged with what was required, he said.
"If there is any change that will be a decision that needs to go back to the commissioners," he said.
Withington told Bay of Plenty Business News one of the major issues in resetting the strategy was that there was no agreed strategy for the use of the Tauranga Harbour and the Marine Precinct.
He acknowledged that similar operations throughout New Zealand were run in different ways and some questions remained to be settled as to whether the council should be running such a system.
"The Precinct is going pretty well and 95 percent of it is ticking over sweetly," said Withington. "We're well over targets for occupancy and utilisation of the facility and it's definitely settled down. What we are doing is humming along, but we still have outstanding questions."
Withington said that when he had joined, he became aware there was no strategy for how Tauranga uses the harbour, so there was no guidance on how the Marine Precinct and its facilities fitted into the use of the harbour.
"Everything's been a bit piecemeal."
Organisers were now focusing on two phases. The first was commercial and then there would be a move to a recreational focus, he said.
Withington observed that local fishermen continued to use the Precinct.
"In the next couple of months aiming to find out exactly what people want and identify high level objectives for this facility," he said.
---
SERVICE PROVIDERS AT THE MARINE PRECINCT ONSITE
SYC specialises in fairing and painting large luxury vessels and has worked for numerous shipyards, boatbuilders and yacht-owners worldwide.
Read more: Super Yacht Coatings' success
Pachoud Yachts is an innovative boat builder, specialising in the construction of luxury composite yachts, which has been operating in the BOP for more than three decades.
Pacific 7 is a marine contracting company that supplies marine services to local and central government including piling, surveying, salvage and mooring. It is also developing a range of electric workboats.
SMF offers contract manufacturing, metal fabrication and machining services, including all types of marine stainless steel, aluminium and other boat metal work across the full range of boat hardware.
MMT is a locally owned and operated business, which is well-established in clears, covers and upholstery. They cover anything from curtains, carpets, umbrellas, indoors and outdoor covers, clips and more.
RMD Marine
RMD Marine is a fishing company operating from the West Coast to the East Coast of the North Island. The company owns and operates a range of fishing vessels. RMD Marine has a long association with Aotearoa Fisheries, the largest iwi-owned fisheries company.