Tauranga's ambitious Sulphur Point-based Marine Precinct has shouldered its way through a challenging first couple of years in operation. The Precinct hit a new milestone in February when high end vessel painting company Super Yacht Coatings was finally able to begin building the foundations for its massive new paint shed.
Despite some negative reports last year on issues raised by a few stakeholders, the Precinct – which was several years in conception and construction and formally opened in August 2018 – now seems to have resolved many of the challenges it initially encountered.
Super Yacht Coatings is one of half a dozen or so marine companies now operating around the Precinct's centrepiece high spec 6300 sqm hardstand, which features New Zealand's biggest vessel travel hoist, the 350 tonne Hikinui.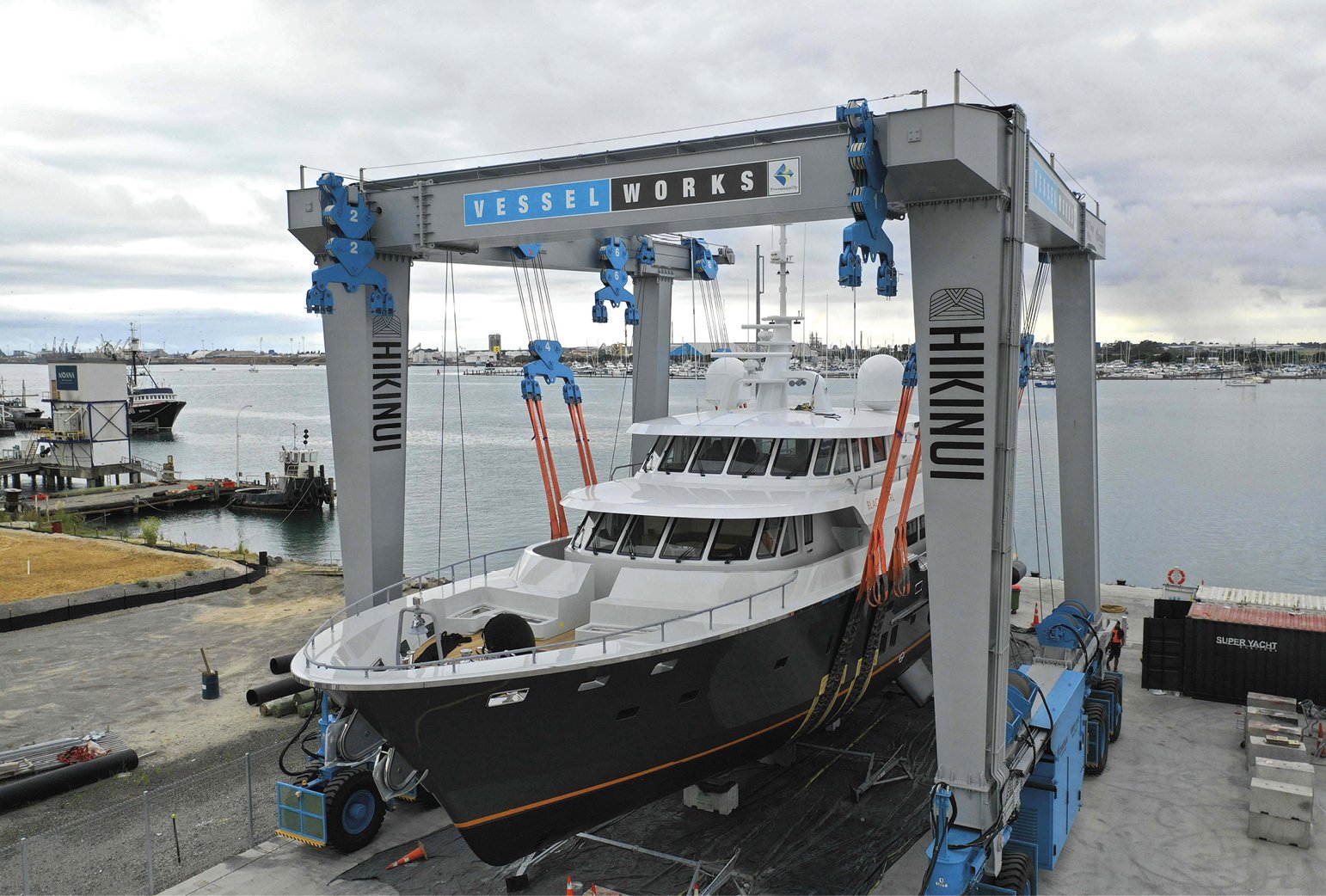 They include Tauranga marine businesses and people that have had a long association with the area such as Don Mattson of Hutcheson Boat Builders, and Sean Kelly, now running Pacific 7.
Super Yacht Coatings, owned by Mark Hanna and Regan Woodward – originally from the Bay – expanded from their main operational base in Auckland. (see accompanying story)
Hanna told Bay of Plenty Business News that having grown up locally, the two directors were naturally keen to migrate back to the Bay sooner rather than later. The Precinct provided a perfect opportunity to do that, whilst also allowing them to continue their Auckland operation where they have worked hard to build a really solid reputation.
"Our consent process was definitely challenging," he said. "However, we are now focused on the future, and really excited at the prospect of attracting some pretty amazing yachts [and other vessels]to the region. This will be nothing but positive for the local marine industry, and the local business community generally."
The Bay of Plenty Regional Council is the funding partner for the project, contributing $5 million to a total cost of around $12 million, mostly covered by the sale by Tauranga City Council of properties at and near the site to marine businesses.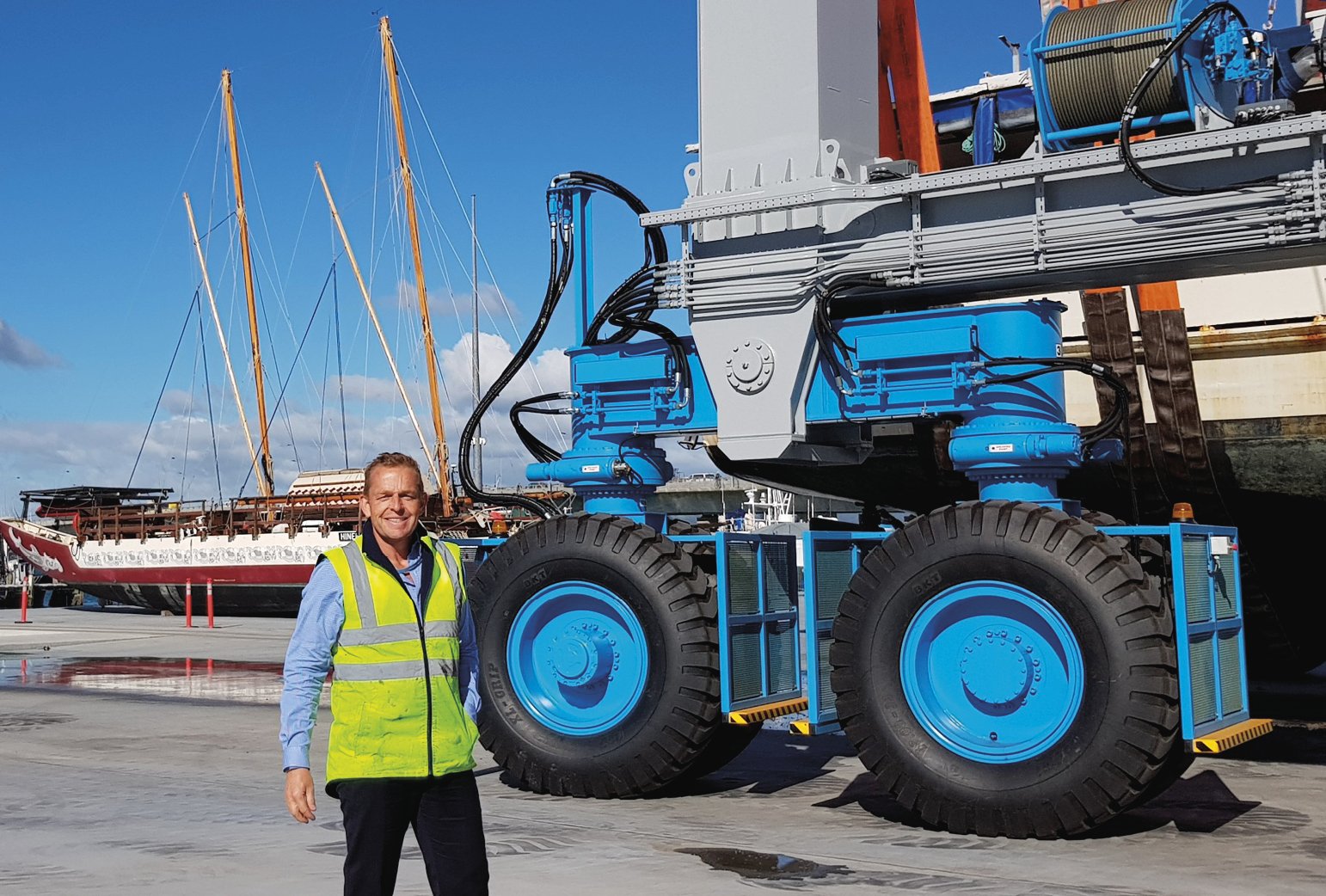 Previously, the site was dogged for years by complaints from marine operators that they were unable to secure long term tenancies to develop their businesses strategically in the area.
Some of the remaining issues relate to the views of some stakeholders over the TCC's operational role in the Precinct. TCC operates the travel hoist and hard stand through consultant Phil Wardale and his company. Some stakeholders would prefer to see the hard stand operations brought under the control of the marine businesses operating on the site.
One source who asked not to be named said it came down to whether the council should be in the business of being a business, and suggested there was a need for people with more direct experience in managing such a yard.
Paul Davidson, TCC general manager corporate services, said to make sure stakeholder's concerns and ideas were heard, council had formed an Advisory Group to ensure future developments of the precinct were fit for purpose, and not only meet the needs of current stakeholders, but also future tenants.
"This new group includes a range of current precinct stakeholders, and their input will be vital in helping make decisions about future developments including the future wharf," he said.
"While the Vessel Work's design has changed over the course of the project, decisions have been made after engaging with stakeholders to ensure facilities meet the needs of the users, such as commercial vessels and fishing fleets."
Raised profile for Bay capabilities
What no one appears to be disputing is the fact that the facility has sharply raised the region's visibility as a key centre for servicing,  repairs and refits for vessels that have ranged from Matakana Island's log truck carrying barge, to high end superyachts, and legendary racing yachts such as Beau Geste, due to be relaunched in February after completing a lengthy stay.
Phil Wardale emphasized the Precinct wasn't just attracting superyachts. He told Bay of Plenty Business News there had been 49 boats lifted last year, with a total tonnage of just over 5000 tonnes.
"The average stay was far longer than we expected and forecast," said Wardale. "We're doing a lot more bigger projects and people are staying longer."
Wardale said the mixture of vessel types lifted had been just over 60 percent of "black" boats – commercial fishing boards, workboats and barges – compared to the balance of superyachts and "white" recreational boats. in terms of number of lifts.
That included vessels such as local fishing boats in excess of 50 tonnes that were too big for local marinas and would otherwise have been forced to go to other centres for services, said Wardale.
One of the key drivers for councils' support of the Precinct was to encourage the growth of the Bay's marine sector, and business more generally in the Bay. And with vessels staying for weeks and in some cases several months, the facility has provided a welcome injection of revenue to the Bay – not just in direct marine costs, but also in accommodating and feeding crews.
All sites now settled
A major problem for many of the stakeholder investors in the Precinct during initial operations was the slow delivery of consent and other permissions necessary to allow the companies to finalise setting up their businesses at the new site.
According to Wardale, all sites have now been settled and the Precinct had reaffirmed the rationale for council and the Regional Infrastructure Fund's investment and commitment to the industry.
"We've demonstrated that with careful management you can have a yard with both commercial and recreational vessels being lifted," he said.
"And the big takeaway is that the Precinct has put Tauranga on the world stage in terms of it being a refit centre and facility and destination."
One of the issues that surfaced last year was complaints from local fishing boats that the hard stand did not take into account their berthing and offloading needs, but this is being  addressed through the inclusion of fishermen representatives on the Advisory Group.
Jim McManaway, director of Specialised Metal Fabricators Ltd (SMF), said there was activity at the site with boats being lifted and work undertaken by local companies.
He noted especially the role of Super Yacht Coatings in attracting major vessels to the Precinct.
"Well done Super Yacht Coatings," he said. "They've brought a lot of business to town and have done a fantastic job in bringing a lot of those big boats into town."
Pacific 7's Sean Kelly has a long association with the site before it became the Marine Precinct. He continues to operate a range of workboats and a year or so ago manufactured and launched an innovative electric boat now being leased by the Department of Conservation. He expects to launch a larger 10 m  electric aluminium catamaran in the next couple of months.
Kelly has been outspoken about his dissatisfaction with aspects of the Precinct and told Bay of Plenty Business News he felt a new culture was required.
"I've got reservations about the management and level of service," he said. "But we're very slowly working through the problems. One way or another we will get there."
High quality site
But Kelly acknowledged that physically the hard stand and hoist were of a high standard.
"There's absolutely no question that it was a good decision to go ahead with building the facility."
Don Mattson of Hutcheson Boatbuilders is another veteran of the site and longtime campaigner for creating the Precinct.
He told Bay of Plenty Business News it had been worth it, despite the challenges, adding that he had been sceptical when the Precinct planners opted for a larger hoist than was originally intended.
"But I retracted that when it opened. I think the bigger size has been worth it."
Mattson acknowledged there had been some teething issues and some of the detractors had reasons to be disappointed. But he said the stakeholders would work through that.
"We're seeing local boats getting serviced here, which has kept that money in town. There are some issues that need to be fixed, but I believe they're being sorted."
All of the marine service companies were getting work off the boats coming in, and Super Yacht Coatings' new shed was now underway, which would help drive more business, said Mattson.
"I think that some of the detractors need to get behind the place now and support it positively, rather than being so negative." 
TCC's Paul Davidson said the goal for the Precinct was to drive economic growth in the sector, creating more jobs for people in the community.
"Our aim is to be one of New Zealand's eminent marine precincts, putting Tauranga on the map as a destination for marine services," he said.