Despite what National Party leader Judith Collins described as a "rogue" poll showing the Labour Party well ahead in the polls when we went to print, it would be a mistake to assume the election result is a done deal. There is major uncertainty in the country and around 10 per cent of the work force is about to go off wage subsidies, with a good proportion of them likely to be unemployed in the next few weeks. Anything can happen before the polls open.
According to a statement from Prime Minister Jacinda Ardern, "we're already rolling out our plan to recover from Covid-19 and rebuild together. This includes initiatives to support businesses, keep New Zealand moving, and put us on a path back to growth."
But based on what has been released so far, the major coalition government party, Labour, is essentially staggering its rollout of the detail of its policy to very close to the election date.
According to Ardern, the Labour policy is built around five key principles: investing in people, jobs, preparing for the future, supporting small businesses, and positioning New Zealand globally. She pointed to the Government's Wage Subsidy Scheme, which has now supported around 1.7 million jobs. The Government had also made all apprenticeships, and trades training in targeted areas, free – for everyone, not just school leavers.
"This will give more New Zealanders the opportunity to retrain and get the skills they need for the future of work post-Covid," she said. However, the uptake of such training requires optimistic companies willing to take on apprentices and there has been little evidence as yet that this is happening.
"Along with investing in our people… our Government has invested in practical support for businesses, from interest-free loans and more than $3 billion in tax refunds, to funding to help them grow digitally and on-the-ground support for our exporters. Going forward, we will continue to back our businesses to innovate and grow, to keep our economy moving."
The Government also says creating jobs is a key part of its plan, including major investments in much-needed infrastructure projects across the country, which it says are expected to create over 20,000 jobs, along with new programmes creating more than 10,000 new environmental jobs in the regions. Whether that will meet the country's expectations remains to seen. There is little question that Ardern has been impressively empathic and decisive around the Covid-19 shutdown, but the coalition has been much less effective in effectively implementing its proposed policies since it took office.
New National leadership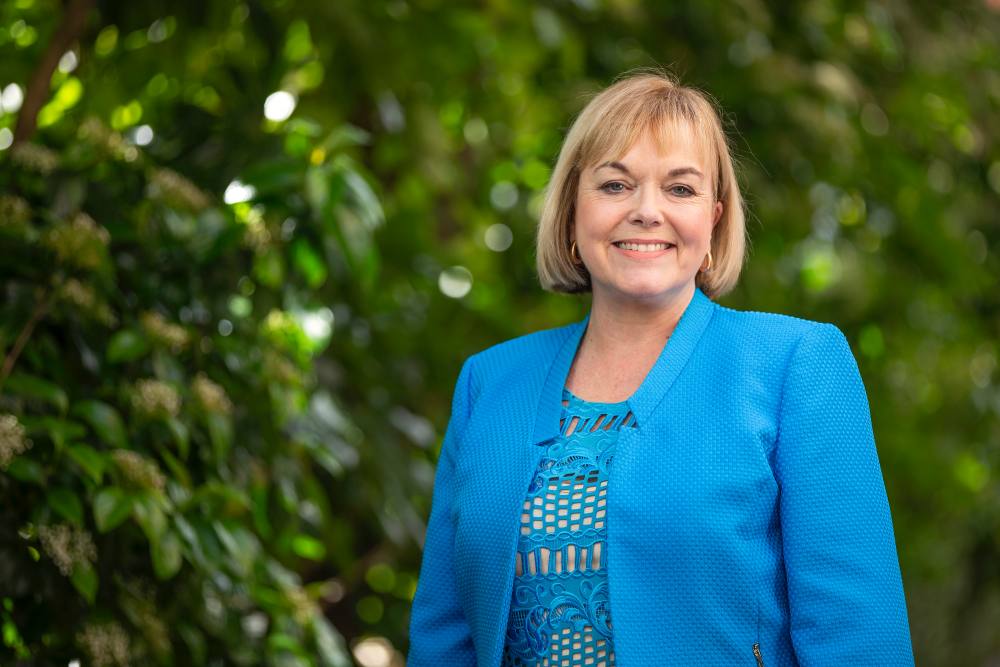 Judith Collins, who has applied a firm grip on the National Party after emerging from recent scuffles as leader, will make for an interesting match-up with Ardern in forthcoming election debates.
"Our focus this election is on delivering an economic plan that gives hope to the more than 200,000 New Zealanders who are currently on unemployment benefits, as well as the tens of thousands more whose jobs are hanging by a thread," she said.
"Already we have announced a transport package for the Bay of Plenty that will create hundreds of jobs and drive economic growth across this fast-growing region. It involves building the full Tauranga to Katikati Expressway, complete with a bypass at Katikati."
Collins noted that the Western Bay of Plenty was growing strongly on the back of horticulture, but the resulting freight and population increases have put pressure on its road infrastructure. The new project would connect the Bay of Plenty and Coromandel with a new world-class, four-lane expressway, replacing one of the most dangerous section of roads in the country," she said.
"National knows that providing for themselves and their families is what matters most to New Zealanders, and they will put their trust in National because we will bring the leadership, experience and vision needed to get our economy back on track."
National's Finance Spokesperson Paul Goldsmith said recently that the best path back to prudent levels of debt in a decade or more is an absolute focus on economic growth, combined with disciplined spending.
"National recognises that during an economic crisis, when we are losing thousands of jobs and businesses are struggling, increased government spending and higher levels of debt are required here and now," said Goldsmith.
"Our plan will allow for increased government spending on social services but would not involve the random excess spending that is Labour's substitute for a growth plan," he said.
"New Zealand can spend more now, as [Finance Minister] Grant Robertson always points out, because we had low levels of government debt coming into the crisis. We only had low levels of debt, following the Global Financial Crisis and Canterbury earthquakes, because of that combination of disciplined spending and the focus on growth delivered by the previous National government… Labour's idea is only to keep spending more, borrowing more and taxing more, without a plan for it to stop."
NZ First seeks distance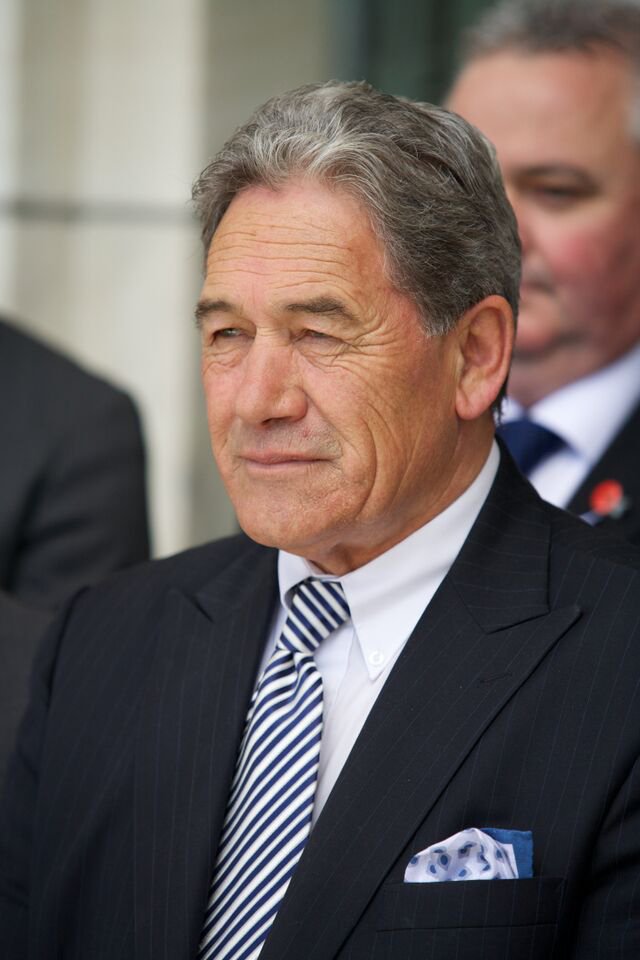 Coalition Government partner New Zealand First – along with the other leg of the triumvirate The Green Party – have been struggling in the polls recently.
NZ First leader Winston Peters in recent weeks has been increasingly distancing himself from the Government's policies. As he remarked when launching the party's election platform:
"We have used our experience to help government through many crises, and to avoid a number of pitfalls. We've used common-sense to hold Labour and the Greens to account. We've opposed woke pixie dust."
According to NZ First MP, Fletcher Tabuteau, who looks after the party's interests in the Bay, economic development is the smart way to move the region forward.
"On behalf of Central Government, I have been and will continue to work with local councils, iwi, our business owners, and other stakeholders to ensure that when we do invest money into the Bay of Plenty, it is in the best place to grow business activity," he said. He referred to the benefits conferred on the regions by the US$3 billion Provincial Growth Fund, which he asserted had ensured the provinces were at the heart of Government decision making and actions, and which National has labelled "a slush fund".
"Good economic development means doing things smarter, one obvious outcome is more jobs. We need a strong focus on recovery post-Covid," said Tabuteau.
"The best way to do that is to carry on with what we have been doing, smart investment in infrastructure, and supporting local business. I want to continue my efforts to support all businesses at whatever stage of their development, to grow and thrive, thereby creating more jobs, and see large infrastructure projects happen, especially here in our region."
He said it had been harder for councils and developers in the Bay of Plenty, and everywhere else in New Zealand to keep up with the demand for new homes." We have already shown this will change, with more houses at lower costs," he asserted.
The Green future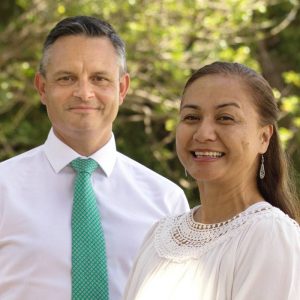 The Green Party's policy platform Think Ahead, Act Now: Our Green Vision for Aotearoa was unveiled by co-leaders Marama Davidson and James Shaw in July. Said Davidson: "It's a bold plan for Aotearoa, where everyone has what they need to thrive, our precious natural environment is protected, and communities are supported to be truly sustainable…. Covid-19 has shone a light on the glaring holes in our system, but has also provided a rare opportunity to renew our communities and our relationship with nature."
Centrepieces of the policy included the party's proposed  Guaranteed Minimum Income of $325 per week "for students and people out of work, no matter what", various support credits, and the reform of the ACC as an Agency for Comprehensive Care, creating equitable social support for everyone with a work-impairing health condition or disability, with a minimum payment of 80 percent of the full-time minimum wage.
Alarming the likes of National, and slammed by coalition party NZ First, was the Greens' proposed one percent wealth tax for those with a net-worth over $1 million and two new top income tax brackets for a more progressive tax system that redistributes wealth. The taxes were described by many observers as being unreflective of the reality of income distribution in New Zealand.
ACT may gain traction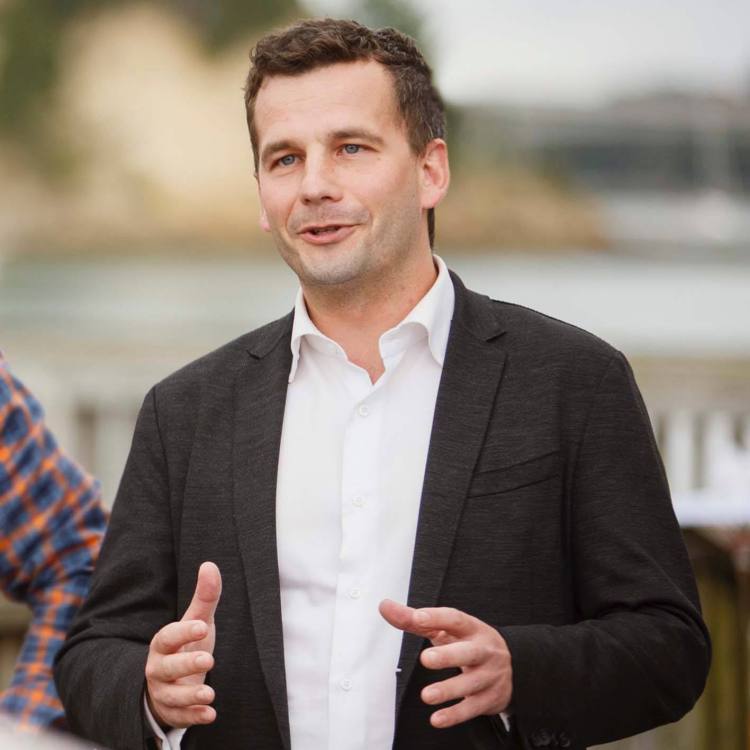 Long time National Party support party ACT has been making some inroads, largely as a result of leader David Seymour's success in getting his End of Life Choice proposal on the election ballot as a referendum item.
Essentially, Seymour is in the business of trying get votes away from Labour's coalition partners.
Whether he succeeds or not is an imponderable this far out, but on recent polling he could well bring an extra MP into parliament with him.
According to the party, key Bay issues include improving housing affordability by a clear commitment to replacing the Resource Management Act, also a National Party policy.
"For decades, councils have tied new housing developments up in red tape and underinvested in infrastructure. ACT believes New Zealanders must be free to build, and councils should be encouraged to invest in infrastructure, if we are to solve the housing crisis and achieve housing affordability."
ACT also favours action on the Regional Seasonal Employment Scheme, stating that although Covid-19 has closed the border, Government should be looking to open up to Covid-free countries like those in the Pacific Islands for seasonal workers.
The policy adds: "Governments have chosen where to build infrastructure based not on economic need, but political advantage. ACT would remove infrastructure decisions from Ministers and vest them in an independent Infrastructure Corporation."
Says ACT: "Restarting the economy will require tax cuts, a reduction in low-value spending, a return to 90-day trials for all firms, and cutting red tape that holds us back, particularly the RMA."
According to Seymour, Government can do one of three things to get back to surplus and begin repaying the debt: tax more, spend less, or grow faster.
"New Zealand is already the most heavily-taxed economy in the Asia-Pacific," he said. "As a proportion of GDP, we pay 32 percent to local and central government, more than Australia, Japan, Singapore and Korea. We can't increase taxes and doing so will mean option 3 – growing faster – won't happen. We must reduce low-value, politically motivated spending we can no longer afford."
As noted above, it's still early days for this campaign and the variables associated with MMP and the prevailing global uncertainty means we shouldn't be surprised at whatever result emerges.