Dale Carnegie's business in 90 countries has bounced back with an average increase of over 40% in the last year due to the heightened needs of clients.
Companies are struggling to adapt to the new ways of working and needs of employees. Our CEO Joe Hart said that Dale Carnegie himself lived through the Spanish Flu, armed conflict and two major technological changes in his lifetime and we have done the same in just the last 3 years!
Because of this the old ways of organising business and doing things no longer work. Hierarchical top-down organisation doesn't fit today's business reality as people need to work together in a matrix across departments and external networks to be effective.
The pandemic has taught us that collaborating online allows us to learn who we really need to meet with in person, saving hours. We have learnt that rather than telling a new employee what times and places they will work, we first learn what their personal commitments are to enable them to give their best.
When dealing with people, remember you are not dealing with creatures of logic, but with creatures of emotion." – Dale Carnegie
Recently Dale Carnegie conducted an employee engagement study across 20 countries including New Zealand. What we learned was surprising.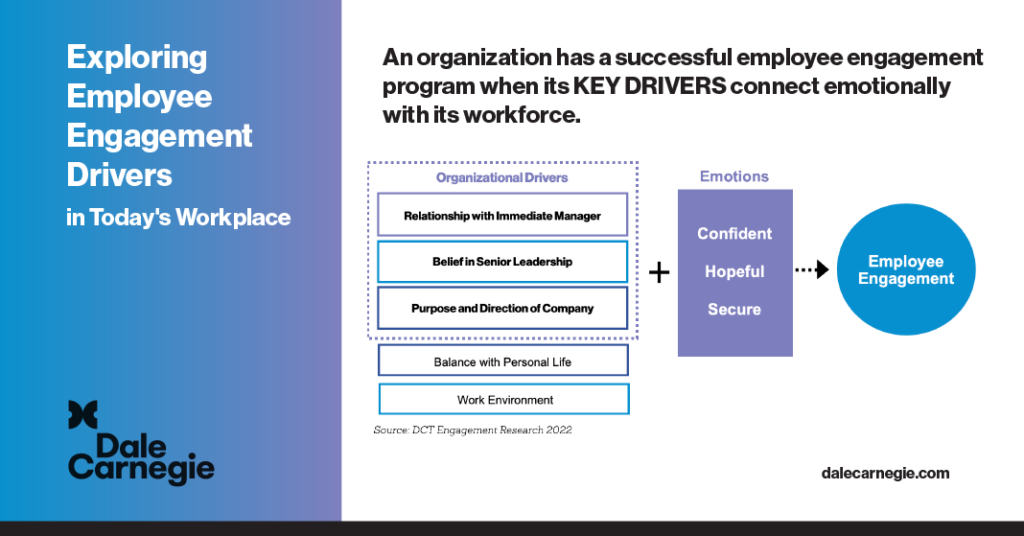 In our previous study in 2016 the emotional needs of employees included feeling valued and empowered.
Those needs are no longer featured as employees now know their value to the marketplace and are empowered to leave an employer.
The organisational drivers of engagement haven't changed. Employees want a good relationship with their immediate manager, to believe in senior leadership and for their company to have a purpose and direction they align with.
In addition, younger employees want balance with their personal life and an enjoyable work environment. This is a far cry from the good old days where if you weren't happy you were told to take a concrete pill and harden up!
In addition, these organisational drivers must align with the heightened emotional needs of employees after almost 3 years of pandemic and change. The emotions are:
Confidence – employees are set up for success and understand that the work they do contributes to the success of the organisation.
Secure – employees feel psychologically safe, that diversity among associates is embraced and have the support of their leader. With the higher cost of living employees are sensitive to news or rumors that may affect their income.
Hopeful – employees are encouraged to grow, develop new skills, and have the opportunity for personal and professional development.
I would say that the Black Ferns ticked all those boxes and made it obvious that emotions matter in today's world.
The interpersonal skill of the immediate manager is a key factor in staff feeling secure, confident, and hopeful. This is perhaps why many businesses and organisation's today are focusing on providing more opportunities for leadership development.
However, with staff shortages it can be challenging releasing staff for training.
Businesses acknowledge that building leadership and resilience skills are important, but this can only be put off so long before the important becomes urgent. Urgent is usually when burn out kicks in, mistakes are made, or a competitor offers to meet our employee's needs.
There has been a real eagerness to return to in-person training. Where this has changed is in the use of technology incorporating learning management systems that provide pre and post training resources through a personalised learning portal. Participants access resources via their mobile device when and where they need them and can customise their learning plan and collaborate with their learning peers. This makes training more agile and responsive to participant needs.
As a training provider, we have become more flexible to meet changing client needs by introducing a rolling schedule so if a day of training is missed due to sickness, staff shortage or an urgent order, that day can be made up or attended later.
Dale Carnegie is also going back to the old, publishing revised and new books. There is something about reading a book that slows down the mind, enabling deep thinking, contemplation, and a shift in mindset.
The future of work and of training is evolving, each situation is different, and we are all still working it out. One thing I am sure of is that we all need the support of a partner, mentor, immediate manager to help us through the constant change ahead. I have been fortunate to have had great support from Dale Carnegie and my business partner Andrea over the last 25years to work through challenging times and to make the necessary changes.
To be agile and resilient going forward your people need emotionally intelligent leaders who help them feel confident, secure, and hopeful. With that mindset we can view problems as opportunities and can look forward to many positive achievements in 2023!