Winstone Wallboards, makers of GIB® plasterboard will open their new state-of-the-art manufacturing and distribution centre in Tauriko in mid-2023. Project Lead Stewart Vaughan talks about the project and what it means for the region.
The project team are mere months away from completing Australasia's largest plasterboard manufacturing and distribution facility right here in Tauranga, a development that's been several years in the making and on a scale never seen in New Zealand before.
With over 67,000sqm of buildings, which is more than seven rugby fields, spread across 12.8 hectares of land – the new facility will have 50% more capacity than our current Auckland site with room for further expansion.
It's much more than purely putting up bricks and mortar though, one of the most gratifying parts of leading the project is seeing the benefits the new facility will bring to the region; new job opportunities, partnerships with local organisations as well as supporting career development for so many talented, enthusiastic, and hard-working people we've met from the Bay of Plenty.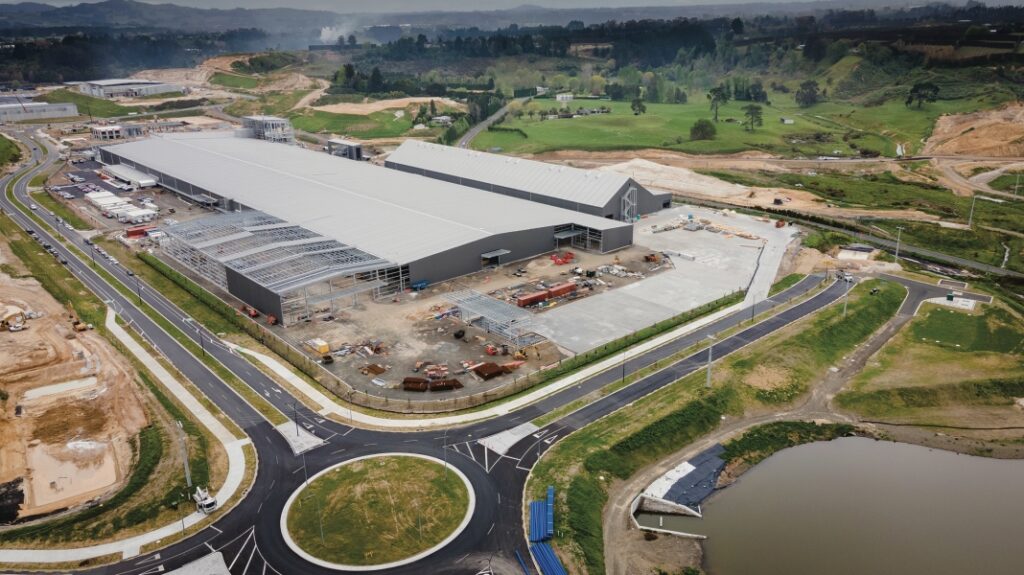 We're still recruiting for roles now, from electricians through to team leaders, so we encourage anyone interested in joining Winstone Wallboards to put their name forward, even if they don't have the qualifications needed. The team are big on supporting people to get where they want to be.
There have been a few challenges along the way; the initial proposed site spanned across two district councils which would have posed a number of consenting complexities.
Fortunately, the developer of Tauriko Business Park was able to reconfigure parts of their subdivision including shifting a roundabout, a road closer and relocating the Tauranga gas line to accommodate the entire Winstone Wallboards site within the Tauranga City Council boundary. I must pay tribute to Bryce Donne from Element IMF, Nigel Tutt from Priority One, the Tauranga City Council and the Bay of Plenty Regional Council who have all been instrumental in supporting us with our project.
A big focus of the project has been setting up our manufacturing and distribution to have the capacity to support us for many years to come, as well as having sustainability integrated throughout the buildings. One example is the installation of a waste recycling facility that enables GIB® plasterboard to include recycled gypsum.
One part of the project I'm particularly proud of has been developing community partnerships and relationships, working alongside councils, Iwi and hapū we've really been able to see the impact this project will have on the region.
Early on, we began engagement with mana whenua which has been a really rewarding experience and at our first meeting we stood together with mana whenua representatives on a hill right in the middle of where the site is now and expressed our genuine desire to come into the community and have a positive impact, not just in terms of recruitment but wider support as well.
Since then, the team has worked hand-in-hand with hapū. A dawn blessing with representatives from Ngai Tamarawaho and Ngati Hangarau took place early in the development and nearby Taumata School is Kaitiaki (guardian) of the soil.
We're continuing to find more opportunities to work with the community, to maximise employment opportunities for local iwi.
We've built relationships around trust and followed through with the things we said we'd do, taking community feedback seriously, respecting the environment and working hard to minimise our environmental footprint.
All the passionate people we've worked with have come to understand that we're more than just a manufacturing and distribution business – we're looking forward to having a positive impact in this community.