Bay of Plenty raised innovator and entrepreneur Angus Robson is proud of his latest creation's link to the region, and what it is contributing to Eastern Bay of Plenty's future.
Robson grew up in Edgecumbe, but has forged an international career in developing new technology and equipment for the quarry and mining industry, including founding the Matamata-based company Rocktec.
Among his many achievements, Robson can also claim building the world's largest trebuchet, a kind of medieval catapult which set a new world record when it hurtled a massive steel block 15 metres in 2004.
Not counted, but even more spectacular, was the Toyota Corolla that was hurtled 100 metres by the enormous device. But his latest effort will deliver some more tangible benefits to the Bay of Plenty, despite its daunting brand name – The Terminator.
The Terminator
Fitted to the front of a heavy excavator, The Terminator is a high energy rock breaker that has proven instrumental in helping accelerate the pace of construction at the Opotiki Harbour development project.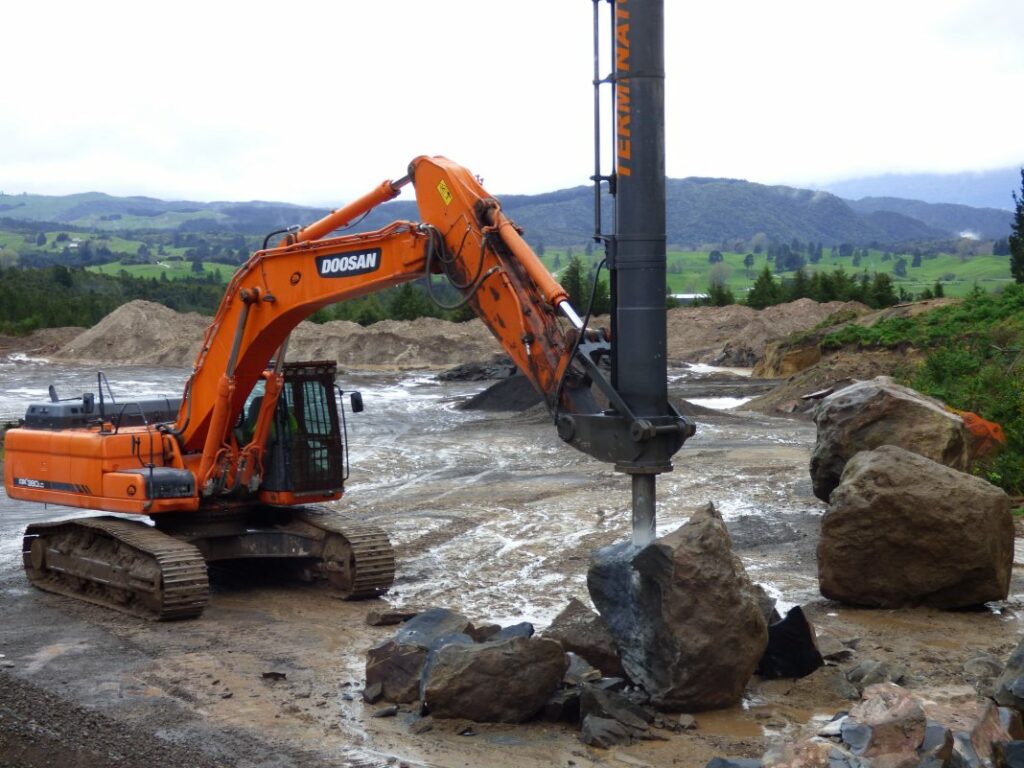 The project was the recipient of a $79 million Provincial Growth Fund and requires 500,000t of crushed rock to help construct the seawall approaches to the harbour project.
For Robson, the project has proven an ideal opportunity to locally showcase a machine he spent over $2 million and five years developing.
Four export sales of The Terminator have already been completed, including two to the United Arab Emirates and two to a vast Canadian iron ore mine.
Typically, mobile rock breaking equipment is a hydraulic hammer fitted to an excavator, using technology that has been largely unchanged in over 40 years.
But combining some smart engineering and patented IP, Robson's device can deliver an impact 10 times greater than conventional mechanical breakers, and is up to 15 times more productive than those methods.
In action, the machine delivers a precise, controlled percussive blow of up to 4000 tonnes to the rock surface, yet puts minimal demands on the machine and its operator.
"There is no movement that sends juddering, wearying actions through the excavator itself, and the force is multiple times more focused and precise."
Rotorua reaps tough rewards
The Terminator is currently employed at Rainbow Quarry, off State Highway 38 south east of Rotorua. The volcanic andesite rock destined for the harbour project is among the toughest in the North Island.
Quarry manager Brian Nicoll said the machine's productivity means the quarry is now transporting 12 truck and trailer units a day of the broken and sized rock to the Opotiki harbour site.
"If we did not have it operating, with this tough rock we would be lucky to be doing three truckloads a day, and this project has required a constant supply of rock every day for two years."
John Galbraith, project manager for the Opotiki harbour project, said the Terminator has proven invaluable in providing exact sized rocks for the project.
"Sizing is critical, requiring five different diameters of rock, the Terminator can break the rocks down to the required sizes, that's difficult to do for most quarry equipment."
Robson is proud to be able to keep not only the employment of The Terminator local, but also its construction. Kawerau Engineering is playing a key role in assembling and building the machines.
Kawerau Engineering owner Greg Adams says The Terminator fits well with the company's specialist engineering focus. "Some of what we do is quite Formula-1ish, quite technical, so it fits in well with our skill set."
For Robson the future sales prospects of The Terminator are looking very positive.
"There are many sites around the world in need of a high energy machine like this that significantly reduces the number and size of excavator machines needed on site. We can also use it for recycling solid steel that nothing else can break economically.
"In two years of steel breaking in Russia with just two hammers we saved more than 700,000 tonnes of CO2 – the same amount of CO2 that the entire transport fleet of NZ emits in three weeks."
Read more: Is it time to reset the Marine Precinct?