Prospects for the Bay of Plenty's new avocado season are looking positive, with export volumes forecast to rise and strong prices buoyed by lighter crop volumes in Australia.
NZ Avocado chief executive Jen Scoular said the total crop estimate for this season is 7.2 million trays, the same as the actual crop volume harvested last season, with almost 4.5 million trays destined for export.
Some growers here have reported slightly smaller fruit because of the dry summer, but Scoular said more will be known about average fruit size over the coming month as the export season gets underway.
Katikati grower Don Grayling said the dry weather through summer has influenced this year's crop, but irrigation had helped reduce some of the dry's worst effects. He has also noticed picking has started particularly early.
"We are feeling optimistic, the downturn in Australian crop volumes will certainly help growers here," he said.
The Bay of Plenty continues to be the dominant area for avocado growing, but shifts are occurring as the concentration of new orchards grows in the north.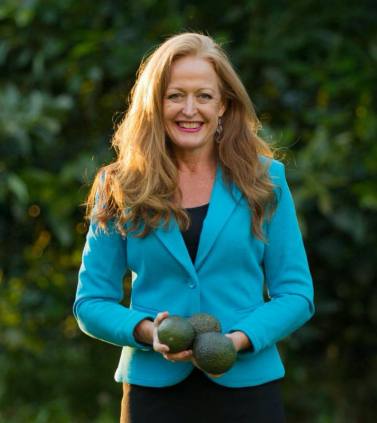 Recent significant investments from both iwi and corporate growers into green fields orchard conversions in Northland, with some as large as 200ha by the end of the decade, means the current 60:40 split between Bay of Plenty and Northland is likely to even out over the next five years.
"The investment into avocado development in Northland has been made off the back of confidence in the wider avocado industry, the ability to utilise research and development to get better productivity, and utilising scale of operations to reduce relative on-orchard costs," said Scoular.
New orchards harvesting this year
Some of the large new orchards planted in Northland began harvesting for both export and domestic markets this year.
"We expect to see continued increases in volumes from these newly planted orchards over the next five years."
Australia remains the dominant export market for New Zealand fruit, accounting for about 70% of exports, and supply to Australia is expected to be boosted this year thanks to an anticipated strong season here.
Aussie growers in southern and western Australian growing regions are also anticipating lighter crops, thanks in part to a drier season.
In coming years Australian volumes are expected to increase significantly because of large new plantings through Western Australia's south-west district.
But for the coming season the Western Australian volumes are forecast to be down.
"New Zealand exporters anticipate this will result in a good market opportunity for New Zealand avocados in Australia for the 2020-21 season," said Scoular.
Over time as the Western Australian fruit comes on stream it is expected to impact upon the volumes New Zealand growers can sell into Australia. It has prompted greater focus here on exporting to non-traditional markets that this year including India, Pacific Islands, Thailand, South Korea and Singapore, alongside the Chinese market.
Michael Franks

Even though they have put more plantations in Western Australia, their crop is significantly down this season, by almost half, so the outlook for us here is very good in terms of Australian exports." – Michael Franks
New Zealand's entry to the China market in 2018 was initiated with a 40,000 tray commitment. Since then the volume has ramped up with the larger, more expensive New Zealand fruit being differentiated by quality, food safety and traceability claims.
"Our harvest maturity requirements are the highest in the world, and this combined with our rich volcanic soils and temperate climate produce and avocado with a consistently great taste profile and unique nutrient properties," said Scoular.
Thailand market growing
Thailand is expected to be New Zealand's largest Asian export market this year, taking 300,000 trays.
However, Scoular cautioned export to markets faced Covid-19 challenges including a reduction in air freight capacity, and pressure from Peruvian fruit in some of New Zealand's favoured markets.
Michael Franks, chief executive of Seeka, which has been focusing on increasing its share of the avocado market in recent years with its premium branded fruit, said Australia would remain a significant market for the company in the immediate future.
"Even though they have put more plantations in Western Australia, their crop is significantly down this season, by almost half, so the outlook for us here is very good in terms of Australian exports."
Australia consumption per capita of the fruit has risen steadily over the past decade by over 50%.
However, Franks said Covid-19 has altered the demand profile in the past few months around the world.
"A lot of fruit goes into food service, and with a drop off in eating out in the likes of Mexican restaurants means the demand there has dropped.
Big suppliers out of Mexico and South America are moving more into fresh whole fruit supply, which of course brings more competition to the likes of us."
However, he was confident Seeka's focus on providing high quality, premium fruit would hold it in a strong position against the smaller fruit from South America that tended to have a higher water and lower oil content in their flesh.
He said expectations of $25-$35 a tray was very realistic this season.