Our lead story in the very first edition of Bay of Plenty Business News (BBN) was titled 'Boom times in the Bay'. The introduction explained, "The region's economy is vibrant, there are signs of growth and expansion everywhere and Tauranga and Rotorua have an unmistakable buzz about them." What better time to launch a new business newspaper?
That was seven years ago: July 2016. Today, despite unprecedented challenges that have confronted businesses everywhere in the last few years, the Bay of Plenty remains vibrant.
We decided to look through the archives and trace our journey over the last seven years, recording the highs (and some lows) and cementing our place as 'the voice of Bay of Plenty Business'.
We've covered significant milestones, reported on big events, interviewed famous people, eaten sausage rolls with community leaders and sipped chardonnay with business highflyers. We've photographed new buildings, participated in fundraisers, and dined with award winners.
I decided we should recap some of those things here. Obviously not all of them, or even most of them, but a few of the more significant ones. I began by trawling through the BBN archives. Any of you who have ever shifted house and decided to have a quick sort through your boxes of old photographs, you'll appreciate just how distracting and ultimately time-consuming a task like that can be. This was no different.
As I worked my way through the back-issues I was constantly amazed at the scale of progress in the region over the seven years. I am also astonished at my ability to have completely forgotten about some of the big stories we broke over the years; the exercise of wading through the archives has been worth every minute as I realise just how significant many of those early stories have proven to be.
2016: A good year
A good example of that 'significance' was immediately apparent when I flicked to the second issue, August 2016 – headline: "Tauranga decides … Council told its planned headquarters 'too expensive'" – some headlines seem to never really change.
While certainly not the fastest development project the region has seen, seven year's later our July issue features several stories about progress in Tauranga City Council's CBD developments as the plans become reality.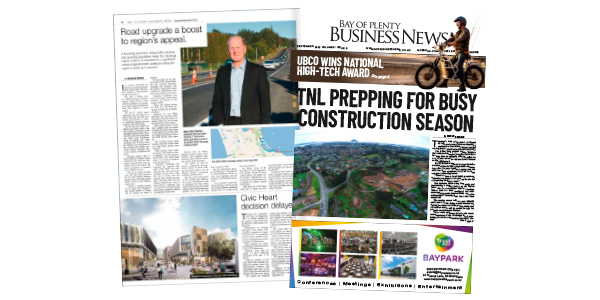 Human Resources columnist Kellie Hamlett has been advising BBN readers since the first edition rolled off the press in July 2016. Her professional employment insights continue to provide BBN readers the highest quality advice (see page 15 for this month's column).
In September 2016 Business News reporter Richard Rennie outlined the then recently commenced half billion-dollar Waihi-Tauranga road corridor.
Fast forward six years and Richard's update on that same project featured as the Business News September 2022 cover lead. Given the frustrations caused by local roading infrastructure upgrades, we have always considered our role of keeping businesspeople informed a critical one.
New projects abound

2017 began with a slew of headline stories about new projects across the region. Headlines included: "Mussel farm key to Opotiki's recovery", "Plans finalised for Zespri's new head office", and "Lakefront spa a 'game changer' for Rotorua".
By June 2019 we were trumpeting Zespri's staff moving into their new Mount Maunganui headquarters and by 2022 we were covering the commencement of new stages of Opotiki's Mussel farming venture and imminent opening of Rotorua's Wai Ariki Hot Springs and Spa, proving that things really can move fast in the Bay.
Lest we forget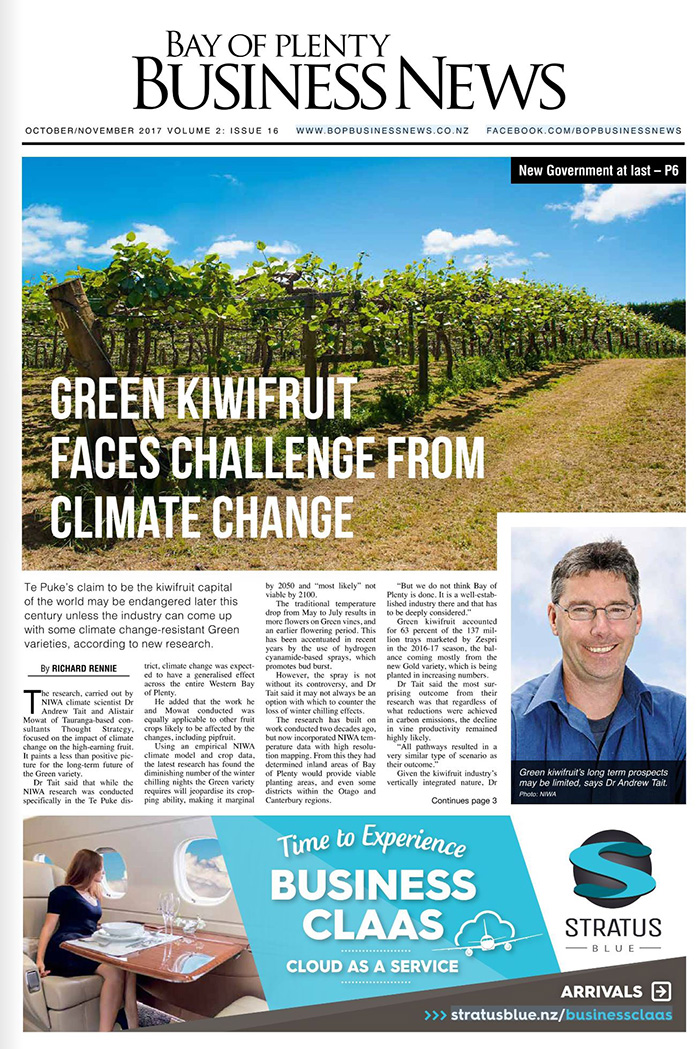 Some headlines, in hindsight, appear to have been prophetic, others even more prescient…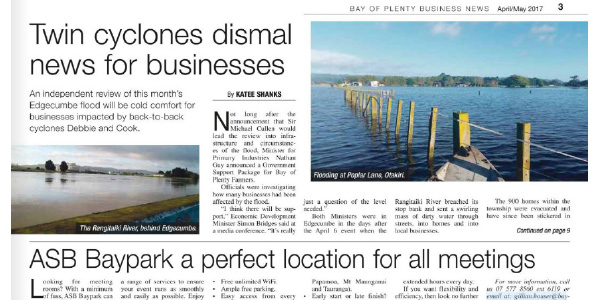 Despite the devastating effects on local business and residents of 2017's Edgecumbe floods that resulted from back-to-back cyclones Debbie and Cook, those names have this year been displaced in the public consciousness by more recent 2023 weather disasters.
Throughout the life of BBN climate change has constantly been at the front of our reporting.
With time comes progress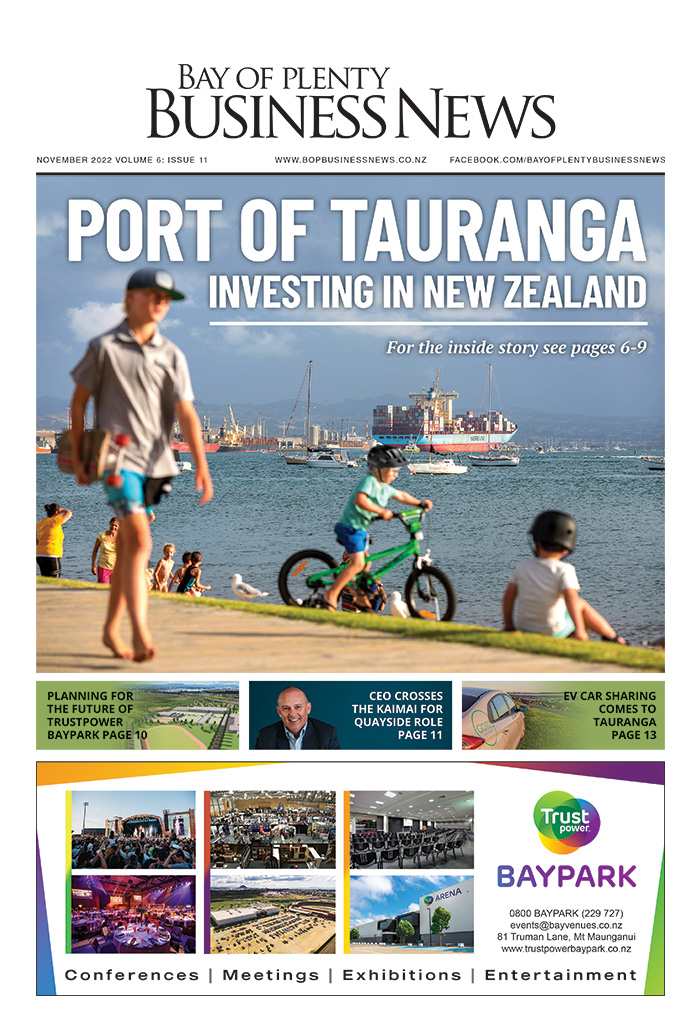 While Bay of Plenty businesspeople go about their day-to-day work, Business News has worked tirelessly to keep them abreast of progress on big developments across the region.
Some great examples are the feature coverage of the opening of SCION's new Rotorua headquarters in 2021, our in-depth reporting on the Port of Tauranga in 2022, coverage of the design and opening of the revamped Tauranga Airport in 2019 and the 2020 opening of the New Rotorua Airport's Business Hub.
Gone but not forgotten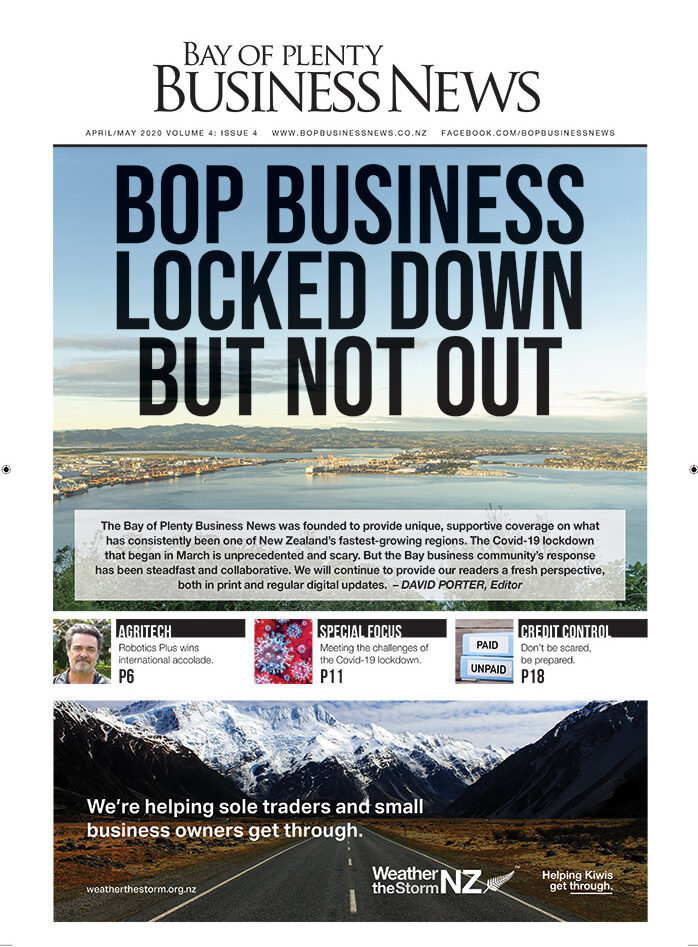 While we don't want to dwell on it, Covid-19 hit BOP businesses hard (as it did the rest of NZ) – the BOP Business News response was to give our business community a morale boost.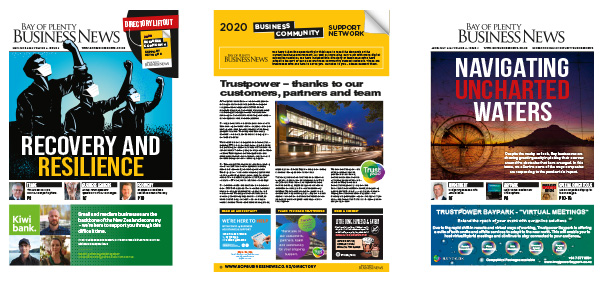 As we head into the final half of 2023, despite the challenges of climate-driven weather events and economic uncertainty, we are excited about the year ahead. If the last seven years are anything to go by, there will be exciting milestones ahead – reassurance for those of us who choose to continue to live and work in the Bay.
Related: Past Issues