For publisher Alan Neben, coming from Hamilton to live in Tauranga in 2018 was like coming home having spent much of his early adult life in the region.
For business director Pete Wales, coming to the Bay in 2016 was a change of pace and lifestyle from the fast paced corporate world that he left behind.
Group editor David Porter on the other hand, although comfortably ensconced in the Bay since 2010, had to adapt back then to a more sedate pace of life in the Bay of Plenty when he returned to New Zealand after years as a foreign correspondent in Hong Kong.
The three have come together to produce Bay of Plenty Business News since 2016.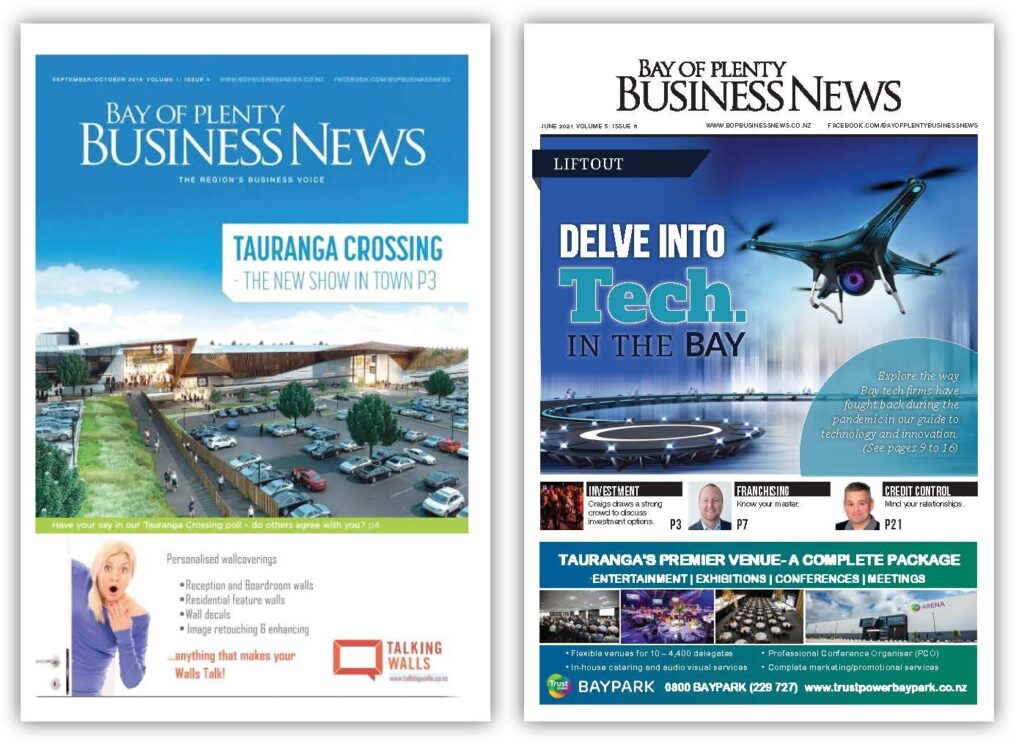 Alan launched Bay of Plenty Business News as a companion to Hamilton-based Waikato Business News which he owned and ran since 1999. "Back in 2015 we found many successful businesses were opening offices in both Waikato and the Bay of Plenty.
"They wanted to reach the business-to-business market in both regions. We launched BOP Business News in 2016, and we've never looked back."
Alan moved from Hamilton to Tauranga to focus on Bay of Plenty Business News.
"If I'm to be totally honest, I also relocated for a lifestyle change – something I've never regretted," he reflects. "I decided to 'come home' to the Bay in 2018 after several years in Hamilton. It really was the breath of fresh air I needed."
Since then the publication has gone from strength to strength. "I think that growth is a reflection of business development across the region as much as a reflection of our hard work."
Business director Pete Wales echoes those sentiments. "It's extremely satisfying to now be recognised: when I say, "I'm from BOP Business News", businesspeople want to talk. That didn't just happen – we've worked hard to build a reputation and to be acknowledged as the voice of BOP Business," says Pete.
Covid-19: not for the faint-hearted
The single most significant challenge to the growth of Bay of Plenty Business News came in the form of Covid-19 in March 2020. "We're proud that in the face of enormous challenges presented by Covid, we never missed a beat; We still met every monthly deadline and produced every monthly issue through 2020. That's not something most publishers can say."
During lockdown, in the face of falling ad revenues resulting from uncertainty in the economy, the Bay of Plenty Business Publications team determined they needed to be unflinching in their focus and yet more innovative.
The team quickly set revised targets, launched a new Community Business Directory feature, revamped BBN's online presence and accelerated its digital marketing suite offering – as a result the group's digital subscriber database grew dramatically and new areas of focus emerged.

"Most businesses were knocked sideways by the sudden Covid-19 lockdown I know," says Alan. "We were no exception. Particularly challenging was publication of the Bay of Plenty Business News Yearbook 2020 edition – yet to be published when the country was suddenly 'closed for business.'"
"We scrambled, we sweated and we produced a damn fine Yearbook in 2020 in my opinion."
That was no mean feat in the circumstances, but according to group editor David Porter, "We owed it to Bay of Plenty businesses to keep telling their stories. I think from a motivational perspective, reading last year's Yearbook provided Bay businesspeople with some surety, some encouragement that while the rest of the world was in chaos, here in the Bay we were still working."
A business community to be proud of
In May 2020 in response to the initial Covid lockdown the team launched its Business Community Support Network portal incorporating a lift-out directory in the May issue of Bay of Plenty Business News. The underlying rationale as explained to readers: "These are businesses who are here to serve you. Our plea to you – please support them."
What the BBN team found most encouraging was how the local business community rallied to help each other at a time of crisis. Large corporates approached us and offered to sponsor many small businesses to promote themselves in the Directory. "That to me is the essence of Bay of Plenty business," says David Porter: "Businesses supporting businesses."
Over the last five years Bay of Plenty Business News has featured a plethora of stories on amazing new developments across the region. The monthly has continued to grow and reflect those business developments. The June 2021 issue of Business News featured the first issue of Tech in the Bay. The message is clear, business in the region is growing and so is Business News.
As the team puts the finishing touches to this, the third edition of the Bay of Plenty Business News Yearbook 2021, the range and diversity of businesses which have chosen to celebrate their success in this issue is testament to the resilience
of Bay businesses.
The words of business director Pete Wales sum up the team's enthusiasm – "Our job is not done yet, it has really only just begun – I can't wait to get onto the Yearbook 2022."