Danish Furniture Ltd's flagship showroom at 53 Unutoto Place, Tauriko is Tauranga's best-kept furniture secret – with managing director, Drew Copestake, only importing the highest quality, award-winning Danish furniture for commercial and residential use.
The Danish design philosophy emphasizes clean lines, high-quality craftsmanship, and the use of natural materials such as wood, leather, and stone. It also values simplicity and functionality, with a focus on creating objects that are both beautiful and useful.
We import two excellent Danish brands – HOUE and Skovby.
Our HOUE & Skovby indoor & outdoor furniture are well suited to commercial environments such as offices or hospitality businesses. The design, material components, intelligent ergonomics and innovative styling will ensure these brand values are front and centre for your business too.
HOUE has a fantastic range of award-winning, contemporary outdoor furniture. Their top-selling CLICK range has 13 standard colour options to fit any décor palate.
The HOUE Project collection is a selection of high quality indoor & outdoor furniture suitable for commercial use. Robust powder coated aluminium, UV protected polypropylene lamellas and environmentally sustainable bamboo components keep the maintenance to a minimum, and the lightweight aluminium frames make our furniture easy to handle. Their award-winning MyTrash range has components made from post-consumer plastic waste and includes a reassuring 5-year manufacturer's warranty.
Skovby, named after the village where the founder began making furniture in Denmark in 1933, is celebrating 90 years this year. Skovby literally means 'forest village', which is an appropriate brand name when you make beautifully crafted wooden furniture.
Skovby's tables feature patented innovative extension systems and superb wood craftsmanship. Their patented table extensions' level of functionality is not found elsewhere. The #112 four-seater table can extend to accommodate 14 seats. The top-selling #33 table seats four-six chairs. Turn a dial and out comes an extension that will accommodate nine chairs. A very practical feature for meeting rooms to accommodate small or large groups.
Skovby chair designs are tested at the Danish Furnituremakers' Quality Control facility, where among other rigorous tests they are subjected to 50,000 tilting pressures.
Skovby's chairs are approved for use in public spaces, with construction especially strong and durable, they at the highest quality level for commercial or residential use.
There are many cheap furniture imitators in the market – made to look like the real thing – but at best, they're a knock-off and readily break. The HOUE indoor furniture and the Skovby range are manufactured in Denmark. Skovby is one of only three Danish manufacturers who still make their furniture in their own factories in the village of Skovby – while most brands now outsource their manufacturing to Eastern Europe or China. So, you're really getting the highest quality, authentic furniture available.
Danish Furniture sells direct the public and trade from the Tauriko showroom, works closely with interior designers for commercial projects, and wholesales to 18 retailers nationwide.
We will work with you to identify your unique requirements for your space to provide the most appropriate furniture solutions and can provide DWG 3D files for HOUE & Skovby for modelling the suitability, colour and quantity requirements for any commercial project.
Born and bred in Tauranga, I'm proud to be in business here and to have brought these prestigious brands to New Zealand.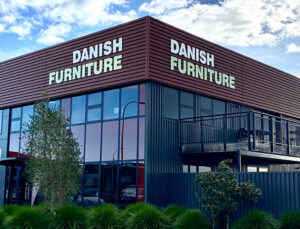 Danish Furniture Ltd Showroom open
10am-2pm, Tuesday-Saturday
Monday-Sunday by appointment
53 Unutoto Place, Tauriko, Tauranga
Phone: 07 573 8607
sales@danishfurniture.nz