Tauranga-based Software-as-a-Service (SaaS) company SwipedOn, which developed an innovative worksite visitor management solution, has been acquired by UK AIM-listed SmartSpace Software Plc for $11 million in cash and SmartSpace shares.
SmartSpace is a leading provider of Workspace Management Software for smart buildings, commercial spaces and hospitality.
SwipedOn founder Hadleigh Ford – who is staying on with the rest of the management team after the sale – described the deal as a great success story for Tauranga and the New Zealand Tech Sector.
"I see this acquisition as a extremely positive for the Bay of Plenty, especially the burgeoning tech scene here," said Ford.
"From my perspective, one of the fundamental aspects of the deal was that we maintain and grow the company from our base here in Tauranga. SmartSpace were onside with this from the start.
"It gives me great pleasure to know that a lot of this capital will be recycled into the local economy and in all likelihood, will be reinvested in other growing tech companies."
"They recognised we have a pretty special culture within the business. It's crucial that we maintain this as we scale and join a larger entity."
SwipedOn was founded in 2013 by Ford, who at the time was working as a harbour pilot, steering some of the largest ships ever to meet New Zealand shores into our ports. In 2016, the company launched its current app.
Both Ford and SwipedOn's chairman Ben Kepes, well-known in the country's tech startup scene, believe earlier, more frequent moderate exits are better overall, rather than fewer sales in the hundreds of millions of dollars.
The Kiwi firm's annual recurring revenue was $1.6 million in August, up from $846,000 in September 2017. It reported a loss of $450,000 in the year ended 31 March on revenue of $1 million.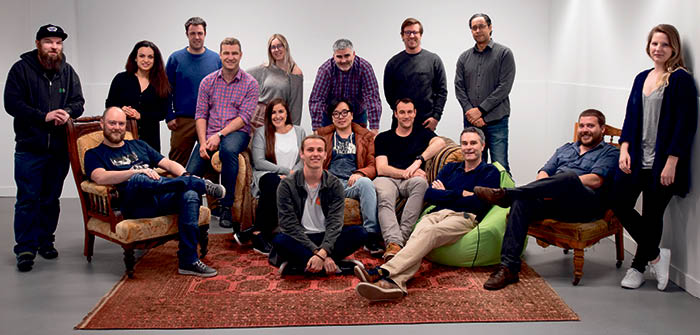 Startup success
A year ago, SwipedOn was still essentially a start-up. But with the backing of Tauranga-Based Enterprise Angels members, Quayside Holdings, the New Zealand Venture Investment Fund and Warehouse Founder Stephen Tindall – all of whom backed a $1 million capital raising this year – it has become a global player.
The company has 20 staff with 2300 customers in 39 countries, with large corporations such as Fujitsu, Estee Lauder, Mitsubishi and Hugo Boss using its visitor management software.
The acquisition was made up of around $8.6 million cash and $2.4 million in shares to four existing SwipedOn shareholders including Ford, Ben Scott, co-founder and head of product, Matt Cooney, chief technology officer, and Paul Hansen, head of marketing.
SmartSpace chief executive Frank Beechinor said the company was delighted to announce the acquisition.
"In July 2018 we set out with the intention of identifying acquisition targets in three categories – 'bulking up', broadening our functionality and providing us an entry-level SaaS offering. SwipedOn sits in two of these categories," said Beechinor.
"As part of our search, we investigated several acquisition opportunities in visitor management in the UK, the US and Europe.
"We decided on SwipedOn as we felt it met our criteria of offering good value, had a scalable technology, a worldwide customer base, a strong team and established SaaS management processes with the potential for significant growth."
Excellent customer retention
Beechinor said SwipedOn had rapidly growing, high quality SaaS revenues with excellent retention and very low customer churn.
"This will help us to broaden our revenue base and will enable us to be less dependent purely on enterprise-level deals. SwipedOn's worldwide presence supports our ambition to be a global business. It is our intention to accelerate growth in customer numbers and to increase ARPU (Average Recurring Revenue Per User) across the SwipedOn business and we also see opportunities to upsell our mid-market and enterprise solutions to several SwipedOn customers."
Beechinor said he was delighted that Ford and his team were staying on.
"They have done an amazing job building SwipedOn to be one of the fastest growing SaaS businesses in New Zealand and one of the leading visitor management solutions globally.
Hadleigh noted that the vast majority of SwipedOn's shareholders and investors reside in the Bay.
"It gives me great pleasure to know that a lot of this capital will be recycled into the local economy and in all likelihood, will be reinvested in other growing tech companies," he said.
"From all angles, the result is a net positive for the region and tech scene. We're currently hiring for three new roles and have half a dozen more in the future pipeline. To accommodate this, we're also looking at securing larger premises. And as we'll be working closely with the team in the UK, we see opportunities for secondments within the group as attractive for staff at both ends and will be exploring that as an option in the future."