Crown forestry research institute Scion recently released its strategy to 2030, entitled Right Tree, Right Place, Right Purpose.
In fact, Scion's strategy takes an even longer view out to 2050, with chief executive Julian Elder stating in the latest Scion Connections newsletter that the institute is ambitious with it's aspirations for New Zealand.
"We are bold in claiming that forests are the resource that will get us [to 2050]," he said. "It's all about how we value and use forests, directly or indirectly, to enrich our country, our communities and ourselves."
Achieving the targets we set in our strategy would mean our children and their children are enjoying living standards far superior to today. – Julian Elder, Scion
In the envisaged 2050 future, forests are prized as a sustainable renewable resource that is pivotal to New Zealand's economic, environmental and social wellbeing.
Elder notes that the world is changing at a much faster pace than during the impact of the industrial revolution 200 years ago, with rising global urban population, changing patterns for consumption of food, energy, water, land use and management of environmental impacts.
Existing models of food production, material consumption and waste disposal are being challenged.
Concern about access to clean water is worldwide, and current unsustainable land use practices are no longer acceptable.
In response to these challenges, both the OECD and emerging nations are adopting the "bioeconomy" approach.
Ambitious strategy to create a biobased economy.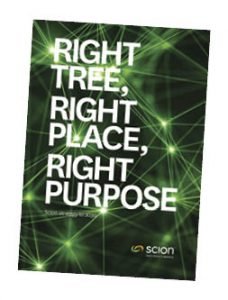 This approach uses renewable resources from the land and sea, as well as waste, as inputs to feed, food, industrial products and energy production, said Elder.
And, the circular economy concept is intrinsically linked to the bioeconomy as the waste from one process becomes the feedstock for another.
"A successful bioeconomy is an innovative, low-emissions economy, created through the merging of sectors and industries to ensure a sustainable supply of food and other products, while maintaining biodiversity and environmental protection," said Elder..
"Forestry is recognised globally as a key part of a low-carbon, biobased economy… It's very exciting for me that New Zealand is well-positioned globally with existing forestry capability and resources in pulp, paper and wood manufactured products, a clean, green image and rising opportunities in our regions."
Right Tree, Right Place, Right Purpose
The strategy sets out three research impact areas for Scion's focus to 2030 as the institute plans its journey to 2050.
Elder said Scion would be making a short, medium and long-term impact in three research areas. These are:
• Forests and landscapes
• Development of healthy, resilient forests that are planted primarily for their standing-forest benefits.
• By 2030, social, cultural, environmental and economic benefits of these forests (exotic and indigenous) are fully valued, for example carbon sequestration, biodiversity (niches for endangered species), erosion and flood control, enhanced water quality, recreation and tourism.
• High-value timber manufacturing and products
• Development of products, manufacturing, high-value trees and healthy, resilient forests that capture an increasing share of the global high-end market for timber.
• Successful application of current and new forest models producing products for urban applications has the potential to add an extra $10 billion to New Zealand's GDP by 2030. In particular, this is made up of $7 billion in new housing builds and engineered timber applications, 50 per cent increase in new species commercial plantings, harvests and high-value applications, increased exports of processed timber and substitution for imported timber and products.
• By 2030, a reduction of 2.5 million tonnes CO2-e (CO2 equivalent) per annum is possible with 1.5 million tonnes increase in CO2 capture per annum by faster growing trees and greater timber usage in urban buildings.
• Biobased manufacturing and products
• Development of products, processes, manufacturing, trees, other biomaterials and healthy, resilient forests to replace petrochemicals and non-sustainable materials.
• The potential is to create by 2030 an extra $20 billion to New Zealand's GDP, including $2 billion in fuel and plastics substitutions (imports) and $6 billion in exports. This growth will come from an emerging biorefinery sector producing biochemicals and energy products, new fibre-based materials, new cropping forests and manufacturing processes, as well as several hundred jobs in the regions and 10 million tone contribution in reduction in CO2-e.
Scion appoints new COO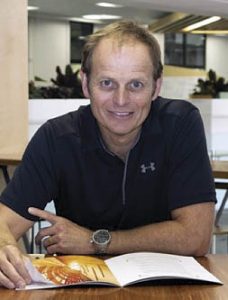 Dr Bart Challis has been appointed as chief operating officer at Rotorua-based forestry crown research institute Scion.
He will be responsible for overseeing research infrastructure and operational requirements. He will also lead Scion's strategic science delivery, aligning it with the institute's Statement of Core Purpose and Strategy to 2030.
Dr Challis grew up in Rotorua and went on to complete a genetics-related PhD at the University of Otago before spending 16 years working internationally in Western Europe, North America and Asia.
During this period, he worked in the biotechnology/life sciences industry, performing various management and executive roles for multi-nationals including QBioGene, Invitrogen Inc and Active Motif Inc.
Since returning to New Zealand, Dr Challis has worked as an executive at Hill Laboratories, initially managing the Agricultural Division, and more recently managing all commercial aspects of the Hill's organisation.
Scion said that Dr Challis was an experienced executive with 20 years' technology-related industry experience who had a proven track record in international technology commercialisation, research, development and operational management.