Priority One and the University of Waikato have joined forces with eight leading exporters to form a unique collaboration aimed at accelerating innovation.
PlantTech has been in gestation for some time, but in May the innovative new research institute was formally declared up and running.
Bay of Plenty businesses failed in their first attempt to get backing from the Ministry of Business Innovation and Employment (MBIE) when the then National Government floated the idea of helping to fund several new regional research institutes.
Undeterred, Priority One and the University of Waikato, supported by eight key local agri-tech-focused businesses (see accompanying story for details) went back to the drawing board.
They came back with a new approach that made it clear to MBIE that it wasn't just proposing to create a research institute, but one with a real commercial focus.
As Steve Saunders, chair of PlantTech co-founder Robotics Plus, told Bay of Plenty Business News when PlantTech learned in 2017 that it had been awarded one of four coveted regional research institute slots: "The horticultural sector is not just growing, but really punching above its weight.  It was clear to MBIE that it's a research institute, but with a real commercial focus."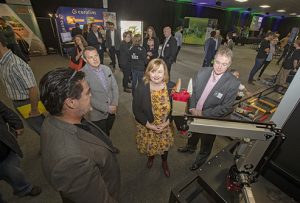 Late last year PlantTech recruited as the inaugural chief executive Dr Mark Begbie, who had previously spent seven years leading the Strategic Innovation Development & Consultancy in Scotland.
The formal launch drew an invited crowd of approximately 200 to Trustpower Baypark, where the co-founders displayed some of the results of their ongoing research and heard speeches from Dr Begbie, Science Minister Megan Woods and Priority One's chief executive Nigel Tutt.
Begbie noted how impressed he had been during his initial recruitment interviews to see the long-term commitment to research and development that the founding companies carried and their can-do attitude and refreshingly open approach to collaboration.
…the founding [PlantTech] consortium had sought out global best practice and endeavoured to build on the shoulders of giants – creating a market-driven, but research-focused, partnership with customers built in."

– Mark Begbie
"It is the strength of these companies, their ability to take the innovation pipeline all the way to market, that will bring the ultimate benefit," he said.
Begbie's address touched on three key points – two challenges, which came together in a third concept to address them.
The Innovation Gap
"The first thing is how do we bridge the valley of death?" he said.
He noted the gap between knowing something was possible some of the time, and being able to do that thing reliably, time and again, at a cost that the market could bear.
He paraphrased agritech investor Michael Helmstetter, who has observed that the first pitfall comes between basic research and the commercialisation of a new product. This gap most often occurred when public investments were made in very early stage research without sufficient attention to the later stages of the innovation process.
"I believe that there has been a long and widely held misconception that this 'innovation gap' is somehow a market failing," said Begbie.
"I suggest it is much more accurate to view this as a 'market characteristic', that is an inevitable consequence of the desire to move from new knowledge to new products and capabilities, based on that knowledge.
"We cannot plug the gap and walk away, somewhat like the boy with his finger in the leaking dyke. Rather, we must find a way to work together, over the long term, to carry promising ideas across
the gap."
The next key factor was change, said Begbie. "The issue of how we realise social, environmental and economic benefit from innovation is more pressing now than ever."
He quoted Canadian Prime Minister, Justin Trudeau, who told the World Economic Forum in 2018: "The pace of change has never been this fast, yet it will never be this slow again."
Trudeau went on to say: "You are rightly anxious about how quickly our existing business models are being disrupted. Still, if you're anxious, imagine how the folks who aren't in this room
are feeling."
Triple Helix
The third thing related to the concept known as Responsible Research and Innovation (RRI), a term used by the European Union to describe scientific research and technological development processes that take into account the effects and potential impacts on the environment and society.
"The means of addressing the first two [issues]– and what the RRIs are a version of – is what is becoming widely known as the Triple Helix," said Begbie.
Current thinking and the "triple helix" model could be traced back to 1949, with the establishment of the Fraunhofer Society, a three-way collaboration between industry, academia and the Bavarian government.
By 1952 the society was formally recognised as an arm of non-university research, but it was not until 1973 that the Fraunhofer Model was agreed with the Federal Government.
"This model established a long-term, sustainable partnership and it enabled the Fraunhofer organisation to become a global cornerstone of science-led industrial innovation," said Begbie.
Similar approaches are now established across Europe, North America and the Asia-Pacific.
"This is a space and a mission that genuinely excites me, and in which I see success as one – but a critical – part of delivering national competitive advantage."
Begbie said when he was approached about PlantTech, one of the things that attracted him was the clear and positive commitment to change taken by the government and MBIE, to  dedicated triple-helix entities doing excellent science with, and for, industry.
"Another was the manner in which the founding consortium had sought out global best practice and endeavoured to build on the shoulders of giants – creating a market-driven, but research-focused, partnership with customers built in."
The aim was to build a structure with the right ingredients to deliver outcomes and increase business expenditure on R&D through growing confidence in its value, added Begbie.
PlantTech had managed to secure some excellent talent, said Begbie, and the real journey, the scientific and innovation journey, had now begun.
"PlantTech's mission is not to develop solutions and present these to a customer," he said.
"Nor is it simply to collaborate with partners to jointly create a solution, though that is part of the job.  It is to build the skills, capabilities and capacity for companies to accelerate their own growth."
More innovation and improved wellbeing
Science Minister Megan Woods, who is a former business manager for Crop & Food Research and its successor organisation Plant and Food Research, began by acknowledging PlantTech's founding shareholders and particularly Priority One for its vision and engagement during the institute's establishment phase.
The government's vision was to build a better New Zealand for all its people, she said.
"A prosperous, sustainable future for New Zealand is one which means high-quality jobs for all New Zealanders, higher wages, lower environmental impact, more innovation, and improved wellbeing.
"Science and innovation will help us achieve this vision by generating leading-edge ideas and knowledge that our industry and public services can apply."
Woods said PlantTech – supported by a start-up investment of $8.4 million through the government's Regional Research Institute Fund – was positioned as an agri-tech innovation centre, focusing on the horticultural industry.
"The Bay of Plenty is a regional powerhouse for the horticulture industry, with the fifth largest regional GDP and second highest GDP growth rate – it is the perfect home for PlantTech," she said.
"PlantTech shareholders' commitment to R&D investment in this region, the University of Waikato's new campus in Tauranga, and growing GDP and strong export streams, creates the perfect environment for an advanced R&D hub."
This would continue to drive economic development, high skill jobs, and higher wages for the area and New Zealand, she added.
"Through robotics, autonomous systems and AI research, PlantTech will ensure the horticulture industry remains ahead of shared challenges such as environmental sustainability, labour shortage, productivity, climate change, and biosecurity," said Woods.
"This also gives us the chance to become a global leader in supporting customised, precise and automated production systems that are accessible to all scales of business – not only benefiting the New Zealand horticulture sector, but also impacting global markets with home-grown technologies."
It is an absolute pleasure for me to officially launch PlantTech Research Institute here today.
PlantTech's research and close collaboration with industry partners will be an important part of ensuring science and innovation help create a sustainable future for New Zealand.
High tech potential
Woods also acknowledged the presence at the launch of opposition leader Simon Bridges, the MP for Tauranga.
Bridges told the Bay of Plenty Business News he was excited to see PlantTech come together.
"Although it has had plenty of parents, this is a little bit my baby," he said, having signed it off during his tenure as Minister of Economic Development.
"When I think about PlantTech I think about the humble kiwifruit, which could have been an ordinary commodity at 30/40 cents a dollar and now sells in the world market at $10-15," he said.
"PlantTech is going to continue to be grow our ability to increase value in the horticulture space, and it's got to be good for the BOP."
Barry O'Neil, president of Horticulture New Zealand, who was among the guests, told Bay of Plenty Business News his organisation saw great potential for high technology companies to partner with the horticulture industry. That would enable PlantTech members providing tools that enabled more precision growing of high quality products, along with increased automation so horticulture producers would be able to harvest and pack at optimal times.
"The fact that industry is equally driving this initiative will ensure the tech companies involved will not only benefit from the collaboration opportunities this provides, but will develop and deliver solutions that are far more likely to be picked up by our industries," said O'Neill.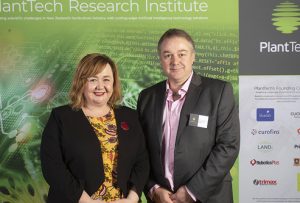 Priority One chief executive Nigel Tutt said the fact they were in the room launching PlantTech was a testament to the great consortium and the collaboration of the business community in the Western Bay.
"I was pretty new to this role when the PlantTech concept was first discussed," said Tutt.
"Having come from the private sector in Auckland, I was amazed over that first year in how we had a whole bunch of  disparate companies, all with different markets and businesses, all working so well together. We went through the whole process in a very friendly and collaborative way."
All things considered, the launch of the institute had gone very smoothly, he added.
"This group has worked amazingly well together at all levels. We have a great group of organisations in this consortium, with a shared purposes and an awesome, positive attitude. I have no doubt that PlantTech will provide immense economic value to the companies involved, the horticulture industry, and New Zealand in general."
I was amazed over that first year in how we had a whole bunch of disparate companies, all with different markets and businesses, all working so well together."

– Nigel Tutt
Tutt also acknowleged other key contributors to the insititute's creation. They included Bill Osborne, the inaugural chair, who during the past 18 months had provided great structure and top level governance.
He noted MBIE's role and support. And he singled out Shane Stuart, the Priority One innovation manager. Stuart has been a key figure in shaping PlantTech and Tutt described him as the "driving force" with countless hours going into the formation of the institute.
"This regional research institute fits so well with our focus on R&D and education in areas like the BOP – and it's not alone," he said.
"Great organisations like Callaghan [Innovation], tech incubators, entrepreneurial universitities' programmes and our local crown research institutes,  all form part of this ecosystem. It's timely too that the recent opening of the University of Waikato campus has given a great boost to the region.
"This is the regional New Zealand we should aspire to being in the future, one that places world class R&D into our regions, supporting great local businesses."
R&D tax incentive
Science Minister Megan Woods referred in her address to the government's R&D Tax Incentive to support businesses to increase their investment in R&D.
The R&D Tax Incentive is a billion dollar programme that has broad reach across all sectors of the economy and would be available from the 2019 Tax Year.
"It provides rules-based support for R&D that will enable businesses to invest with confidence.
"There is 15 percent credit rate for eligible expenditure; a minimum R&D expenditure threshold of $50,000 per year; and a definition of R&D that ensures the credit can be accessed across all sectors," said Woods.
"This government is committed to raising New Zealand's expenditure on R&D to two percent of GDP in 10 years.
"The Tax Incentive is a call to action for increasing business R&D.
"Harnessing New Zealand's capacity to innovate will mean we can diversify our economy, create higher value products and better jobs, and produce points of difference which enable New Zealand businesses to succeed."