Summer is just around the corner and so is the sizzling line-up of concerts at Trustpower Baypark.
The speedway season is now in full swing with the new promoter and will not disappoint fans over the Summer. Upcoming Speedway confirmed dates include: November 30, December 12, 28, January 5, 18 & 25, just to name a few.
To enjoy watching the races in style, we have a number of Corporate Boxes available to entertain guests comfortably. With the box, clients get an exclusive, spacious and comfortable box with an outdoor balcony for up to 20 guests, full kitchen facilities including a microwave and fridge. A corporate box also offers ongoing inbox bar service with dedicated catering stewards along with a high quality catering service delivered to the box. Please contact us on events@bayvenues.co.nz or 07 577 8560 for more information.
Often feeling anxious or low? Battling bloating or indigestion? A gut feeling something's not quite right? Join leading Clinical Nutritionist Ben Warren for an eye-opening evening seminar on the latest research into our interlinked gut-brain connection and start learning how nourishing your gut could nurture a calm, joyful and peaceful mind. In his latest seminar on 27 November, Ben shares his personal passion for the gut-brain connection, from his years of clinical experience and the latest research and findings on how our modern world and lifestyle is challenging our precious gut and mind health.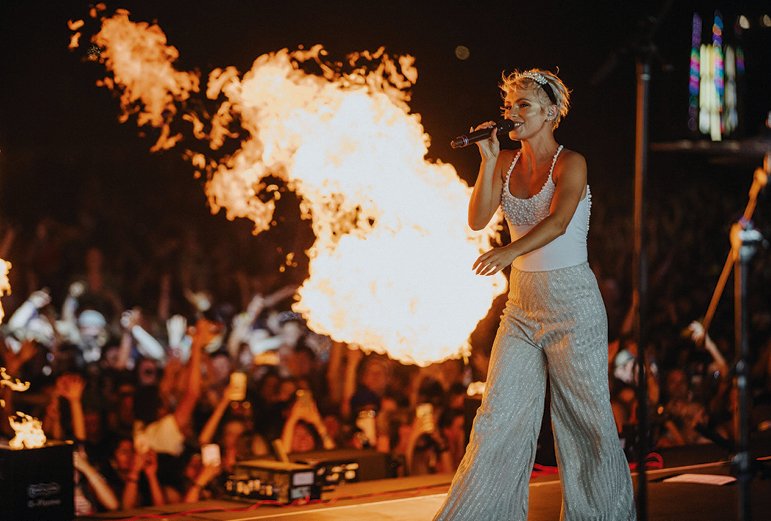 Rise Dance operate in multiple locations across the Bay of Plenty and Rotorua. Their experienced dance instructors share a passion for dance with more than 900 students weekly.  Rise Dance holds an annual dance showcase. Students learn about the theatre/arena, rehearsals and teamwork while they enjoy the opportunity to showcase their skills in a professional and fun production.
The showcase is a wonderful way for students to show the results of their hard work during the year and for family and friends to join in the pride of their achievement. The 2019 showcase will be at Trustpower Baypark on Sunday, 1 December.
7 Days is a decade-old this year, and like any 10-year old's birthday there will be chaos, laughter, tears and junk food. See Jeremy Corbett, Dai Henwood and Paul Ego unleashed, without the cameras, editors or censors to hold them back. See Ben Hurley, Josh Thomson, Jeremy Elwood and Justine Smith right in front of your eyes on 14 December. Just New Zealand's best comedians each smashing out a quick-fire burst of stand-up comedy, before getting into a game of 7 Days in your town, and about your town. New Zealand's best comedy programme is New Zealand's most hilarious, out-of-control live show.
Rock and pop stars shine
To launch the start of the summer concerts on 20 December, The Feelers will be hitting the hot spots this Summer, with the one and only Stellar. From busking on street corners to becoming pioneers of the kiwi music industry The Feelers are thrilled to announce a comprehensive NZ tour this summer; joined at select locations by iconic NZ band stellar* who celebrate the 20th anniversary of their debut album MIX.
Katchafire, The Black Seeds and Tomorrow People are all coming on 27 December. Katchafire developed their roots reggae sound like a Bob Marley tribute band in the 90s – under a Waikato ponga tree rather than a Jamaican palm frond. The seven-piece have gigged extensively, earning a reputation for the accessible revivalist euphoria of their live shows. The Black Seeds are a musical group rooted in reggae from Wellington, New Zealand. Their rocksteady-influenced song "One By One" became an international hit when it was played in top-ranked TV series Breaking Bad. And Tomorrow People is a seven-piece New Zealand reggae band that formed in 2010. Their debut album ONE was released on 1 June 2012.
The record-breaking, chart-topping Shapeshifter have just revealed their summer show on 28 December, 2019. Shapeshifter will be joined by The Upbeats w/ Tiki and Sunshine Soundsystem. Shapeshifter emerged in 1999 with a unique stadium-sized sound. Capable of morphing from rolling drum 'n' bass to pummelling guitar-driven jams to horizon-shifting electronic soundscapes, they have long been a must-see act that never fails to deliver. Get in early to secure your tickets, and make memories once again this Summer.
Bay Dreams locked and loaded
The biggest event in New Zealand's summer music calendar will return in 2020 to Trustpower Baypark Stadium on January 2. Presented by Greenroom Vodka and The Edge, Bay Dreams will feature international superstars Halsey and Tyler, The Creator as headliners, alongside other international names including Skepta; Yelawolf and Ella Mai. Other big hitters on the first line-up announcement include Ocean Alley, Netsky, Mitch James, Gunna and Sub Focus. Stay tuned for the massive announcement coming soon for the Bay Dreams Pre-Party on 1 January.
Bay Dreams has sold out year after year. And now with the event being held across two islands, and close to some of the best beaches and holiday hot spots in the world, it's gearing up to be the highlight of the Kiwi summer.
And following the success of their latest album, timeless legends Sticky Fingers have announced a "Yours To Keep Tour" – a seven-date tour travelling all over New Zealand, which is bound to keep you grooving this summer. This tour will land here on 3 January 2020.
Aussie pop sensation Tones And I is also about to hit Kiwi shores – announcing her own all ages headline show at Mount Maunganui on 5 January. She's taken the world by storm with her smash hit Dance Monkey. It will be Tones' only headline show in New Zealand, where she is also playing the Bay Dreams Festival. Joining Tones And I will be one of New Zealand's most exciting pop acts, Theia. She's been making waves since the release of her breakthrough hit Roam from her debut EP, which earned her three nominations at the 2017 NZ Music Awards and a nod for Breakthrough Artist at the 2017 Georgie Awards.
After its previous rip-roaring success, A Summer's Day Disco returns in 2020 on 8 January with a sensational line-up featuring some of the most iconic names and sounds in the history of music. KC and the Sunshine Band, Earth Wind and Fire Experience feat. Al McKay, Boney M and The Australian Bee Gees Show all feature on A Summer's Day Disco 2020 line-up.
The star-studded line-up has been carefully handpicked by Neptune Entertainment to include some of the most successful names of the 70s, 80s and 90s, with all of those featured still among the most popular old school acts in the business. Secure your spot in the sun now.
For more information on any events, enquiries for Baypark venues, BayStation activities or service on/off site from BayCatering, BayAudioVisual visit www.trustpowerbaypark.co.nz, email events@bayvenues.co.nz or call 07 577 8560.