The latest statistics on New Zealand's trade data are stark evidence of the immediate impact Covid-19 has had upon this country's trading position, even before the government's lockdown.
(See our accompanying Special Focus on pages 11-14 for guidance on approaches to help deal with the impact of Covid-19.)
The virus initially put the brakes on Bay of Plenty tourism, which has seen major job losses, along with the events and hospitality industries.
Key Bay export forestry was also an early casualty and quickly felt the impact as logs stockpiled and wharf space ran short in Chinese ports. However, the kiwifruit industry at time of writing seemed likely to be relatively unscathed.
Released in early March, Statistics NZ data indicates all New Zealand's exports to China for the January 27-February 23 period were down eight percent compared to that same period in 2019.
Logs and meat were the biggest victims, with meat free-falling to half last year's amounts, while forestry exports mainly in the form of logs fell to about 1.2 million tonnes, compared to 1.3 million in 2019.
Forestry products by value plummeted by $70 million from $250 million to $180 million.
The Bay of Plenty is the crown in the national forest estate, accounting for 400,000ha or 29 percent of the iwi land resource.
The impact of the extended Chinese New Year as a result of Covid-19 was felt relatively quickly at the shore side end of log exports.
Port signals lowered profits
Port of Tauranga, the country's largest log export outlet, had already reported a decline of eight percent in log volumes at the end of its first six months to December 31, due to the slump in log prices that hit home in August.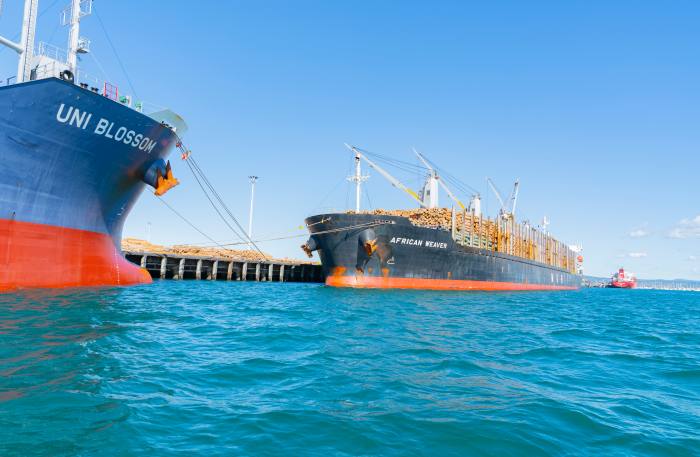 The port has reduced its full year profit guidance due to Covid-19's impact on log volumes, with revised full year profit now expected to be $94-$99 million compared to the previous $96-$110 million.
Prue Younger, chief executive of the Forest Industry Contractors Association has welcomed the government's announcement of regional support for forestry through a relief package.
Some operators have been shut down for weeks and more were expected, she said.
"Wharf space has only got tighter, and even if China got back to business as usual now, it will be three to four months until ports have released enough stock for operators to feel confident about putting logs on the water."
Fortunately, the Rotorua region is a key supplier for higher grade domestic supply for timber used in New Zealand houses and for packing processes.
In contrast the East Coast region exports almost all its harvested logs.
However, even in the Rotorua district, in order to harvest the higher quality content of the tree, lower grade export logs are the inevitable result.
Ross Davis, chairman of the Forest Industry Contractors Association says this makes it complex to calculate the full impact of the virus on local logging operators' incomes.
"You have to chop the tree down in order to get the quality timber, but that [also] generates the poorer quality log. For most operators it has meant they are still working, but sometimes on reduced hours, and if you are not earning as much, you are not spending as much."
Times are tightening
As a result he is already getting reports of forestry supply businesses, most which are based in Rotorua, facing tighter times.
Brent Whitby, chief executive of Patchell Industries in Rotorua, which manufactures logging trailers and weigh systems, said the effects were starting to bite.
"We have clients all over New Zealand, and it hit the likes of Gisborne early on, with operators losing work and being laid off. We now have customers we have completed work for who can't uplift it, or with equipment ordered that they have asked to have put on hold."
"And on the other side we are monitoring very closely the delivery of all the supplies we use from overseas, things like tyres."
Whitby said he was surprised at the rapidity of Covid-19's impact and expected things will get worse before getting better as backlogs of goods and demand for them grew into April and May.
Scott Downs, director of sales for Rotorua based forestry company PF Olsen said in his latest update that log inventories on Chinese wharves was rising at a rate of 35,000 cubic meters a day.
He expects that to continue until China's production gets fully back on its feet.
Nowhere else to go
"Many Chinese sawmills are yet to get back to work," said Peter Weir, president of the Forest Owners Association.
"New Zealand exporters have no-where else to send the industrial grade logs they harvest, but this is starting to change. More domestic mills are accepting reallocated export logs of poorer quality.
"And there is still good demand in the region from the big players like Red Stag, and Oji's two mills at Kawerau and Kinleith."
Logging smaller farm woodlots has ceased as association members do what they can to retain skilled labour by sending better logs to domestic sawmills to make up for the shortfall.
New Zealand exporters have no-where else to send the industrial grade logs they harvest, but this is starting to change." – Peter Weir
Work hours are also being maintained by continuing to invest in silvicultural work including pruning, thinning and preparation of land for replanting from winter through to spring.
But Weir cautions that it may be some months before markets recover fully from the sharp impact of Covid-19 virus.
He said members were not looking for handouts, but sought some equitable ways for working with government to assist various harvesting crews.
"They are the ones who need help."