Tauranga Motor Company's decision to go ahead with creating its new premises at 100 Hewletts Rd, on the Maru Street corner, reflects the company's confidence in its new car business.
The new facility – designed and built by Coresteel Buildings – Tauranga, based in Papamoa – was commissioned in August, and extends Tauranga Motor Company's presence in the city.
Previously its Suzuki and Kia brands, now in Hewlett's Road, were based at 326 Cameron Rd, a site the company has operated for the past dozen years. "The growth we have experienced over the last few years has been extraordinary," says Director Mark Jury.
"As part of the changes we are pleased to be able to move our Bay of Plenty Honda Agency to the high-profile Cameron Road site."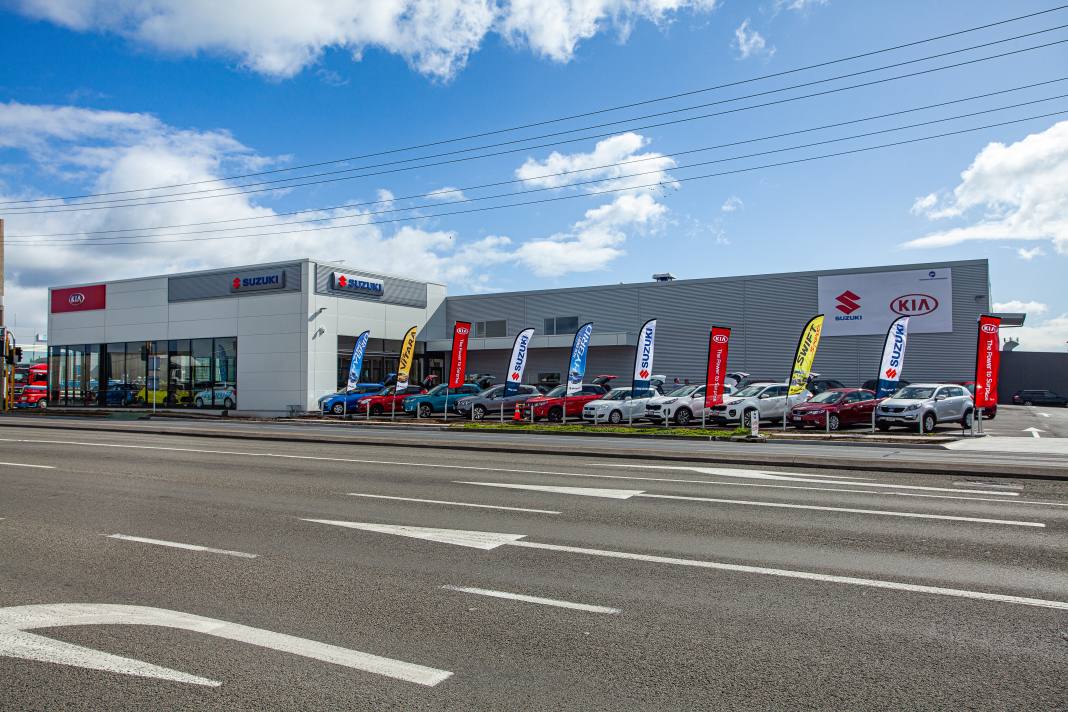 Extensive premises to meet customer needs
The new dealership is approximately 1500m2, comprised of a tiled showroom, full workshop and mezzanine offices – along with an extension to the company's existing car-grooming facility.
"We have great strength in the planning phases so are more than ready when we enter the construction phase and things can run smoothly," says Coresteel Buildings BOP franchise owner Simon Eilering. "Plan well and everything else follows."
Coresteel began the project build in March 2019.
An obvious delay was the Covid-19 lockdown with one issue being the close proximity to the boundary and traffic flow which required Traffic Management's involvement said Eilering.
Adds Coresteel BOP sales manager Simon Thurston: "What we've achieved is what nobody else has managed to achieve on this particular road – premises with great proximity to the street and amazing visibility, which is great for the dealership."
Eilering said Coresteel has received numerous enquiries for work and was currently pricing a number of jobs.
"Finance may be a little more difficult for developers, but in saying that we just signed up three new jobs," he said.
Coresteel works on a range of different building types and sectors – including Industrial and Commercial.
"Plan well and everything else follows." – Simon Eireling
Strong new vehicle growth
Tauranga Motor Company's Mark Jury said a key reason why the new premises were needed was simply to get more space, not just to display vehicles, but create a better experience for customers. That included more space for clients to park and more easily experience the dealership.
"The new site allows for access to both Maru St and Hewletts Rd and easy, stress-free parking," he said, adding that there were several reasons for moving to Hewletts Road – noted in Tauranga as "the car zone".
"Part of it was being able to secure a big enough site to fit the size of showrooms in particular that we required," he said.
"The objective was to give us as much space as possible for bigger showrooms than we might have otherwise achieved. That way we could have more cars inside. We are first and foremost a new car business. We want to give them the best impact we can and put resources into new car display."
Car sales in New Zealand also tended to be very weather-dependent, so with the new premises potential clients could browse regardless of the conditions, said Jury.
"They can look at a car and be insulated from outside, which makes for a much better environment. The cars can be kept cleaner, and inside you reduce the noise. That was important to us and follows a bit of a lead from what is happening overseas."
Jury said the new build had gone reasonably smoothly.
"Like any build it's had its headaches, but we've worked together with Coresteel and overcome them as they have come up. Obviously Covid-19 was completely unexpected. We just all worked together on that and came through it very well. I'm really proud of the final result."
Strong new vehicles sales post lockdown
Jury said that Tauranga had experienced strong new vehicle sales subsequent to the L4 lockdown.
"We are quite confident at this point that our brands will do well in the market," he said.
The company's brands have been strong performers, with for example, Kia currently number one in the Tauranga market for passenger vehicle and SUV sales.
Jury said he thought there were a number of reasons for the uptick in sales. They included the fact that many customers who had put away money for overseas travel, were no long using it for that purpose. "There's also a desire if you are going to spend more time travelling within New Zealand then you're probably going to want to do it in a quality car," said Jury.
"If you're not going to be flying, you're going to tend to look for a good safe car that isn't going to let you down," he said. "People are upgrading their cars because they're going to be using their cars more. They are looking at their car as something they need to have functioning well for them."
Jury also noted that there had been an upswing in financing, with interest rates at historic lows.
"In the Covid 19 environment it is impossible to be 100 percent sure what will happen," he said.
"But we have a high degree of confidence in our brands, which have proven to be resilient and we have quite a bit of good news ahead in terms of new models coming."