Making the cut in a list of the top 50 global agri-tech companies is likely to pay big dividends for Bay of Plenty company Robotics Plus.
The company has been named in the THRIVE Top 50 list, an annual ranking of leading global agri-tech companies, and is the only New Zealand company to make the list.
The Silicon Valley-based THRIVE SVG Ventures enterprise is a platform for global agri-food investment and innovation that works with investors, entrepreneurs and corporates to help commercialise new technology.
Based in Te Puna, Robotics Plus has become well known for developing a prototype robotic kiwifruit picker and two years ago received a $10 million funding injection from Yamaha Group to help commercialise its technology.
Founded in 2013 by Steve Saunders and Dr Alistair Scarfe the business has since also developed ground breaking apple packing technology and log volume assessment equipment.
Getting on the radar
Robotics Plus chief executive Matt Glenn said the recognition the company gained by making the Top 50 list was invaluable for putting the company on the radar of other potential investors.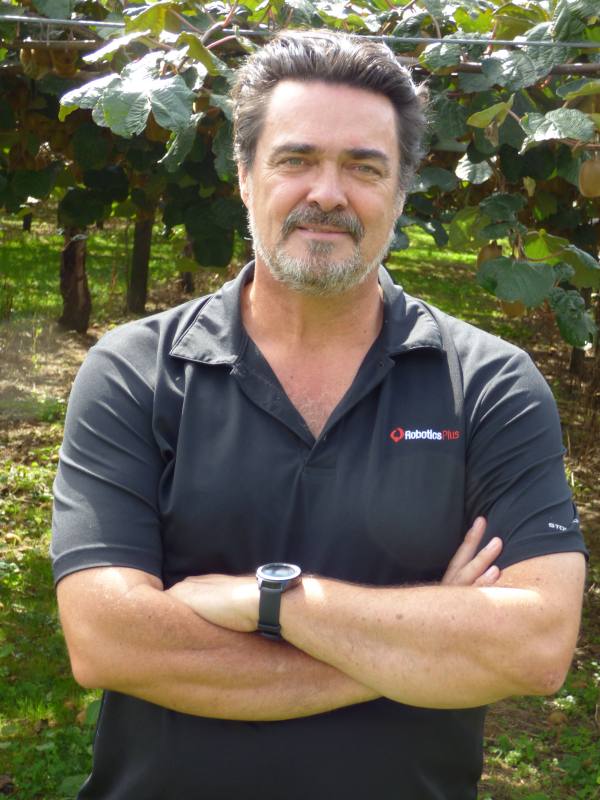 "It's a huge deal for us for attracting the attention of large investors and we have already had some big fish approach us," he said.
Yamaha's focus on robotics stepped into the agri-tech sector with its investment in Robotics Plus, the first and largest the company had made outside of full merger and acquisition deals.
It's a huge deal for us for attracting the attention of large investors and we have already had some big fish approach us." – Matt Glenn
Glenn said while the robotic kiwifruit picker had been good for raising the company's profile, making the leap from a proof of concept prototype to full commercially scaled production was a big one.
From its initial intention to be a dedicated kiwifruit picker the robot was adapted to become more of an autonomous platform, with multiple applications including picking, pollinating and spraying.
The technology developed with the robot today forms one of three planks in the business, known as unmanned vehicles. Alongside this sits forestry logistics and produce packing technology.
Apple packer successfully commercialised
The company's Aporo apple packers have been successfully commercialised in the last two years with 50 in place around the world. The machine is capable of identifying and placing 120 apples a minute in display trays, and is marketed by Global Pac Technologies globally.
Here in the Bay of Plenty, log marshalling company ISO was the first to install Robotic Plus's log scaling machines, which scan logging truck loads for accurate volume calculations of log loads. Seven other units have been installed around New Zealand, with export opportunities beckoning.
Glenn said the company remains focused on being a company committed to growth and development, rather than only seeking organic growth over time through existing commercialised technology.
With that comes significant funding demands, and an ongoing need for highly skilled engineers and developers.
"We have worked closely with Waikato University's head of robotics Professor Mike Duke, and we would have about 25 percent of our staff coming from Waikato," said Glenn.
Many staff at Robotics Plus are completing a Masters or PhD in areas of computing and robotics. Glenn said the challenge is often to source staff who have those skills, tempered with some commercial experience.
"We have 65 staff now, and aim to be close to 80 by the end of the year."
He said much of the company's technology is now highly valued IP and kept secure from prying eyes. However, he expected to be able to make a significant announcement later this year about another major commercial development.
With its pool of talented staff built up in the Bay, Glenn was confident Robotics Plus would remain a local company. But it would maintain a global focus on the many opportunities that existed beyond New Zealand to develop broad acre robotic equipment that would help deal with the growing labour shortages faced by primary producers all over the globe.