Matariki, the Māori New Year, is being heralded a month earlier in the Coastal Bay of Plenty region, compared to other parts of the country, due to its eastern location and local traditions.
Master celestial navigator Jack Thatcher has been leading a series of free pre-dawn hikoi to the summit of the region's most significant landmark, Mauao (Mount Maunganui), to view the appearance of the Matariki star cluster.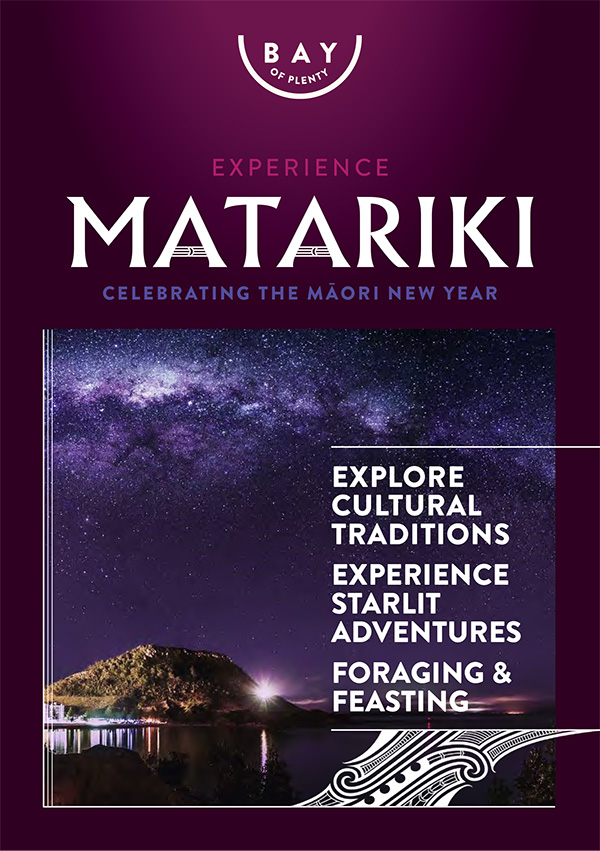 A 24-page guide has also been released, highlighting all the ways locals and visitors can celebrate this important annual occasion.
Foodie enthusiast Stacey Jones says kai (food) plays an important role in Matariki gatherings, as whanāu gather to remember loved ones who have passed away, whilst also celebrating the present and looking forward to the future.
The Experience Matariki guide, produced by Tourism Bay of Plenty, deliberately highlights food producers and local eatery dishes which have an indigenous link or focus.
"We've engaged well-known Māori culinary experts Kasey and Kārena Bird, who explain how to forage for essential ingredients like kawakawa, pūhā, and ureure, and who also share their delectable pickled tuatua on fried bread recipe," Stacey says.
"The guide gives advice on how to spot the Matariki stars. It also showcases a range of nature-focused activity options, which families or friends can do in the day or at night."
It's the first time Tourism Bay of Plenty has created the Experience Matariki guide, and anyone who downloads the digital version from www.bayofplentynz.com can also enter a draw to win an enticing prize.
The winning package includes a two-night stay at Watercliff, a cultural experience with Mauao Adventures, and an Izakai Bar and Eatery dining voucher.
"Each of these businesses understands the ethos of Te Ao Māori and that's why we've included them in our inaugural Matariki guide," says Tourism Bay of Plenty general manager Oscar Nathan.
"Matariki occurs at the coldest time of the year, traditionally once the harvest has been completed, so we want to encourage people to relax and prioritise spending their time with the people who are most important to them.
"It's exciting to see how Matariki is now being more widely acknowledged and celebrated across the country and our destination management organisation is very keen to support this," he says.