Recently Enterprise Angels has celebrated 15 years of angel investing. Tauranga-based, it has become one of New Zealand's largest, most active, and best resourced Angel networks.
Enterprise Angels offers a unique model of early stage investing in New Zealand with a professional management team, 20+ partner organisations, 200+ Angel investors, and 150 wholesale investors. To date it has facilitated investment of more than $65m in 107 New Zealand startups across a variety of industries, supporting more than 1600 jobs.
Founding of Enterprise Angels
Enterprise Angels was founded by Bill Murphy who launched the organisation in 2008, then named Western Bay of Plenty Investors' Forum (a bit of a mouthful).
"I originally started Enterprise Angels to provide an avenue for startups to successfully raise capital and get more than just money. Back in the day, founders came to me due to my involvement with the local Economic Development Agency. I realised we had to get a better system in place; the only early-stage capital at the time was found by contacting a local rich guy… we've certainly come a long way. The growth path of a startup can be affected dramatically by having successful business angels as investors.
They connect founders to potential clients, other investors, future staff and more. They help guide founders in areas that they have experience in either informally or as a director, and sometimes they just provide moral support."
In 2019 Bill stepped down to lead the Purpose Capital Impact Fund, and Nina Le Lievre became the country's first female angel network Chief Executive. Nina had been working alongside Bill at Enterprise Angels for six years prior to this. Bill continues to support Enterprise Angels in a part-time capacity as Executive Chair.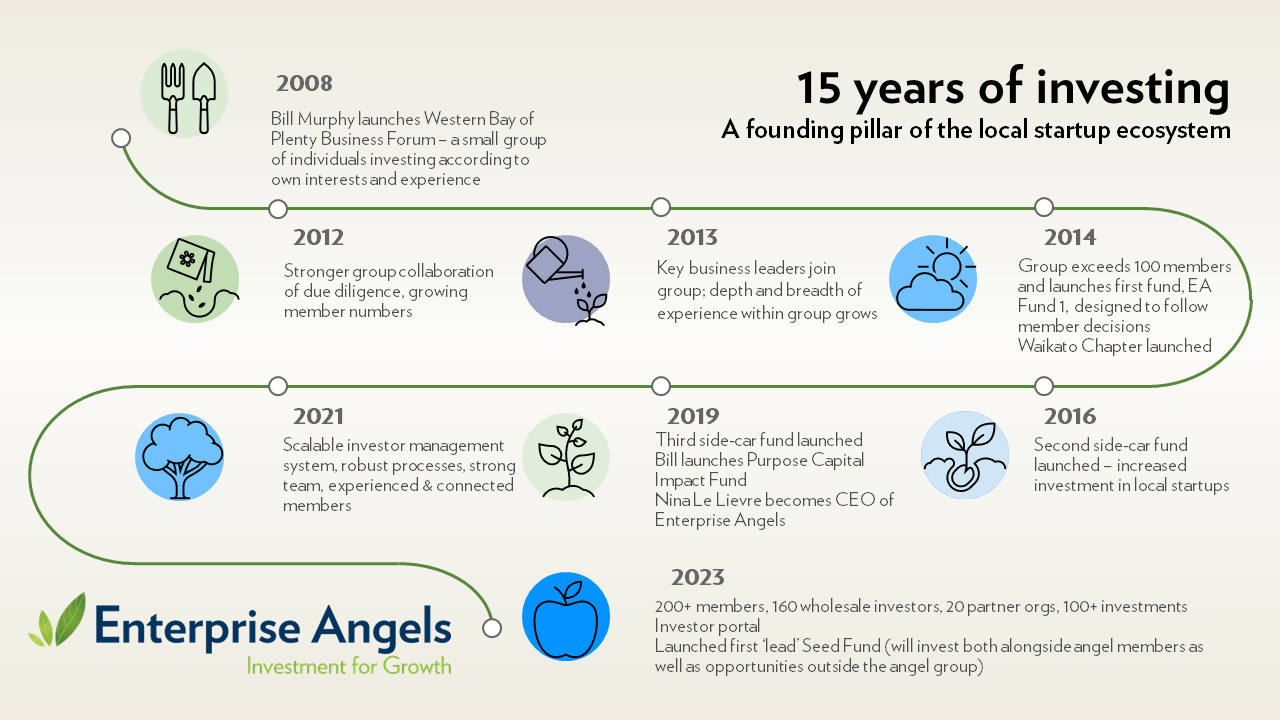 Portfolio Overview
The existing portfolio is impressive with the majority of companies being in high-growth mode. A number of these portfolio companies are making a name for themselves the world over, such as Fuel50, Spoke, Parrot Analytics, LawVu, UBCO, FileInvite and Datagate Innovation. Many have attracted significant further investment from later stage investors including both NZ and international venture capital and private equity firms. Understanding where and who the next stage funders are for the companies is a critical part of the equation. Companies often need more than angel money to be globally successful.
Most of the portfolio companies are software (39%), hardware (26%), or agtech (23%), with the majority being based in Auckland (41%), Bay of Plenty (18%) and Wellington (18%).
Since formation Enterprise Angels has had 32 exits. 15 companies have provided positive investment returns – 12 of these were acquired or listed. Investors have seen some very profitable returns from portfolio companies: GreenButton, SwipedOn, Volpara, Engender, Merlot Aero and more recently Moxion. The IRRs range from 24% with Merlot Aero to 194% with SwipedOn.
As expected with the high-risk nature of investing in startups, there have been negative returns too. 17 portfolio companies have failed for various reasons – timing, capital, product, resourcing. Something that's never easy for investors, or for founders. Enterprise Angels has used these failures as learning opportunities to detect potential problems earlier and better support founders to grow.
Traversing turbulent times
Periods of economic uncertainty haven't stopped Enterprise Angels members investing. They may be more vigilant when undertaking due diligence, however risks and challenges create opportunities. Experience has shown that good founders will thrive in environments where mediocre ones fail. Recessions help clear the market of poor performers leaving more market share for the best companies. Many great companies have grown in uncertain times – think AirBNB, Uber, Slack, Square and Glassdoor.
With their strong member network Nina believes Enterprise Angels is well positioned to face the current economic downturn.
"We need to continue to look to the fundamentals and value proposition of the opportunities that we consider. We've honed this over the last few years and believe that there will be some very good opportunities in these challenging times. These companies (as well as existing portfolio companies) will continue to need our support to grow. It's not just capital (although that does help a lot), but connections and expertise are increasingly important when navigating turbulent environments. "
Future Opportunities
Enterprise Angels success has come from combining the strengths of its Angel network (members' breadth and depth of experience and expertise) with the strengths of a fund (coordinating and streamlining the investment decision process) to attract better deals and deliver a better result for investee companies and investors. EA Fund 1, 2 and 3 are fully invested and Enterprise Angels continues to provide this important funding option for entrepreneurs and investors with the recently launched EA Fund 4.
EA Fund 4 is like previous Enterprise Angels funds in many ways, but the key differentiator is that it is not a 'side-car fund', meaning it can invest independently of the angel group, undertaking due diligence and accessing deals from a broader range of sources providing greater diversification for investors and a more streamlined process for startups. The Fund's managers are aiming to raise $5 million with a maximum of $10 million. Le Lievre has designed the fund to leverage the organisation's years of experience in investing and to support the need for quality deals for the numerous Venture Capital funds that have formed in recent years subsequent to the Government's $300m Fund of Funds programme to invest in high growth NZ companies as they grow to Series A and beyond.
"We've received strong support from those who know us best, members and existing limited partners, having achieved our 'first close' exceeding $2m. Almost a quarter of this investment has come from the EA GP Board and Investment Committee showing their strong belief and commitment in the new fund model," said Le Lievre.
Despite the current economic uncertainty Le Lievre is confident now is good time to be investing in startups. "We are seeing good value investment opportunities into well performing companies at valuations that could only be dreamed of 12 months ago."
Angel investing is risky, however EA Fund 4 provides an avenue for wholesale investors to greatly mitigate this risk by efficiently (time and money) building a portfolio of early-stage investments with a proven fund manager.
For more information www.enterpriseangels.co.nz/project/ea-fund-4/