Heilala Vanilla won the Business of the Year Award at the recent Westpac Tauranga Business Awards 2020, which were reconfigured to take into account the impact of Covid-19 on the region.
The manufacturer and exporter of high-end vanilla products also picked up two other notable awards – for Business, Digital & Technology Innovation, and for Manufacturing & / or Distribution.
There were significant changes from the usual format this year by Westpac Business Awards organisers the Tauranga Chamber of Commerce, to take into account possible Covid-19 disruptions and keep social contacts safe.
Given that 2020 has been such an unusual and challenging year for business and the wider community, the Chamber saw this as an opportunity to reset a number of elements of the awards. Chief executive Matt Cowley said high on that list were changes to the judging process.
This year the Chamber introduced a Head Facilitator, KPMG Wellington's Sven Pannell, who spent a week visiting all the entrants and making an initial assessment. He then chaired a panel of judges made up of local business leaders in a "pitch weekend".
In an additional break with tradition, the award winners were announced at a Love Local cocktail event at Trinity Wharf, which showcased food and beverages from around New Zealand.
Total attendance numbers were smaller than usual to take into account the need for crowd distancing measures.
Cowley said he was delighted to see the business community come together and support local success in what had been a tough year.
"This year was not necessarily about huge profits and major growth, but more about our people, the way everyone has worked to come through the challenges presented to us and how we supported each other to achieve this," he said.
Sven Pannell spent a full week visiting all the entrants and making an initial assessment, before chairing a judging panel of local business leaders in a 'pitch weekend'.
While the pitch process was daunting for some entrants, the judges said it was a valuable and insightful exercise for them. The judges then had a vigorous discussion to land on this year's finalists, winners and the Westpac Tauranga Business of the Year.
The judges said the section process was challenging, but despite the problems of 2020, there was a very high standard of entrants.
"It's been an unprecedented year for businesses in the Bay and across New Zealand," said Pannell.
"It has required business leaders to dig deep into their emotional and, often, financial reserves. It's also provided a range of opportunities for those with the capability, resilience and preparedness to take them, so there were a lot of positive stories emerging from the finalists this year."
'Bean to bottle' creators
Overall winners Heilala Vanilla operate a "bean to bottle" process that grew out of an aid project in Tonga started by founder John Ross.
Unique to the market, their main competitors are synthetic products, while Heilala Vanilla is pure, grown and dried in Tongan. It is a highly scientific, unrefined process (cold pressed, slow extract), and Heilala Vanilla is constantly innovating, creating new products from the base product.
Heilala Vanilla chief executive Jennifer Boggis told Bay of Plenty Business the awards were a great validation for the company's strategy.
"It's great to get the confirmation from the judges that we're on the right track," she said. "And it's great to get local recognition – it was a real boost to the team."
Because of Covid-19, the company hadn't been able to travel to Tonga, where its vanilla is grown. But they were delighted at being able to successfully complete the harvest.
"We've been operating there for 15 plus years and we've built up strong trusting relationships – it was a real testament to the Tongan team." Sven Pannell said Heilala Vanilla continued to innovate, and the panel was excited to see what was in store for the team.
The company also has a considered focus on corporate social responsibility. Heilala Vanilla's mission is to build a better future for the people of Tonga, and through this, the world. The company has built a partnership with the Tongan King and the local community of farmers, who all grow and process the vanilla beans.
In a population of 200,000, they employ more than 200 women and are projected to support more than 1000 families by 2025.
"[We] felt that Heilala Vanilla has many of the characteristics we see in New Zealand's highest performing businesses," said Pannell.
"[The company has] a deep understanding of their global customers, what they care about and how to reach them; a focused and planned approach to international expansion; and a deeply-held purpose to transform the future of their vanilla-growing partners in Tonga."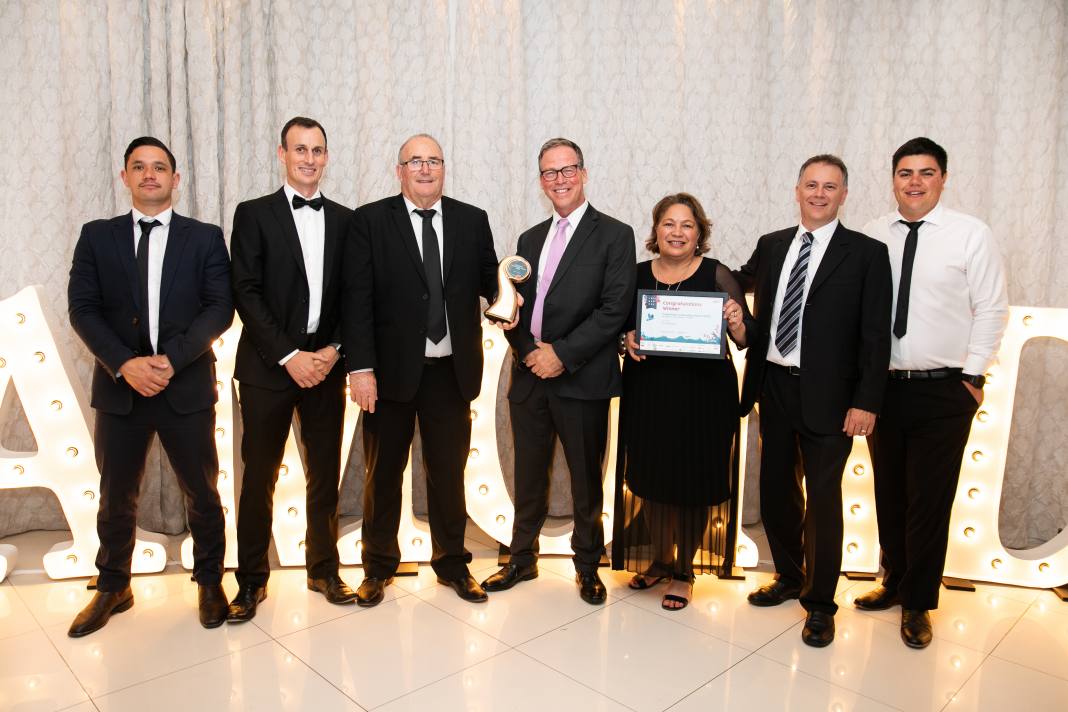 Mainfreight – which recently opened an impressive new eco-friendly base in Tauranga – was recognised this year for its Corporate Leadership. While they move freight around the world, Mainfreight also maintains a strong local connection to their community, the judges said.
The Kollective – TK won the Social Enterprise Award. It is New Zealand's largest co-working space and is dedicated to the success of not-for-profit, social enterprise and charitable organisations.
Westpac Tauranga Business Awards 2020
PMG Funds, which specialises in funds invested in the commercial property sector, received the Service Excellence Award, with chief executive Scott McKenzie attributing the win to having strong values and a commitment to customers.
"At PMG, our core values matter," he said. "Our values help all PMG team members have a singular and united vision that guides us. In a pandemic environment, it's culture and commitment to our customers that have helped us all get through. I feel very fortunate to work with such a clever bunch of passionate professionals."
The winner of the Emerging Business Award was Undercover Industries, started by Gavyn and Shannon Burns in 2015. The company emphasises precision in creating a range of pergolas, awnings and shade covers.
Flatwhite café and restaurant in Waihi Beach won the Sustainable Business Award, Toi Ohomai Institute of Technology received the Customer Experience Award, and Barrett Homes took out the ACC Workplace Safety Award.
Two new awards
This year also saw the introduction of two new awards. The People & Culture Award asked the public to nominate businesses that they felt, either as either staff or customers, demonstrated a great culture within. The nominated businesses then went out for public voting.
The Chamber said the inaugural award received a huge response with winner Mount Skin & Body receiving just over a third of the total votes.
The other new award was the Continuous Improvement/Lean Award, which recognises the need for companies to be improving processes and systems to gain the productivity benefit.
Award criteria said this could be through small incremental bites or with a breakthrough development.
The inaugural winner of the award was Bake Shack, which makes and distributes between 10,000 to 15,000 pies every day, which are then delivered throughout New Zealand.
The company was constantly looking for ways to improve the process, while maintaining their high quality, the judges said.
"This year's entrants came in all shapes and sizes, but in their DNA is a set of common traits of high performance," said Pannell.
"Among these is a relentless desire to deliver value to their customers and people, coupled with the continuing motivation to be better tomorrow than they are today.
"What's been particularly impressive is the extent to which businesses are actively supporting their people and their communities.
"It's clear to me that being a business in the Bay means something special – that it is both a privilege and a responsibility. We wish all applicants and finalists a successful 2021."
Westpac Tauranga Area Commercial Manager, Clare Basire congratulated the winners.
"We've been amazed by the resilience and innovation of businesses big and small, who have connected with their customers and communities, overhauled their operations and adapted to the 'new normal' in a matter of weeks and months."