The judges described The Kollective, New Zealand's largest co-working space for not-for-profit organisations, as a project that had been a good initiative, creating a vibrant, shared collaborative facility.
It delivered a material challenge and met the challenge," the judges said. "It represents a unique approach that transformed an unusable, waterlogged swamp into a functional, beautiful, sustainable and highly engaging hub for the local not-for-profit business community to enjoy."
The judges said The Kollective was a beacon of hope for community groups, which offered inspiration for councils and groups from throughout New Zealand, who were keen to replicate the success of the project in their region.
The project team was made up of The Building Intelligence Group, the Tauranga Energy Consumer Trust (TECT) (the key funder), The Historic Village and Tauranga City Council.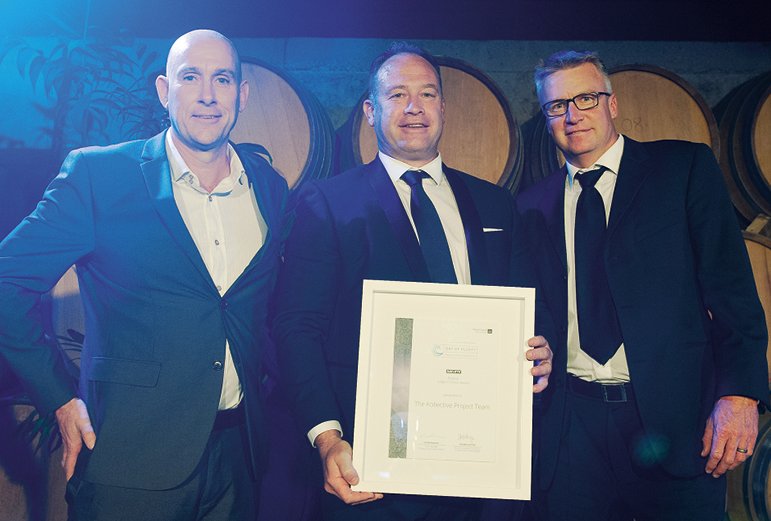 Dallas Bates, Project Director for The Building Intelligence Group's Tauranga office, said the team was delighted to see the project recognised with the Judges' Choice Award.
"We all felt it was a very special project, with a lot of the success due to the rich collaboration and stakeholder engagement that took place. Collaboration was not only seen as an input into the project process, it was also an intended outcome of the building's vision – a co-working space.
"And that made for a really rich outcome, not only in terms of the built environment and how it looked, but for the good relationships that were established between The Kollective and The Historic Village, where it is located.
"It was also a site that was quite challenging, requiring land remediation to transform a largely unused area into a building platform that sits in a natural amphitheatre, enjoying a park-like environment. The new building has enlivened the areas and added a new element to the atmosphere of The Historic Village space.
Bates said that the project came together because TECT had a strong vision to think innovatively about the way in which it could support the wider Bay of Plenty community.
"They saw the site offered a lot of synergies with The Historic Village and that there were a lot of organisations occupying other buildings in The Historic village, which now reside and share space in The Kollective."
Property People Awards

Principal Partner: BNZ (Bank of New Zealand)
Category sponsors: Harrison Grierson, Sharp Tudhope Lawyers, Greenstone Group, Colliers International, Carrus, Bayleys, Hawkins.