Although the company specialises in superyachts, local marine industry specialist Super Yacht Coatings has many more strings to its bow than superyachts. The company also has a strong presence in the pleasure and commercial marine sectors; the local 30-70 foot launch and yacht market for example is a busy sector for them.
From their world-class operations HQ located in the Bay, complimented by their Auckland division, Super Yacht Coatings manages projects worldwide. We spoke to two of their key people, Mark Hanna and Ben Steele, and discovered a winning blend of craftsmanship and passion.
Mark Hanna – Director
Mark's career in the marine industry has spanned more than 20 years, beginning in 2003 as a painter and fairer with Southern Ocean Marine in Tauranga.
Travelling extensively around the world, he has developed an impressive industry knowledge – tips and tricks of the trade he now enjoys passing on to his own team at Super Yacht Coatings, a company he and business partner Regan Woodward established in 2011.
"Our New Zealand marine industry is world-class, and we are extremely proud to be part of it", says Mark.
Asked about the key to his success, his answer comes quickly: "I constantly challenge myself to improve and achieve more. Every boat comes with its own unique challenges, and we always aim to deliver the best work, using the most up-to-date, high-quality products, in the most efficient ways. In this business you are always learning and adapting."
Working from their impressive, purpose-built facility in Tauranga's Sulphur Point, Mark reflects on how far he has come in his 20 years in the industry: "With this facility, and the team we have built, both here and in Auckland, I feel a real sense of pride in what we have achieved."
But for someone constantly striving for perfection, this is no time to slow down.
"There is more to do; better to come. The future looks busy – we'll keep working hard to make it happen."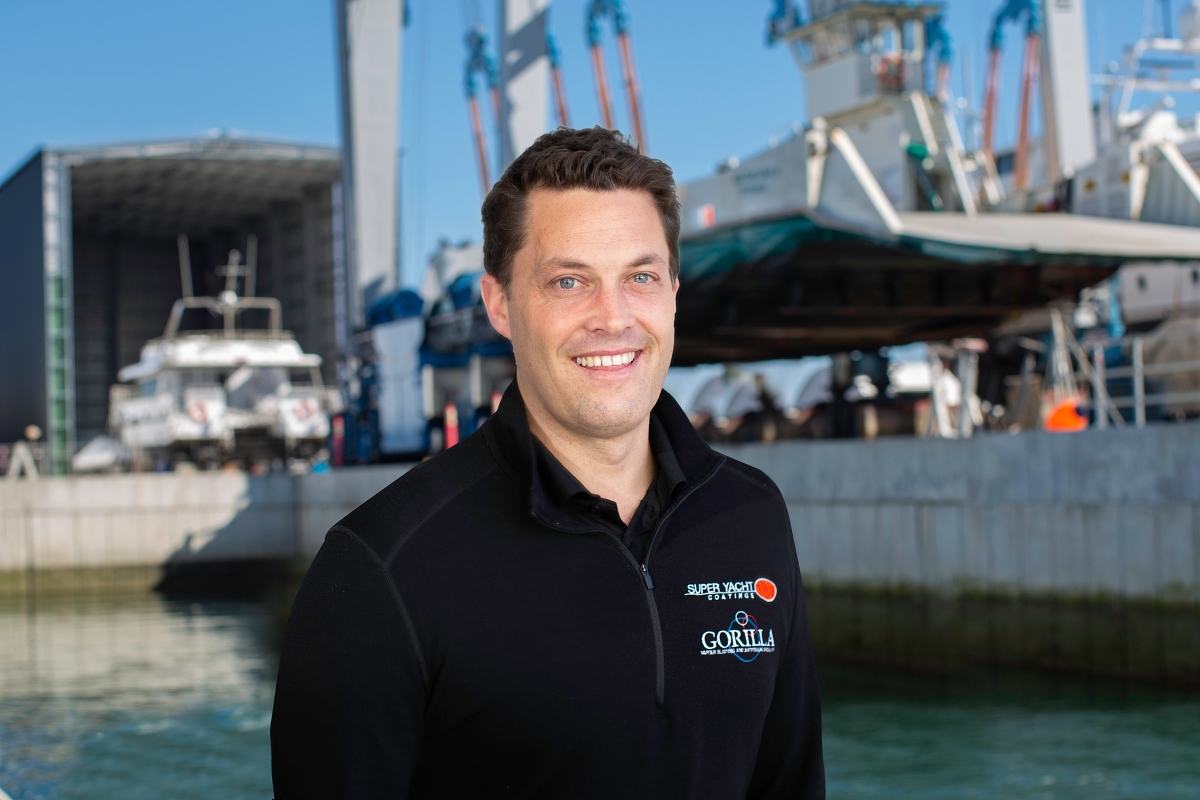 Ben Steele – Director
Ben left the corporate world behind to join Super Yacht Coatings as general manager in 2018. "I haven't looked back since the day I arrived," he says with a smile.
Ben coordinates the business operations, manages client relationships and having bought a stake in the company, now sits as a director, implementing the strategic vision for the business alongside Mark and Regan.
"I believe in this company, and the bright future ahead. I'm proud and excited to be a part of it."
Ben sees the development of the 50m purpose-built facility on Tauranga's harbour as one of the most significant steps in the company's evolution.
"Having this superb facility here in Tauranga has put the city on the map for large yacht and boat refits when previously the only options would have been Auckland, or maybe Whangarei. This shed has opened up so much opportunity for the company; we are constantly working to harness its full potential."
He says the team's ability to work quickly at a high standard has drawn strong interest from the commercial sector, where 'time on the water' is essential to boats earning their keep. The company's commercial business, Gorilla Commercial Coatings, is busy servicing the local commercial marine industry.
Looking 'at home' at the helm of Super Yacht Coatings, alongside Mark, Ben has no regrets in swapping the corporate world for the marine industry.
"Boats and boating have always been a passion of mine. Seeing boats of all shapes and sizes coming through our doors has made me appreciate the skill and workmanship that goes into them. We are one small part of a hugely talented marine industry in New Zealand. And we love what we do."