New research by 2degrees has revealed New Zealand's small business owners are taking a new approach to work. This comes as Kiwis navigate their way through an unpredictable year, which has seen the country move in and out of lockdown in the fight against Covid-19.
The 2degrees Shaping Business Study, which surveyed more than 1,000 small and medium-sized business owners and decision-makers, found that more than half (58%) have changed their approach to work since the Covid-19 pandemic reached our shores.
The lockdown earlier in the year thrust many small businesses into an unknown territory, however the new research shows that, second time round, businesses were much better prepared for the switch to Levels 3 and 2.
This year has seen one of the biggest changes to the way we work since the Industrial Revolution. With this, has come a significant shift to a more mobile workforce.
Andrew Fairgray, Chief Business Officer at 2degrees, says business owners and decision-makers have done a great job in establishing what works best for them and their people, while grappling with the challenges of the current circumstances.
"For some, working from home permanently is a better option, others are offering their employees more mobility around working hours or rotational days to work from home – either way it gives Kiwis reassurance and greater confidence in knowing they can work from home when necessary.
"Part of that comes down to having the right tools to do so, like reliable, secure mobile and broadband connections." says Fairgray.
With an estimated over 60% of employees in New Zealand now working from home on a regular basis, Kiwi businesses need to be thinking about security more than ever before.
According to the study, under half of SME decision makers currently did not have any current data security resource. Sole traders were significantly more likely to state that they currently have no security resource in place (46%) compared to employing businesses (27%).
While there are a variety of different risks, home broadband security is believed to be the biggest online risk for nearly one quarter of SME decision makers. Nearly one-third stated they didn't know what the biggest online risk was to their business, highlighting the need for businesses to really take a good look at security options when it comes to their employees working from home.
So, what should business owners do? Start simply: identify your risks and research your options. Some businesses will be more at risk than others – those dealing with sensitive information every day such as financial services for example.
A great place to start is with 2degrees Work from Home Fibre – a secure, Fibre connection to keep businesses humming seamlessly when their employees are working at home. This new product delivers business grade broadband through a dedicated Fibre connection to employees' homes. Work from Home Fibre does what it says on the tin – it's fast and offers the capacity businesses need.
Plus, web-filtering is part of the package. So you have the option to switch on the web-filtering security add-on – a service that enables you to block sites known for phishing, malware and other security threats to work laptops or computers – for free, and you can also choose to block streaming sites.
Upload speeds are up to 5X faster compared to their home broadband Standard Fibre 100 Plan – super important for things like video conferencing. The 2degrees Shaping Business Study showed that 40% of respondents found video conferencing the most important tool to stay connected to their team during lockdown, so making sure it works well is key when staff are working at home.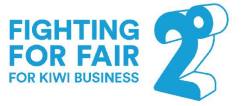 So, give the guys at 2degrees a call or visit 2degrees.nz/business to start down the right path to ensuring your critical business information is secure even when staff are working from home.