As the population ages, an increasing number of owners are starting to plan (or should be) for the day that they exit their business. Whether they sell to a third party, family member or work through a management buyout, one of the main pieces of information required is a valuation.
Business valuation is a mixture of science, logic and art. Unfortunately, some are embracing the art at the expense of logic and thereby causing many businesses to be incorrectly valued.
Owners understanding what their business is worth in the market is arguably the first important step in the planning process as it helps you start that process in the hope that you may realise your expectation of the business's value.
We often see business owners who for a variety of reasons are forced into having to hurriedly sell and too many have an inflated view of what their business is worth.
This is mostly based on what they need to sell the business for and not on what the market is willing to pay.
When we tell them what that market value is and because of their current circumstances, they are then forced to have a major rethink about that exit plan and this can add to an already stressful personal situation.
At Tabak we know that getting a business into shape for a sale takes time and it's unfortunate that only 20% of SME owners come to see us early enough.
The key to a successful sale is preparing the business so as to maximise its sale value. Sounds simple enough but very few business owners do it. We emphasise the need to talk to us when you are first thinking of selling your business.
Our most successful sales are when the process goes smoothly and the maximum value is achieved. Inevitably these are businesses that we have been working with for a significant period of time prior to going to market.
What is the value of my business?
A common misconception held by business owners is that their past performance will determine the business value and unfortunately this leads to unrealistic expectations.
There has been a lot of discussion around business values post Covid and its clear that Buyers and their professional advisors (accountants and banks) are focusing on the more recent business performance and profitability and will want to ensure that the current profits are maintainable in this continuing Covid business environment.
Establishing the Net Profit or Future Maintainable Earnings of your business with an element of "certainty" will be the key to establishing the market value of your business.
This is where the experience of the Tabak team can assist. We are used to applying rigor, structure and the appropriate steps and safeguards to ensure that value is optimized – we virtually undertake a full due diligence process which is a great dress rehearsal for the real inquiry from buyers.
We stand by our valuations, telling it like it is and we will not advise business owners with an unrealistic price, hence why we sell businesses for (on average) no less than 5-10% of the price we value them at.
So if you are looking for confidential, tailored advice on how to prepare your business for sale we want to hear from you.
Contact us today.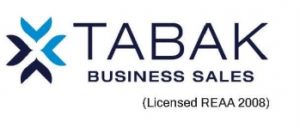 Email | tauranga@tabak.co.nz
Phone | 07 578 6329
www.tabak.co.nz