The Bay of Plenty Property Council's recent first-ever Property People Awards drew a vibrant 240-plus crowd at the sold-out event, held at Mills Reef Winery.
The innovative New Zealand Maori Arts and Crafts Institute at Te Puia took out the overall Property Council Bay of Plenty Bank of New Zealand Supreme Excellence Award. The Te Puia project also won the Sharp Tudhope Urban Design and Architectural Merit Award category.
Keynote judge Camden Cummings said the Te Puia project had been fantastic.
"It really answered the brief for the awards in so many different ways and on so many different levels," said Cummings, chair of the Institute of Architects BOP branch.
"It was a challenging site and a great team. The biggest thing for me was the way it contributed back to the community by way of it being a project that enabled people to understand Maori culture." (see accompanying story for more details)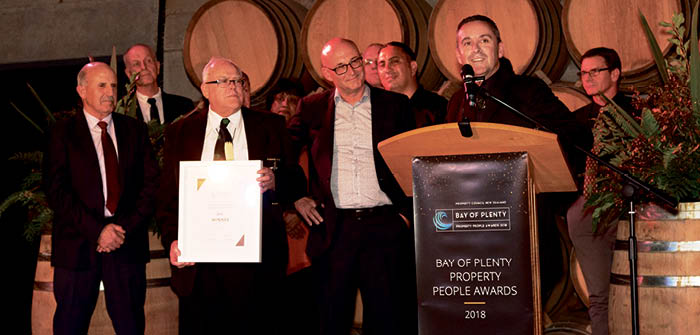 The awards, which recognised seven category winners, celebrated the unique individuals who have shown excellence, leadership, and innovation in the Bay of Plenty property industry.
"These awards have evoked an outpouring of interest throughout our region," said Property Council BOP branch president Brooke Courtney, a property partner at Sharp Tudhope.
"The award winners demonstrated excellence in shaping, supporting and invigorating growth and property development in the Bay of Plenty and we were very proud to honour them formally."
Luke Williams, managing partner, Bay of Plenty & Central Plateau for BNZ Partners, said coming on board as the principal sponsor was the bank's way of acknowledging the many property projects it had supported over the years.
"There is always an element of risk sponsoring a new event, but we were delighted with how the sector came out to celebrate."