My wife and I often have the same discussion about fixing things around the house. She wants me to embrace DIY, and I want to bring in a professional to do these tasks, which I have little experience or interest in doing.
My argument for outsourcing is always the same: why spend my time doing something that I am not good at, when I could be focusing on doing activities that generate income for the household? It's cheaper on an hourly basis to hire someone who specialises in doing the work.
I think that the above approach applies just as much to business as it does to the domestic environment.
When approaching credit control / debt collection, many companies employ a staff member part- or full-time at what can be a significant expense for some companies.
Experienced credit controllers can earn anything from $45-70,000 salary pa, plus there are usually other associated expenses.
That cost is a constant, irrespective of how many overdue accounts the business may experience, as the cost is an internal expense that cannot be added on to the debt as a collection cost.
This means that any costs expended in the pursuit of the debt effectively come off the value of the received monies.
Take example A.
The example B assumes the company submitting debts has up to date Terms of trade and disclosure systems.
The example also assumes that an internal collection action would have the same recovery rate as an external one, although this is rarely the case.
Using an external collection agency is psychologically similar to a misbehaving school student being sent to the principal, rather than being admonished once again by the teacher.
If the debtor has effectively ignored you in the past by not responding to numerous contact attempts and requests for payment, then what is the alternative?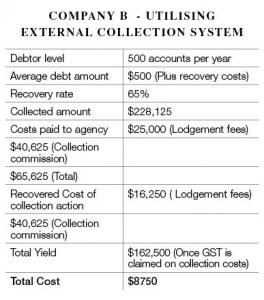 Sending the debt to an outside party shows the debtor that inaction causes escalation and that ignoring debt will just make it worse.
And keep in mind that – unless you are a bit of a sadist – debt collection is not all that much fun.
Those of us who love doing it are few and far between. The qualities that make an administrator wonderful for clients to deal with and a great ambassador for your business are, in my experience, not always conducive to initiating change in a problem paying client.
The risk is that not only can a company damage relationships with clients, but they often find themselves experiencing a high turnover of good administrators. Introducing outside intervention as an automated step in the collection process can limit the damage and increase effectiveness.
Just a thought.